Government Shutdown 2014: The 57 House Democrats Who Voted For The $1.1 Trillion Spending Bill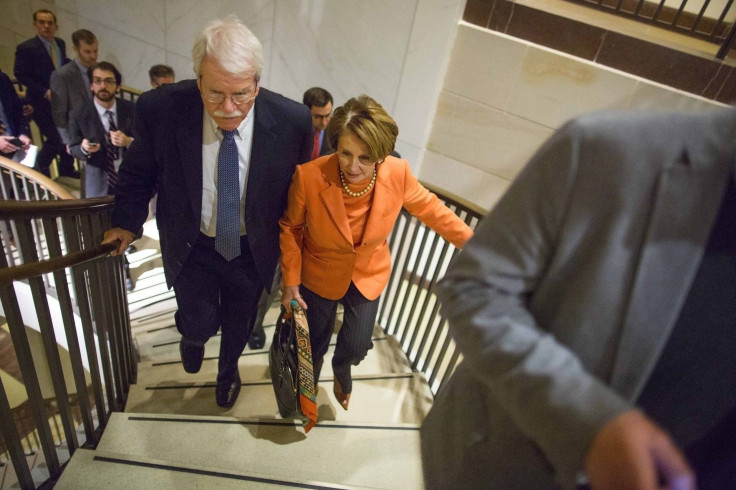 Fifty-seven House Democrats voted for the $1.1 trillion spending bill Thursday just before 10 p.m., narrowly avoiding a government shutdown. It passed 219 to 206 -- barely.
Although President Barack Obama endorsed the omnibus bill Thursday afternoon, several high-profile Democrats came out against it, among them House Minority Leader Nancy Pelosi. Most Democratic objections centered around Republican-backed changes to the Dodd-Frank financial regulations and adjustments to campaign finance laws.
Last-ditch efforts to persuade Democrats to support the bill included phone calls from the president and a nighttime meeting attended by White House Chief of Staff Denis McDonough.
Here are the 57 representatives who voted "yea" on the year-end spending bill, according to the final roll call results:
Ron Barber, Arizona
John Barrow, Georgia
Ami Bera, California
Sanford D. Bishop Jr., Georgia
Timothy Bishop, New York
Robert Brady, Pennsylvania
Julia Brownley, California
Cheri Bustos, Illinois
John Carney, Delaware
William "Lacy" Clay Jr., Missouri
James E. Clyburn, South Carolina
Gerald "Jerry" E. Connolly, Virginia
Jim Costa, California
Joseph Crowley, New York
Henry Cuellar, Texas
Susan Davis, California
John Delaney, Maryland
John Dingell, Michigan
Sam Farr, California
Chaka Fattah, Pennsylvania
Bill Foster, Illinois
Pete Gallego, Texas
John Garamendi, California
Jim Himes, Connecticut
Steven Horsford, Nevada
Steny H. Hoyer, Maryland
Marcy Kaptur, Ohio
Ron Kind, Wisconsin
Ann Kuster, New Hampshire
Daniel Lipinski, Illinois
Nita Lowey, New York
Daniel Maffei, New York
Sean Maloney
Carolyn McCarthy, New York
Gregory W. Meeks, New York
George Miller, California
James Moran, Virginia
Patrick Murphy, Florida
Donald Norcross, New Jersey
Bill Owens, New York
Ed Pastor, Arizona
Ed Perlmutter, Colorado
Scott Peters, California
Gary Peters, Michigan
David Price, North Carolina
Mike Quigley, Illinois
Cedric Richmond, Lousiana
Raul Ruiz, California
Dutch Ruppersberger, Maryland
Brad Schneider, Illinois
Allyson Y. Schwartz, Pennsylvania
David Scott, Pennsylvania
Terri A. Sewell, Alabama
Brad Sherman, California
Krysten Sinema, Arizona
Debbie Wasserman Schultz, Florida
On the other side, 162 Republicans voted for the bill. "Nays" included 139 Democrats and 67 Republicans. Read their names here.
© Copyright IBTimes 2023. All rights reserved.