Grand Mosque Opens In Russia Where Majority Of People Believe Islam Is 'Connected To Terrorism'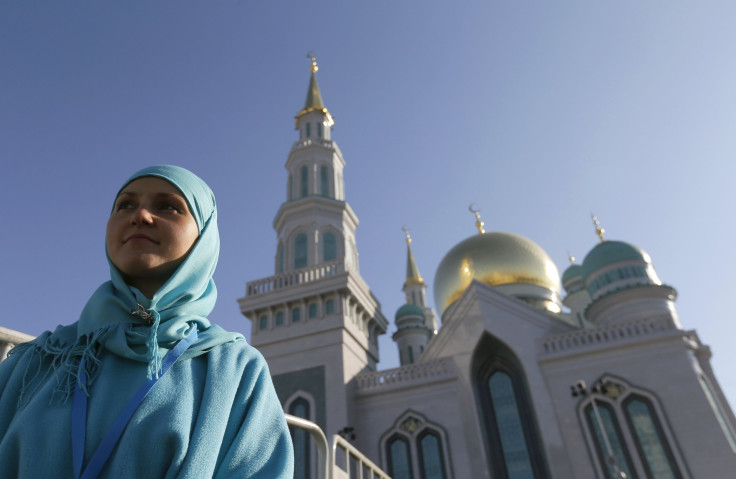 The opening of the Grand Mosque in Moscow has taken place Wednesday with a top Russian diplomat calling it a "milestone event" for Muslims all over the world.
Russia's State Duma speaker Sergey Naryshkin has said the Moscow Grand Mosque should become symbolic with Islam's role in Russia's history.
"I would like to extend my sincere congratulations on the occasion of the opening of the Moscow Grand Mosque, which is a milestone event not only for Russia's capital but for the whole Muslim world," Russia's Tass quoted a statement from the State Duma speaker. "Let the majestic look of the Moscow Grand Mosque become a symbol of the important role that Islam has always played in Russia's history and our future joint achievements in the development of the motherland."
The Grand Mosque has been scheduled to open on the eve of Eid al-Adha, known as Kurban Bairam in Russia. Muslims all over the world consider it to be a major religious occasion.
The construction work of the mosque, which has been going on for ten years, has cost around $170 million. The mosque is capable of accommodating up to 10,000 worshippers simultaneously.
Ravil Gaynutdin, the chair of the Russian Council of Muftis, has said it is the largest house of worship for Muslims in Europe. The mosque was originally built in 1904 but was torn down in 2005 for constructing the new building.
Alexander Verkhovsky, director of the SOVA Center, said Russians could differentiate between Muslims as individuals and Islam as a religion. While a large section of the Russian population believes Islam is "connected to terrorism," only 12 percent have a negative perception about Muslims.
"People are against the construction of new mosques because they fear that new immigrants will move into their neighborhoods," Verkhovsky told DW. "They are less scared about the buildings than about the influx of foreigners."
Around 20 million Muslims live in Russia with around 2 million in Moscow itself. The Russian capital city now has six mosques.
© Copyright IBTimes 2023. All rights reserved.