The 'Granny Effect' - Chinese Retail Investors Have Bought 3 Tons Of Gold Since Goldman Sachs Advised Clients To Sell; That Recommendation Has Since Been Pulled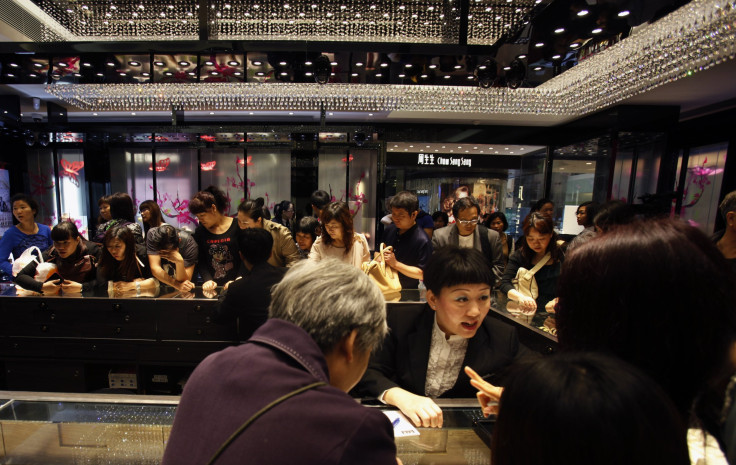 The next time Goldman Sachs' investment advisers decide to make recommendations to clients about what to do with gold, they may have to take into account China's "granny effect." Here's why.
Last month, Chinese consumers bought 300 tons of gold, one tenth the world's annual gold production, worth more than 100 billion yuan ($16.24 billion).
The reason for the big surge in demand, not just from China but also from other Asian nations, is the recent massive price drop for the metal.
From April 9 to April 16, the price of gold plunged more than 14 percent, accelerating a decline that had been underway since Oct. 4, 2012, when the metal closed at $1,804.60 per ounce. From Oct. 4, 2012, to April 16 the price of gold fell 24.6 percent.
Rather than respond to the price plunge as a signal to get out of gold, Chinese buyers saw it as an opportunity to buy in. The upshot of their bargain hunting has been a robust bounce in the price of gold. From April 16, when gold cost $1,321.50, to Wednesday this week, the price has climbed 9.4 percent.
The excitement in China about owning gold shows no signs of abating, and it is affecting buyers from every age group.
"Have you bought gold yet?" might as well become a new greeting in China during its May 1 holiday.
A record number of mainlanders went to Hong Kong on vacation this year. On April 28, approximately 121,000 mainland tourists entered Hong Kong, a 24 percent increase from the same week last year. On April 29, this number increased to 162,000. A sizeable part of that number went to Hong Kong specifically to buy gold since mainland supplies became depleted after gold prices fell.
The week-long vacation known as "golden week" is starting to be called "gold week," and well-known financial writer Song Hongbing joked that all the Chinese grannies are buying gold left and right, going along with news photos of middle-age and older Chinese women surrounding display cases of gold and gold jewelry.
"It's not just Chinese grannies, I expect grannies everywhere are fighting over gold. Gold didn't fall as much as Goldman Sachs predicted," Song said. "Physical purchases of gold globally provided a large supporting effect. People are lining up in Western countries too, but they probably aren't producing the granny effect."
Even on Taobao.com, China's equivalent of eBay, daily gold transactions since the price of gold fell have been three or four times the usual volume.
The rebound in the price of gold has caused sophisticated New York City investment houses such as Goldman Sachs to withdraw their recommendation to clients that they sell gold.
"Goldman Sachs may know gold, but it doesn't understand Chinese grannies," one Chinese netizen said.
© Copyright IBTimes 2023. All rights reserved.