Greece Debt Crisis: Tsipras Calls For Deal That 'Respects The Greek People'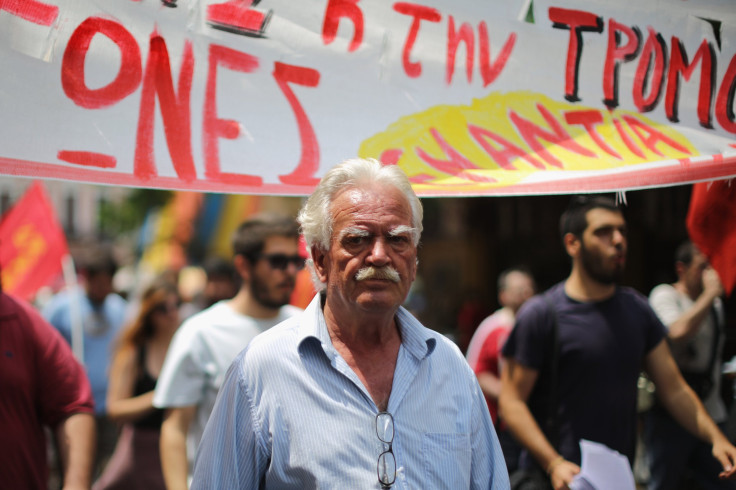 Greek leaders were reeling after European leaders issued a demanding set of austerity proposals for Athens Sunday that went beyond cost-cutting measures already offered by Greek officials. In a phone conversation with U.S. Treasury Secretary Jack Lew Sunday, Greek Prime Minister Alexis Tsipras reportedly said he wanted an agreement that "respects the Greek people."
Tsipras remains under pressure to hammer out a deal with European creditors that will grant Greece its third bailout in five years to stave off a potential exit from the eurozone while avoiding more painful austerity measures Greeks fear will further tighten the noose around the country's struggling economy. Tsipras said the only acceptable deal would be one that "respects the Greek people and all of their sacrifices in the last five years," the Greek news agency ANA reported.
The comments came after European leaders Sunday emerged with a draft proposal the Greek government would need to pass by Wednesday to receive its third bailout in five years. The measures, which include streamlining value-added taxes, privatizing 50 billion euros in Greek assets and implementing automatic spending cuts, have been met with outrage by Greek politicians as citizens gear up for protests against what some have described as a humiliating offer. Members of Greece's ruling Syriza party described the requirements as "utter blackmail," The Guardian reported.
The draft proposal leaked Sunday also includes provisions for a "temporary Grexit" from the eurozone if Greece fails to approve the plan by Wednesday. That move would involve a potential debt restructuring. Greek officials firmly rejected that plan, as well as demands to privatize Greek assets, according to reports.
Earlier in the week, Greece's government submitted a slate of reform proposals that matched what European creditors had demanded earlier in exchange for the bailout, but the proposals now on the table are much broader and stricter in scale. The severity of the new measures has stoked speculation European leaders are angling to force Greece out of the eurozone.
Tsipras continued to meet with top officials after the draft proposal came out, sitting down with European Council President Donald Tusk, French President Francois Hollande and German Prime Minister Angela Merkel in a conversation that was described as "extensive mental waterboarding," the Guardian reported.
Outrage over the proposed measures flooded social media Sunday, as the hashtag #ThisIsACoup trended worldwide.
© Copyright IBTimes 2023. All rights reserved.