Greek Crisis: Young Germans React With Solidarity, Anger to Greece Debt Problem
Lisa Kohl, a 27-year-old corporate executive in Munich, has watched the ceaseless debate over the latest bailout package for Greece with concern. The COO of a German market research company, Kohl said she already pays high taxes as a single person with no children, and many Germans worry that further economic unraveling in Greece could cost Germany more money. "If we continue paying, what are we paying for?" said Kohl, echoing what she described as the sentiment of many in Germany.
Kohl is one of many young Germans closely watching the debate over a solution for Greece. German millennials are part of the first generation to grow up in the single currency eurozone, and they have seen their country serve as a European Union leader for years. As unmarried young people without children, they often pay high taxes, and see themselves as bankrolling a large chunk of Greece's debt. Many are deeply invested in the situation in Greece, but are divided over whether the German government should express solidarity with their fellow Europeans in Athens or continue to take a firm stance on Greece repaying its debt.
In January, 61 percent of Germans were in favor of Greece leaving the Eurozone, according to poll data. The same poll reported that 68 percent were against debt forgiveness and that 4 out of 5 people polled favored strict austerity measures.
By late Thursday, the Greek government had bent considerably toward the German position, proposing a fresh bailout in exchange for accepting a broad package of spending cuts. Yet if a deal fails to materialize or if it comes without forgiveness for the enormous debts the Greek government now shoulders, many young Germans fear that they will ultimately be the ones paying the bills.
Some of the fear concerning higher taxes may be unfounded, since the German government owns only a portion of Greece's debt -- the rest of it being held by the International Monetary Fund, the European Central Bank and other governments and private banks throughout Europe. But private entities now only own 17 percent of Greece's debt and European governments hold the lion's share: almost 62 percent of 322 billion euros. The German government has the highest stake of those Euro-area governments, making German taxpayers responsible for 65 billion euros, according to Bloomberg.
"Greece Is Mocking The Rest Of Europe"
Discussions surrounding debt forgiveness and the possibility of additional loans to Greece have long raged in Germany, given their large stake in Greek debt. These debates were stoked by Greek Prime Minister Alexis Tsipras' visit to Strasbourg on Wednesday, where he discussed an additional 3-year loan proposal with European creditors. The new deal that Tsipras has put on the table involves a 53.5 billion euro bailout in exchange for budget and spending cuts.
Young Germans have been less affected by the recession that has walloped Europe in recent years. Germany has the lowest youth unemployment rate in the European Union, while Greece's number of unemployed young people is the second highest in the region, trailing only Spain.
Still, many young Germans who are pro-austerity said they were worried Greece's financial troubles could hurt their futures. Many talked about the need for safe spending when it comes to Greece.
"Younger people are not necessarily angry, but they feel that everything that has been done in the past two, three and four years has been for nothing -- that all the money has been wasted that could've been put into much better use," said Ferdinand Vogel, 23, a student and German National Guard trainee officer who writes the current events blog "Young German."
Vogel, who lives in Berlin, said Greece needed to take more responsibility for its actions before debt forgiveness could even be put on the table. "If Greece wants to stay in the EU, it should abide by the standards of the EU," he said.
Torsten Heinrich, 32, a writer and former youth organizer for the right-wing Alternative for Germany party, said he was fed up with the empty promises made by Tsipiras' Syriza-led government.
"Greece is mocking the rest of Europe," said Heinrich, of Wurzburg in southern Germany. "They have promised reforms; they haven't done anything. Instead they are asking for more money and more money ... Patience is running out."
Heinrich said he supported debt forgiveness, but only because he thought it was inevitable. "The Greeks will never be able to pay [their loans] back," he said.
Continuing Faith In The European Project
Critics of Germany's hard stance on Greece's debt crisis, however, point to Germany's experiences with debt forgiveness after World War II as an example of how the German government has acted hypocritically toward Greece in the past five years. In 1953, with the London Debt Agreement, Germany was forgiven around 50 percent of the debts it had incurred during reconstruction following the war. One of the major signatories of this European agreement was Greece. The agreement, in conjunction with the Marshall Plan, which provided multiple billions of dollars to post-war Germany, kept the German economy from being strangled by debt and allowed it to become the strongest economy in Europe today.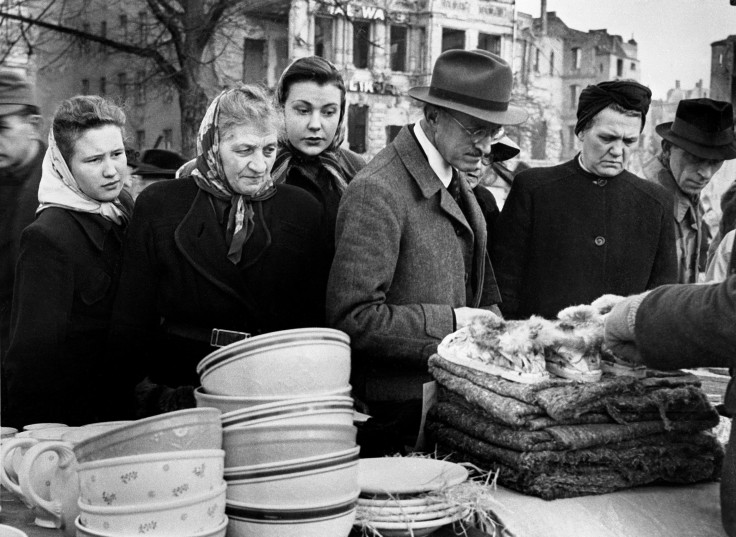 In fact, one of Tsipiras' first official acts as prime minister was to suggest that Germany pay reparations to Greece for the destruction caused when the country was occupied during the Second World War -- a move that outraged Merkel.
Germany's unforgiving tone toward Greece these days is ironic, said Timothy Guinnane, a professor of historical economics at Yale University in New Haven, Connecticut, who has written about the London Debt Agreement of 1953. "In 1953, the poor Greeks were helping the rich Germans," he said in a phone interview.
Many young Germans understand the crisis through this kind of solidarity. Julian Greth, 24, an engineering student from Munich, described the Greek population as the "victims" of the crisis -- not the Germans. He also said that everything in Europe was connected and that the EU could not simply kick Greece out without any broader repercussions.
His stake in Greece is more than one of a future taxpayer. Greth is somewhat of a Grecophile and has traveled to Greece four times on vacation. "As a country, it's still the same -- friendly, helpful," he said of his recent experience in Greece.
Matthias Adler, a 34 year-old freelance writer from Berlin, argued that Greeks deserve Germany's financial and emotional support. Adler was born and raised in Berlin by left-wing parents and said that a good deal of his politics and those of his friends who share his views stem from their geographic location and their upbringing. The politics of south Germany, he said, tended to be more conservative and pro-austerity by comparison.
From Adler's perspective, Greece leaving the EU is unimaginable. He said he couldn't understand the fierce anger many Germans felt toward Greeks and that he would continue to stand in solidarity with them.
"In my opinion, it's not a Greek problem, it's a European problem," he said. "We Germans are the ones who have profited the most from this whole European Union, and I hope we don't forget that."
FOR FREE to continue reading
✔️ Unlock the full content of International Business Times UK for free
offer available for a limited time only
✔️ Easily manage your Newsletters subscriptions and save your favourite articles
✔️ No payment method required
Already have an account?
Log in
© Copyright IBTimes 2023. All rights reserved.