Greek Debt Crisis: Alexis Tsipras Proposes 'Definitive Solution' To Creditors Before Repayment Deadline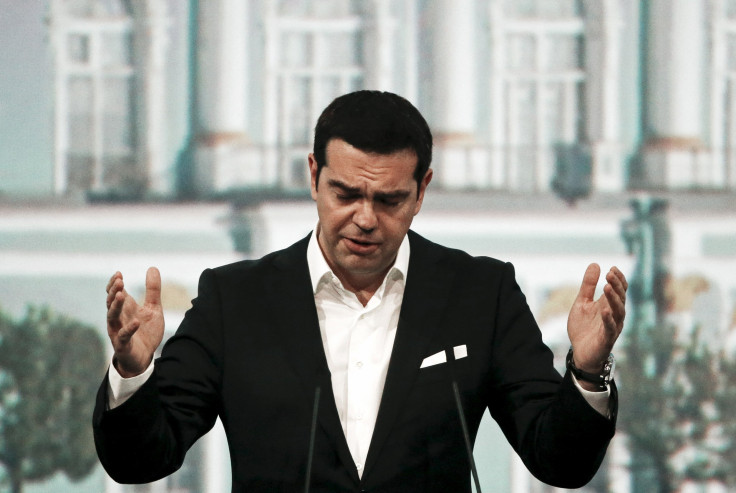 Greek Prime Minister Alexis Tsipras made new proposals to top European leaders Sunday in regards to potential deals to solve Greece's ongoing debt crisis. Greece must secure bailout funds and repay 1.6 billion euros ($1.8 billion) to the International Monetary Fund by June 30 or face default.
Tsipras discussed potential courses of action in a phone call with European Commission President Jean-Claude Juncker, German Chancellor Angela Merkel and French President Francois Hollande, Agence France-Presse reports. The proposals' exact parameters were not made clear, but Tsipras' office said he was committed to reaching a deal to end Greece's debt crisis.
"The prime minister presented [to] the three leaders Greece's proposal for a mutually beneficial agreement that will give a definitive solution and not a postponement of addressing the problem," Tsipras' office said in a statement, according to Reuters.
Greece's GDP Growth | FindTheData
Tspiras, Merkel and Hollande will hold an emergency summit in Brussels Monday to address Greece's debt crisis, days after negotiations broke down between Greece's government and its international creditors. Tsipras' leftist government has rejected calls from the IMF and top European officials to enact further tax hikes and austerity measures.
The IMF and European Union have vowed not to unlock the final, crucial portion of Greece's bailout package until Tsipras' government agrees to the reforms, the Guardian reported. Existing austerity measures slashed Greece's economic output by 25 percent, Reuters noted. The Greek government argues that further austerity measures would hinder Greece's bid to restore its crippled economy, while European leaders say Greece has not proposed a viable alternative.
If Greece fails to repay its loan by the end of the month, its creditors will bar access to the remaining bailout funds. Without that money, Greece would likely default on its remaining debt and be forced to exit the euro in what has become known colloquially as the "Grexit," the BBC reports.
Billions of euros were withdrawn from Greek banks last week as talks between Tsipras' government and European creditors failed. A European Central Bank representative told the Guardian it's unclear if Greek banks would be able to open Monday.
© Copyright IBTimes 2023. All rights reserved.
FOLLOW MORE IBT NEWS ON THE BELOW CHANNELS