Greek Debt Crisis: Eurogroup Meeting Live Stream, Where To Watch And Check For Updates On Greek Bailout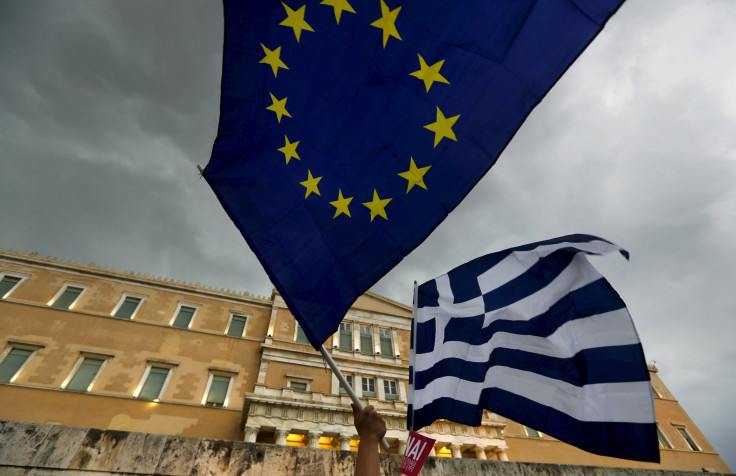 UPDATE: 3 p.m. EDT
A full European Union summit of all 28 heads of state will likely take place on Sunday, CNBC reported. Separately, a senior French official said the eurozone is weighing a plan for a short-term deal on Greece to be finalized at a meeting of officials Sunday, Dow Jones reported.
UPDATE: 1 p.m. EDT
Eurogroup finance ministers hold an emergency summit meeting at 19:00 (1 p.m. EDT) to discuss Greece's debt situation following the referendum Sunday.
UPDATE: 1 p.m. EDT
"We're starting on the wrong foot," Malta Prime Minister Joseph Muscat told reporters on his way into the emergency summit of eurozone leaders. "It's looking likely that it is a waste of time."
#GreeceCrisis Malta PM @JosephMuscat_JM 'waste of time' clip: pic.twitter.com/5If5euhtm3

— Kurt Sansone (@kurtsansone) July 7, 2015
UPDATE: 12:35 p.m. EDT
Eurogroup President Jeroen Dijsselbloem announced the Greek government would submit a new request for financial assistance from the European Stability Mechanism (ESM). The request is expected Tuesday, and the Eurogroup is ready to hold a conference call on the same day when the request is received.
"All of this needs to be done in a matter of days, as we have very little time," Dijsselbloem told reporters ahead of an emergency summit of eurozone leaders.
UPDATE: 12:06 p.m. EDT
Greek Prime Minister Alexis Tsipras announced on Twitter Tuesday he would address the European Parliament in Strasbourg on Wednesday.
UPDATE 11:20 a.m. EDT
"There were no new proposals at this point from the Greek [Finance] Minister. The first step is the Greek government will send the Eurogroup a new request letter for ESM [emergency stability mechanism] support, and as soon as that comes in, hopefully tomorrow morning, we will have another conference call from the Eurogroup to formally start the process with dealing with this request," Eurogroup President Jeroen Dijsselbloem said following Tuesday's meeting.
UPDATE 11 a.m. EDT
"There is a great sense of urgency... We all know how very difficult the situation in Greece is as we speak, and time is very short and more so as we go on," Eurogroup President Jeroen Dijsselbloem said following Tuesday's meeting. Greece did not submit new written proposals Tuesday, but instead made an oral presentation, with a written version to come on Wednesday, Reuters reported.
UPDATE: 10:20 a.m. EDT
U.S. stocks extended losses Tuesday, with the Dow Jones Industrial Average falling 100 points and the Standard & Poor's 500 index turning negative for the year ahead of an emergency Eurogroup meeting on Greece's debt crisis.
UPDATE: 8:30 a.m. EDT
Irish Finance Minister Michael Noonan told the media heading into the meeting Greece should "look at us" to turn their economy around, The Associated Press reported.
UPDATE: 8 a.m. EDT
A Greek exit "is not an option for us," Lithuanian Finance Minister Rimantas Sadzius said heading into the meeting.
UPDATE: 7:40 a.m. EDT
German Finance Minister Wolfgang Schaeuble says Berlin still opposes an actual debt cut for Greece as he arrived at a meeting with his peers in the 19-member eurozone, The Associated Press reported.
UPDATE: 7:05 A.M. EDT
Eurogroup President Jeroen Dijsselbloem says the pressure is on Greece to come up with new economic proposals that meet the requirements of its partners in the currency block. "It is not about persons," Dijsselbloem said, according to The Associated Press. "It is about where we stand after the 'no' referendum."
Original post: Time is running out -- yet again -- for Greece. Athens is headed for a showdown with its creditors Tuesday after a resounding majority of Greeks voted against the austerity demands of international creditors Sunday, a landslide result for the leftist government. More than 61 percent of Greeks rejected the bailout terms, the Interior Ministry announced Sunday.
Eurogroup finance ministers will meet Tuesday at 13:00 local time in Brussels (7 a.m. EDT) ahead of an emergency summit meeting at 19:00 (1 p.m. EDT) to discuss the situation following the referendum in Greece over the weekend.
You can watch a livestream in Greek from these websites here or here, or watch these videos posted on the European Council's website in English here. You can also check for updates from Greek Prime Minister Alexis Tsipras on his website, YouTube channel and Twitter account. Here's a Greek newspaper that publishes in English. You can also check for updates from Eurogroup President Jeroen Dijsselbloem's Twitter account.
Economists fear a "Grexit" could ensue where Greece would leave the eurozone if Athens and its international creditors do not reach accord. However, Tsipras said Sunday the "no" vote is not a mandate to clash with Europe, and that the country is ready to continue negotiating with a plan of reforms, including pension cuts and tax hikes. The result, he said, would be a new bailout deal with better terms.
Yanis Varoufakis announced his surprise resignation from the finance minister's post Monday, and he was replaced by Euclid Tsakalotos, who previously served as minister for international economic affairs.
Athens defaulted on its debt payment of 1.6 billion euros ($1.8 billion) to the International Monetary Fund (IMF) last week, risking the country's place in the eurozone and sparking concerns Greece may exit the 19-member currency bloc.
Greece is renegotiating the terms of its $270 billion bailout program following January's election victory of the far-left Syriza Party. Before the national elections, the Syriza Party, led by Tsipras, had staged a revolt against budget cuts and other austerity measures mandated under the bailout. The previous conservative government of Greece had agreed to those bailout terms.
Talks between Greece and its international creditors have stalled multiple times in the last five months. Greece struck a deal with the European Union in February to get 7 billion euros ($8 billion) in extra bailout funds in exchange for economic reforms. The deal specified the funds would not be released until Tsipras' leftist government submitted reform plans that were approved by the "troika," -- the IMF, the European Central Bank and the European Commission.
© Copyright IBTimes 2023. All rights reserved.
FOLLOW MORE IBT NEWS ON THE BELOW CHANNELS