Greek Debt Crisis: Foreign Travelers In Greece's Island Hot Spots Say Little Has Changed For Vacationers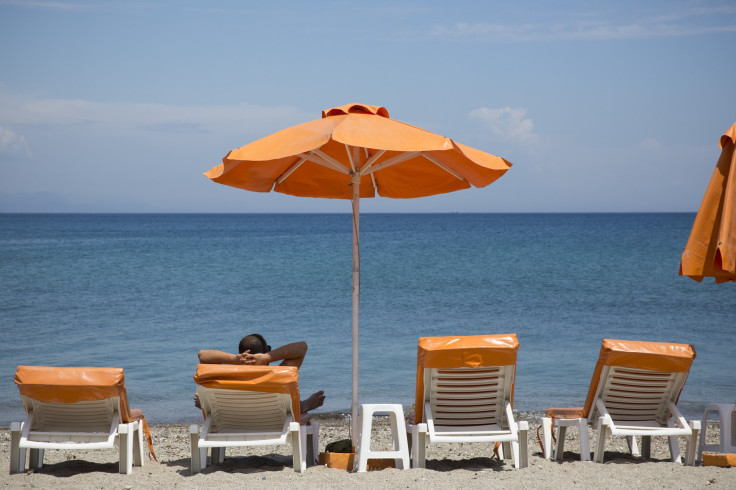 In Athens, residents are hastily lining up at ATMs to withdraw restricted amounts of cash. Taxi drivers, "taverna" owners and gas station attendants are rejecting credit cards and pushing customers to pony up paper euros.
Not so in Crete, said Tony Norton, who is visiting the Greek island with his wife Mandy this week. The couple, from Wiltshire, England, arrived Saturday, the day before Greek voters rejected new bailout terms set by European creditors. Greece's banks will stay closed until Wednesday to protect currency reserves, leaving some ATMs depleted of cash.
The Nortons and other tourists in Greece this week said their quaint vacation spots seem relatively sheltered from the financial chaos unfolding in Athens. Rules about daily cash allowances for Greek citizens don't apply to foreigners, and with most shops and hotels still accepting credit cards, the Nortons and travelers like them haven't had to fret about running out of cash.
Norton said the couple has swiped credit cards to pay for dinner, groceries and hotel services. "Everything is the same," he said by email Monday evening while at a restaurant in Sissi, a village in eastern Crete with white-sand beaches, craggy cliffs and stunning views of the Aegean Sea. "For us, today was just another day of enjoying the weather, the hospitality and gorgeous food," he added.
Foreign tourists in recent years have flocked to Greece despite the ongoing debt crisis, seeking attractive deals on travel packages and hotel stays compared with other coastal European destinations. In 2014, foreign tourist arrivals rose nearly 21 percent to more than 24 million people, and the hospitality industry expects similar growth this year, according to Bank of Greece data.
Still, many international travelers planning to visit Greece seem rattled this week by the heightened uncertainty surrounding the nation's financial system. On TripAdvisor, a popular travel website, forums are flooded with tourists having doubts or second thoughts. "I'm super excited about our trip to the islands but my husband is panicking," one woman wrote. "Booked to go to Crete in September … thinking of canceling now?" another commenter said.
Maya Harris Fretz is flying to Greece Thursday from New York City with her husband and their infant daughter for a 12-day vacation in Athens, Naxos island and the waterfront town of Monemvasia. She says she's worried the economic turmoil could lead to transportation strikes or gasoline shortages during their trip. "There are worse things than getting stuck on a Greek island," she says, although any delay would cause a logistical headache, she added.
Fretz and her husband have withdrawn enough euros to last them the duration of their vacation. Most of their accommodations and boat transfers have been paid in advance, but the couple doesn't want to risk running low on money if restaurants and grocery stores stop accepting credit cards. "We think it's probably best to travel with cash, rather than gamble on whether or not the banking system will be able to support transactions," she says.
Even so, the couple isn't worried about the family's physical safety once in Greece. The banking situation, she says, "is probably going to be an inconvenience more than anything else."
Nikos Tsakanikas, president of Homeric Tours, a travel agency in New York, said some of his customers with trips booked to Greece have called him with questions in recent weeks. "There is some concern. They ask in general what's happening in Greece," he said. "But so far I haven't seen any cancellations."
Tsakanikas said his 47-year-old agency helps arrange trips to Greece for thousands of Americans each year. The operator is advising travelers to carry around 200 to 300 euros in cash while in Greece to avoid waiting in long lines at ATMs. Asked if cash-wielding tourists could become easy targets for theft, he said he didn't think so. "Greece in general is a very peaceful country. So they don't have to worry about anything," he said.
Sasha Lehman, director of operations for Absolute Travel, a luxury travel agency with an office in New York, said some of her customers have requested hotel rooms in Athens to be on higher floors in the event noisy protests or rallies erupt on the capital's streets. But many clients only stop in Athens for a day or two before jetting off to the islands of Mykonos or Santorini.
"We haven't been hearing from clients ready to cancel," she said. "Generally, the outlook is that tourists are pretty unaffected by this. That's expected to remain the case in the coming weeks. There's obviously a lot of question marks."
Lehman said if foreign travelers did cancel their trips to Greece, it would likely be for trips planned in August or September since resorts and hotels charge hefty cancellation fees in the days or weeks leading up to a visit. A flurry of abandoned vacations could lead to attractive discounts for travelers as the hotel industry scrambles to fill suddenly vacant rooms. "There's some expectation that could happen," she said. "And in some ways, I think that's even welcomed in Greece. Sometimes, the reduction of rates can attract new clients that might not have thought of Greece beforehand."
The longer-term effects on Greece's tourism sector largely depend on the result of this week's negotiations between Greek officials and European leaders. Heavily indebted Greece may decide to exit the eurozone currency bloc -- an unprecedented move with unknown results for the nation and its citizens. If Greece stays in the eurozone, the country's banking sector and businesses could fall under harsh austerity measures. What that means for foreign travelers, both good and bad, is still unclear.
"Things are so in flux right now that what we're seeing is a 'wait-and-see' attitude," Lehman said. "Our partners on the ground are not trying to sugarcoat the situation. So far, we're just taking it one day at a time."
© Copyright IBTimes 2023. All rights reserved.