Greek Parliament Passes Bill Recognizing Same-Sex Unions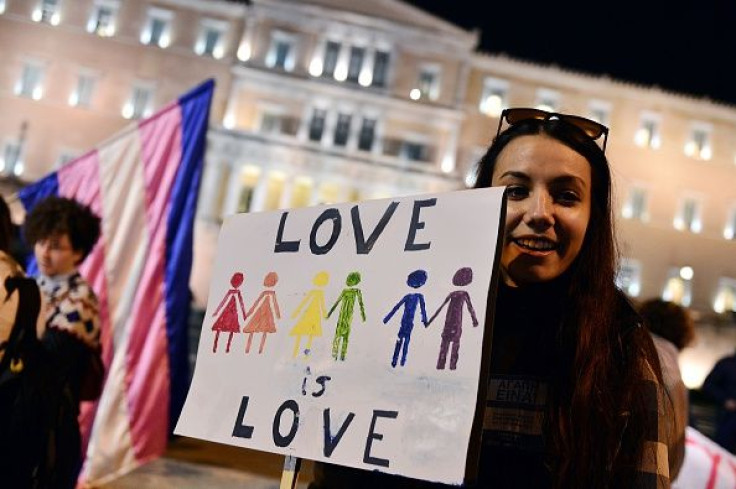 A same-sex civil union bill has passed with a wide majority in the Greek Parliament, Kathimerini reported Tuesday. The landmark legislation passed due to support from political parties like the Panhellenic Socialist Movement (PASOK), To Potami and the Union of Centrists, along with some New Democracy members of parliament.
"This ends a period of backwardness and shame for the state, which led to our country receiving international rulings against it," said Greek Prime Minister Alexis Tsipras, Kathimerini reported Tuesday. "Instead of celebrating, though, maybe we should apologize to hundreds of thousands of fellow citizens that have been denied their rights all these years."
In 2013 the European Court of Human Rights ruled against Greece for not recognizing relationships outside of marriage, including civil unions and same-sex couples. The law passed on Tuesday recognizes same-sex unions, however campaigners have said it does not go quite far enough, the Guardian reported.
"The bill does not provide equality before the law, especially in regard to adoption and custody of children, but it comes close," LGBT campaigner Leo Kalovyrnas said. "Politicians in this country tend to hide behind the church but they, too, across the board, are homophobic."
A total of 194 lawmakers voted for the bill and 55 voted against it. Three out of nine Independent Greek deputies voted in favor of it, along with 29 of 75 New Democracy deputies.
Comments made earlier this month by the bishop of Kalavryta sparked controversy, as he condemned homosexuals as "freaks of nature" and encouraged people to "spit on them." Activists stood in front of Parliament in Athens on Tuesday, holding a banner that read, "Love is not a sin" and marched to the Greek Orthodox Metropolitan Church to protest those comments.
"We have a long distance to cover to continue the daily struggle against every type of discrimination, especially against racism," said Tsipras, Kathimerini reported. "This struggle needs democratic forces and social movements to come together, it requires constant vigilance and political courage so we do not let darkness win."
Latvia is now the only country in the European Union that does not recognize same-sex marriage.
© Copyright IBTimes 2023. All rights reserved.