Greeks Delay Bailout Talks as Merkel Demands Action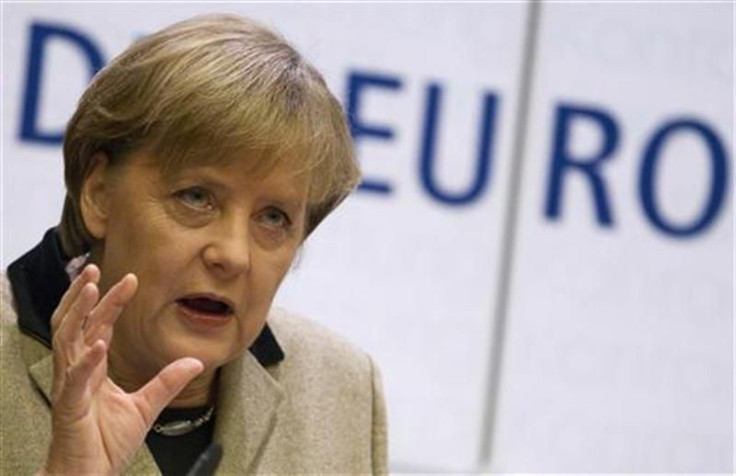 (Reuters) - German Chancellor Angela Merkel told Greece Monday to make up its mind fast on accepting the painful terms for a new EU/IMF bailout, but the country's political leaders responded by delaying their decision for yet another day.
Failure to strike a deal to secure the 130 billion euro ($170 billion) rescue - much of which Germany will fund - risks pushing Athens into a chaotic debt default that could threaten its future in the euro zone.
EU officials say the full package must be agreed with Greece and approved by the euro zone, ECB and IMF before Feb. 15 to allow time for complex legal procedures involved in the bond swap to be completed in time for a March 20 bond redemption. In some euro zone countries, including Germany and Finland, parliamentary approval is required to raise the bailout money.
Greek Finance Minister Evangelos Venizelos, who met the lenders for another round of talks to reach compromise on wage, pension and job cuts, warned the stakes were rising as time ran out.
A failure of the negotiations, a failure of the program or a default by the country means even greater sacrifices, he said. Unfortunately, the negotiations are so tough that as soon as one chapter ends another one opens.
Speaking in Paris, Merkel expressed the exasperation spreading among euro zone leaders at seemingly endless arguing in Athens that has yet to produce a definitive acceptance of the austerity and reform conditions demanded by the lenders.
I honestly can't understand how additional days will help. Time is of the essence. A lot is at stake for the entire euro zone, she told a news conference with President Nicolas Sarkozy.
But leaders of the three parties in the coalition government appeared to need at least one additional day.
The office of Prime Minister Lucas Papademos, a former central banker who heads a government of politicians, said a meeting of leaders from the conservative, socialist and far-right parties due Monday had been postponed to Tuesday.
A statement issued shortly after Merkel spoke gave no reason for the delay but said Papademos would hold further talks with the troika of lenders - the European Commission, European Central Bank and IMF - later Monday.
The party leaders, positioning themselves for a likely general election in April, have balked at accepting another package of deeply unpopular wage and pension reductions, job cuts and tougher tax enforcement measures.
Papademos said after five hours of talks Sunday that party chiefs had agreed spending cuts worth 1.5 percent of gross domestic product - or about 3 billion euros - but offered little concrete detail.
A government official who took part in the talks with lenders said the two sides had been able to find agreement on the bulk of savings, but needed to still draw up measures worth 600 million euros.
PATIENCE WEARING THIN
Merkel made clear that her patience was wearing thin on a deal that affects not only Greece but the wider currency bloc, which fears that a default would hit much larger economies such as Spain and Italy.
In a fresh sign of mistrust, the German leader said she and Sarkozy agreed Greece should deposit revenue to meet future interest payments in a special escrow account to guarantee that creditors were paid consistently.
We want Greece to stay in the euro, she said. But she added: I want to make clear once again that there can be no deal if the troika proposals are not implemented. They are on the table ... Something needs to happen quickly.
A lot is at stake for the entire euro zone, added Merkel, whose country is Europe's main paymaster.
This sense of urgency seemed to be weaker in Athens.
Greeks watched the events with the same angry exasperation they have shown throughout the nation's nearly three-year crisis, mixed with fear of the consequences of leaving the euro.
We must stay in the euro, but I want politicians to pay, I want them to feel the austerity, said Chryssa Karatza, a 65-year-old public sector pensioner and mother of two.
Karatza lives on a 1,000-euro monthly pension and takes care of her grandchild as her 42-year-old daughter works long hours to make ends meet. But with unemployment near a record high at 18.2 percent in October, she fears the worst for her daughter.
I dread the moment when she comes home and says she was fired, Karatza said.
The troika wants 15,000 public sector jobs cut by the end of this year, as part of a 150,000-job reduction by the end of 2015, public administration minister Dimitris Reppas said.
The PASOK socialist party held Germany responsible for much of Greece's suffering.
The problem today is the depressing imposition of Germany's strategy on the euro zone, party spokesman Panos Beglitis told Real FM radio. Nobody is listening to us. We are lonely.
In Brussels, the European Commission defended the troika's demand for a cut in the minimum wage.
Commission spokesman Amadeu Altafaj said the Greek minimum wage averaged 871 euros a month, compared with 748 euros in Spain, which is not under an EU/IMF rescue program, and 566 euros in Portugal, which has received a bailout.
One government official said the entire Greek side had to agree terms of the rescue, which would be the second for Athens since 2010, with international lenders before the next meeting of the Eurogroup of euro zone finance ministers.
No date has yet been set for the Eurogroup meeting, and the Commission spokesman said it would be held only when Greece had made its commitments to the deal.
Leaders of the PASOK socialist party, the conservative New Democracy and the far-right LAOS party still have to agree on unresolved problems.
These include labor market reform and shoring up domestic banks. Greece needs the bailout money by mid-March to meet big debt repayments but tempers are rising in the European Union over what it sees as Greek dithering on implementing reforms.
WORN DOWN
Greeks have been worn down by a deep recession, now in its fifth year, and wave after wave of austerity measures imposed under the first bailout.
Alarmed by the prospect of yet more budget cuts, Greece's two main trade unions said they would call a 24-hour strike for Tuesday in protest against policies they say have only driven the economy into a downward spiral.
With Greece facing 14.5 billion euros of debt repayments in March, a bill it cannot meet without further bailout funds, the stakes could not be higher.
Hopes rose Monday that they had also made progress on recapitalising domestic banks, which are up to their necks in Greek government bonds now worth a fraction of their face value.
Greek bank stocks closed up 11 percent in the afternoon on hopes that lenders would be recapitalized without being nationalized after a debt swap under the latest bailout deal, which will radically cut the value of their bond holdings.
The euro weakened against the dollar Monday as the failure of coalition parties to approve the terms of a new bailout package rekindled worries about a chaotic default that could spread to other debt-ridden countries in the euro zone.($1 = 0.7621 euros)
(Additional reporting by Renee Maltezou, Tatiana Fragou, Ingrid Melander and Harry Papachristou in Athens, Jan Strupczewski and John O'Donnell in Brussels, Annika Breidthardt in Berlin; Writing by David Stamp and Deepa Babington; Editing by Paul Taylor)
© Copyright Thomson Reuters 2023. All rights reserved.