Greeks Express Dismay Over Eurozone Debt Deal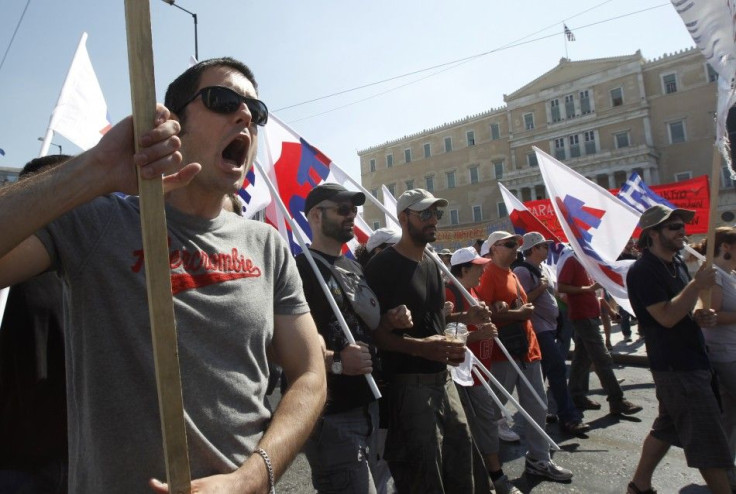 Greek Prime Minister George Papandreou may be very happy with the emergency deal that European leaders have hammered out in Brussels to tackle the Eurozone debt crisis, but that doesn't mean the Greek public will be thrilled to face more long years of austerity.
Under terms of the agreement that European officials have reached, the key element for Greeks is that private lenders holding Greek debt would have to accept a 50 percent loss (haircut). This suggests that Greece might be able to reduce its debt load to 120 percent of GDP by the year 2020 (without the haircut, that figure was expected to climb to 180 percent).
Papandreou, who will formally address the Greek nation on Thursday evening to lay out terms of the debt deal, hailed the pact while attending the summit in Brussels.
We have avoided a mortal national danger, he told a news conference in Brussels.
[Now] we have the ability to close our accounts with the past. A burden from the past has gone, so that we can start a new era of development, on our own steam. We managed to escape this default trap. The fact that we are still here today is a big achievement for the Greek people. So, today I think we can close a chapter, a chapter of the past and I think we can now start to start working on a new future for our country with all our strength."
The stock market clearly welcomed the debt deal -- the Athens Stock Exchange surged as much as 6 percent in Thursday trading, with battered bank stocks soaring even further.
Papandreou has emphasized that without the debt write-down and the 130 billion euros of fresh financing from the European Union (EU) and International Monetary Fund (IMF), Greece would likely have faced the specter of default and bankruptcy.
A spokesman for the Athens government told Reuters that because of the deal, Papandreou will not unveil any further austerity measures (in a country already reeling from a spate of draconian budget cuts, record high unemployment, stagnant wages, pension reductions, job losses, etc.).
There will be no new austerity measures based on the agreement that has been signed, Ilias Mosialos told state-owned NET TV.
However, according to reports, the Greek public remains angry, unhappy and defiant.
George Kapsokalyvas, a public sector pensioner, told reporters: What rescue? Europe has betrayed us. Can't they see we've nothing left to give. Only God can save us.
A state power worker named Panagiotis Papadopoulos, told Reuters: If these [EU/IMF] inspectors come here permanently, it will be an occupation without weapons. This government succumbed.
Giorgos Zisimatos, a storekeeper, told Deutsche Presse-Agentur (DPA): "Three months ago the government was saying that a haircut of that magnitude [50 percent] would be catastrophic for the country and now the prime minister is celebrating by saying it is a success? They are lying to us. Look around me, one in four businesses along my street have now gone bankrupt -- what is the government going to do about that?"
Kostas Lianikis, a maintenance worker, told DPA: "We expect that things will get only worse and that they will further make cuts to pensions and salaries. Instead of a haircut, they ended up scalping the Greeks."
Papandreou's political opponents in Athens are also hostile to the Eurozone deal.
Antonis Samaras, head of New Democracy, the principal conservative party, who has long objected to austerity and opposed the socialist Pasok party programs, told local media: Our priority should be reestablishing economic growth... to regain our national sovereignty. We have absolutely no right and no reason to give it up to anyone.
Costas Markopoulos, parliamentary spokesman for the main opposition conservatives, told private Skai television: This [deal] will undoubtedly impose an additional burden [on taxpayers]. Does anyone believe that as we stand on the edge of the cliff, after they have shaved off our debt, that they will offer us anything (positive)?
Kostas Aivaliotis, a spokesman for the extreme-right LAOS party, told Reuters that the deal with Europe represented a national humiliation for Greece.
Analysts also lambasted the euro deal.
There's absolutely nothing in the package that was agreed that gives us even a modicum of hope that anything along the lines of (economic) development is happening, Yanis Varoufakis, professor of economics at the University of Athens, told AP television.
We have more austerity and more wishful thinking in terms of how much liquidity can be extracted from the Greek economy, either through privatization or through taxation, in order to pay for these deals."
Left-wingers also assailed the deal.
Deputy Dimitris Papadimoulis told reporters: The deal puts Greece in a Eurozone quarantine. We are now locked in a system of continuous austerity, haphazard privatization, and continuous supervision by our creditors.
He added: Those who monitor us do not have our interests in mind. Their priority is that we pay back our loans."
Regardless of the new deal, Papandreou's political future looks very shaky.
The PASOK party currently holds 153 seats in parliament, a slender majority. Over the past two years the party has lost ten seats due to defections in protest to the austerity program.
Costas Panagopoulos, head of the ALCO poll agency, told reporters: The truth is that it doesn't matter what Papandreou tells us tonight [in his speech], many people don't trust him anymore. People believe that once again someone else has decided for him ... If the government is forced to bring more measures in the coming months, then they will be forced into elections.
Meanwhile, Greece remains ensnared in a deep economic and social crisis., Unemployment is nearing 17 percent, labor unions have called for repeated strikes, taxes are soaring and the economy is headed for a fourth straight year of contraction.
© Copyright IBTimes 2023. All rights reserved.