Grizzlies Dodge a Bullet, Miss Out On Their Own Dumb Trade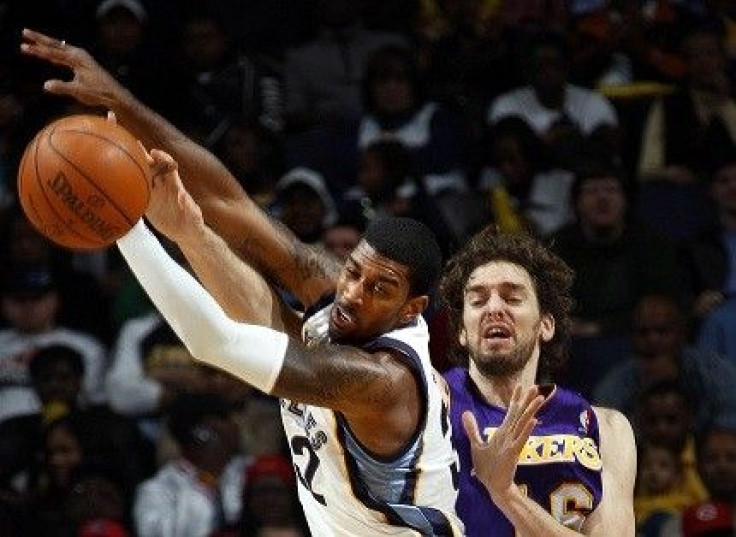 It's not as bad as the Pau Gasol trade, but the deal the Memphis Grizzlies were saved from making because they missed the 3:00 pm trade deadline on Thursday was another doozy.
This one involved shooting guard O.J. Mayo, the team's first round pick in 2008, and third overall pick, who was intended to be dealt to Indiana for a first-round draft pick and Josh McRoberts.
The trade was basically a done deal, but the Grizzlies and Pacers didn't get it in by the deadline.
Mayo's numbers are down this season, but that is mainly due to a logjam at the shooting guard and small forward positions, causing the former USC star to see less minutes.
In his first two seasons, Mayo played in every single game, and started in all but one. He shot a solid shooting percentage from the field, and an excellent percentage from the free throw line.
Along with Rudy Gay and Zach Randolph, Mayo was a key scorer and played respectable defense. The trio, along with some other quality parts like Mike Conley and Marc Gasol, made the Grizzlies look like an up-and-coming team in the West.
But things changed for Mayo in the 2010-2011 season.
With the additions of guards Sam Young, 2010 first-round draft pick Xavier Henry, and veteran Tony Allen, Mayo's minutes began to decline.
In late November, Mayo was sent to the bench after averaging 17.5 point per game and shooting nearly 46 percent from the field last season. His minutes dropped from an average of 38 minutes a night for the past two seasons, to about 28 minutes a night this season.
Coach Lionel Hollins said the move was not a slight on Mayo. Instead, Hollins wanted to strengthen bench scoring while adding Henry to the starting lineup to improve the defense.
Then things started to really unravel for Mayo.
In late December, his father was charged with attempted murder of a police officer. Then in January, he and Tony Allen were involved in a card game that escalated into a fight on a team flight. Weeks later, Mayo was suspended for 10 games for testing positive for dehydroepiandrosterone (DHEA), which he blamed on a sports drink he bought at a gas station.
In Mayo's absence, the Grizzlies went 8-2, albeit against weak competition.
Overall, it didn't look good for Mayo in Memphis. The team seemed better off without him, and he began to look expendable. A trade seemed almost inevitable.
So is the decision to trade Mayo, under the reasoning that the team is overloaded with wing players, a sensible thing to do?
Absolutely not.
Mayo is a legitimate talent. In exchange for that talent, the Grizzlies would have to get at least comparable talent in return since they're in a race for the playoffs. This isn't time to be thinking about adding a draft pick and a player like McRoberts, who will likely play less than 20 minutes a game.
The Grizzlies are not far off of the fifth seed in the playoffs, but can also easily fall out of playoff contention with the ninth and tenth best-record teams, Utah and Phoenix, both within striking distance of overtaking them.
The last thing the Grizzlies need to do is trade for the future when the present has so much potential. Should Memphis get hot, they can make the playoffs for the first since the 2005-2006 season.
Now is certainly not the time to downgrade.
But that's not how GM Chris Wallace thinks. This is the same general manager who orchestrated one of the most one-sided trades in NBA history by sending Pau Gasol (the player who led the Grizzlies to their last playoff appearance) to the one team you don't want to deal a superstar to: the Lakers.
Ask the Lakers how that trade worked out.
While Memphis is hoping to make it to their first playoff series in five years, the Lakers are trying to win three consecutive NBA championships.
Gasol, who remains one of the most mild-mannered and low-maintenance stars in the NBA, couldn't handle the Grizzlies stagnant situation any longer. It was out of character for him to request a trade, but he felt under the circumstances and direction of the team that he had no choice, which underscores the dysfunction of the Grizzlies.
Instead of actively searching for a buyer for his star big man, Wallace let Gasol hang around until teams showed interest. When Lakers' GM Mitch Kupchak looked to acquire forward Mike Miller from the Grizzlies, it morphed into a salary-dumping trade, with the Lakers landing the prize of the season, a skilled big man in Gasol.
The concept of buy low, sell high appears to have been missed on the Grizzlies. Getting something great in return for Gasol should have been a top priority for the team from the moment they realized they couldn't retain him.
Wallace should feel fortunate he's in Memphis and not a big media market like New York. If he had made these moves with the Knicks, he'd be hearing Fire Chris Wallace! chants at Madison Square Garden.
In his first press conference upon being hired for the 2007-2008 season, Wallace stated that his goal was to win a championship with head coach Marc Iavaroni.
When you think of great NBA coaches, does the name Marc Iavaroni come to mind? Probably not. With the Grizzlies at 11-30 during the 2008-2009 season, Iavaroni was sacked.
So much for those title hopes.
Apparently, Iavaroni didn't get enough out of well-known bust Kwame Brown to make a playoff run, so the Grizzlies gave up on them both.
So how did Wallace make up for acquiring one of the biggest first-overall pick busts in NBA history? By drafting the soon-to-be biggest second-overall pick busts in NBA history in Hasheem Thabeet.
Thabeet was traded at the deadline for low-scoring Shane Battier, who plays small forward. Yes, yet another small forward to go along with the collection of shooting guards that the Grizzlies seem to be addicted to.
Wallace has other problems now. He has to deal with the peculiar situation of the after effects of the Mayo trade that didn't happen.
There's nothing wrong with trading a player of Mayo's caliber, but this was not the time to do it. Now the Grizzlies are in an awkward situation. Mayo now knows he has no future with the Grizzlies, and that he was basically dumped for whatever was available, in this case, a back up power forward with a limited NBA future.
More than likely, instead of trying to patch things up with Mayo, and improving his role on the team, the Grizzlies will trade him around the 2011 NBA Draft, which will likely be for less or equal value to this week's deal with the Pacers.
To show how incompetent the Grizzlies are, owner Michael Heisley had already given a quote to say how disappointed he was that Mayo was no longer on the roster. Heisley reportedly blames the Pacers for botching the deal, but that sounds like a stretch.
The real story isn't that the Grizzlies missed the deadline -- it's that they were trying to trade Mayo in the first place.
The O.J. Mayo trade debacle is just one of many symptoms of a franchise that can't seem to get their act together.
© Copyright IBTimes 2023. All rights reserved.