Gruesome Parking Lot Accident Sparks Online Concern Over China's Lenient Driving Tests [PHOTO]
A bizarre tragedy occurred at a Chinese parking lot on June 18, taking the lives of the parents of two daughters, one of whom was also in the vehicle at the time. The grisly accident, ultimately caused by the woman in the driver's seat, has many on China's most popular social-media website, Weibo, expressing concern about China's extremely lenient driving tests.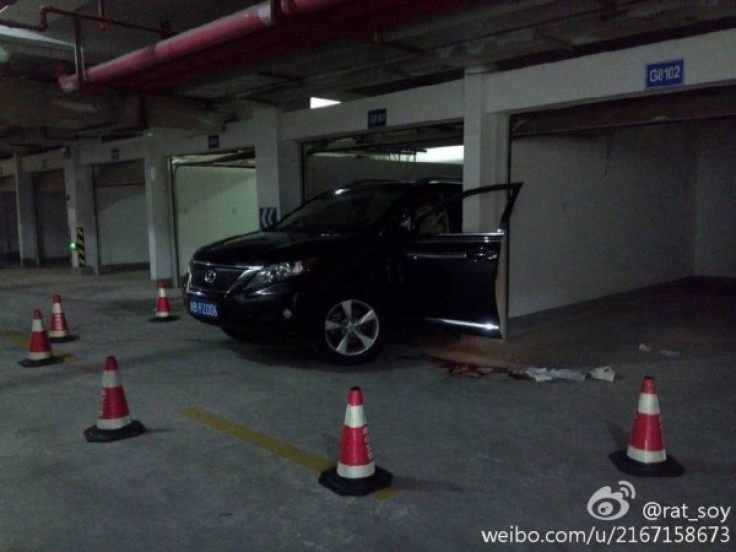 A 41-year old female driver with the surname Lin in Ningbo, located in Zhejiang province on China's central coast, was just issued her driver's license in May, according to the Global Times newspaper. Lin was practicing backing up the family's vehicle into a space at an underground parking garage as her husband gave her directions from behind it when she suddenly backed up too far and pinned her husband against the back wall. After hearing her husband scream, Lin stuck her head out the driver's-side window and accelerated in an attempt to move the vehicle away from him.
Unfortunately, Lin forgot to change gears and instead continued to move the vehicle in reverse, killing her husband instantly and causing her head to get stuck between the car and a side wall of the parking space, killing herself. The Global Times reported that the couple's 6-year-old daughter was also in the vehicle and witnessed the tragedy unfold. According to the paper, Lin had successfully parked the car in the space one day earlier, but her husband insisted she do it again so she could practice.
According to the trend-spotting blog China Smack, online commenters expressed their sympathies, but many believed that this tragedy was a direct result of the leniency of China's driving tests, which they insist need to be toughened up.
"This incident shows that we must be strict and demanding [sic] beginning when people first learn how to drive, otherwise even with your driver's license, bad things will happen sooner or later," one blogger wrote.
"I'm currently learning how to drive at driving school. I used to complain about the [driving test] being made harder this year. But after seeing their tragedy, I raise both hands in support [of changes]. After all, this is about life and death," another said.
Commenters also quickly -- and perhaps unsurprisingly -- turned sexist, as one of them said, "Many women drivers are no different than murderers!"
"I just wanna say, when women drive, it's like men driving drunk," another blogger said. "A dangerous situation, it should be forbidden for women to drive."
Most Chinese media outlets included a photo of the couple's deceased bodies at the scene in their coverage. The photo can be seen at AHTV.cn: It may be upsetting for certain readers, and viewer discretion is advised.
© Copyright IBTimes 2023. All rights reserved.