'GTA Online' Update 1.13 Release Date Is Here: Rockstar's High Life Weekend Runs Until Sunday
Rockstar is hosting a "GTA Online" High Life Event Weekend to celebrate the release of its High Life Update on Tuesday.
The NYC-based developer released the highly-anticipated "
GTA Online" High Life Update
for the Xbox 360 and PS3 on May 13. The DLC was available at no cost for 360 and PS3 owners.
"GTA Online" fans had been patiently waiting for the High Life Update, which brought new cars, new luxury apartments and more customization options.
The event will run from Friday, May 16 to Sunday, May 18 and will even feature High Life Weekend live streams.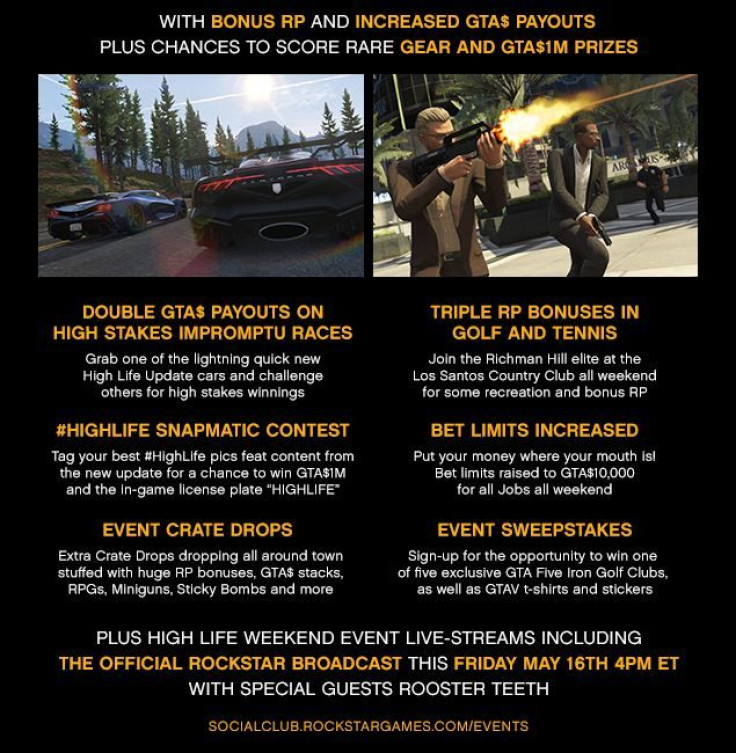 More details are listed below via Rockstar's Newswire.
DOUBLE GTA$ PAYOUTS ON HIGH STAKES IMPROMPTU RACES
We've upped the ante especially for those who live in Los Santos' fast lane. Money doesn't grow on trees but it does hang from the helpless saps cruising the LS streets and all weekend, High Stakes Impromptu Races will make plucking it from them all the sweeter. Stakes and payouts to Impromptu Races will be doubled so lining up in your Pegassi Zentorno against a mark carries exhilarating big time risk and reward. You can start an Impromptu Race via the Interaction Menu and remember: you've got to accelerate to accumulate.
BET LIMIT INCREASED FOR ALL JOBS
Put your money where your mouth is. For all high rollers, the Max Bet limit for all Jobs will be raised to GTA$10,000 so you can lay both cash and cajones on the table.
TRIPLE RP IN GOLF AND TENNIS
And because even relaxation should come with an attractive rate of return, all golf and tennis RP bonuses will be tripled all weekend. That means a birdie will see you earn 600 RP while a cheeky hole-in-one on the short Hole 6 will put 3000 RP on your scorecard and turn your opponents greener than the fairway.
EVENT CRATE DROPS
Look for a windfall of valuable commodities dropping from on high with Event Crate Drops falling from the skies in such locations as the Vinewood Sign, the Observatory, Del Perro Pier, La Fuenta Blanca horse stables and the Vinewood Racetrack. The Crates will be stuffed with huge RP bonuses as well as GTA$ stacks, heavy-duty RPGs, miniguns, sticky bombs and more.
#HIGHLIFE SNAPMATIC CONTEST
Snap your flashiest shots showing off exactly how you're living the High Life between now and end of day Sunday and tag them
#HIGHLIFE
for a chance to win big. We're looking for your most epic, most creative, most amusing or most artfully composed moments over the weekend featuring any of the new apartments, luxury vehicles, toasts/celebrations, haute outfits, or weaponry from The High Life Update. We'll pick five (5) favorites to award
GTA$1M
as well as the exclusive
'HIGHLIFE' in-game vanity license plate
to deck out your shiny new ride.
© Copyright IBTimes 2023. All rights reserved.