Gu Kailai And Bo Xilai: Murder, Mayhem, Mystery, And Myth Surround China's Political Power Couple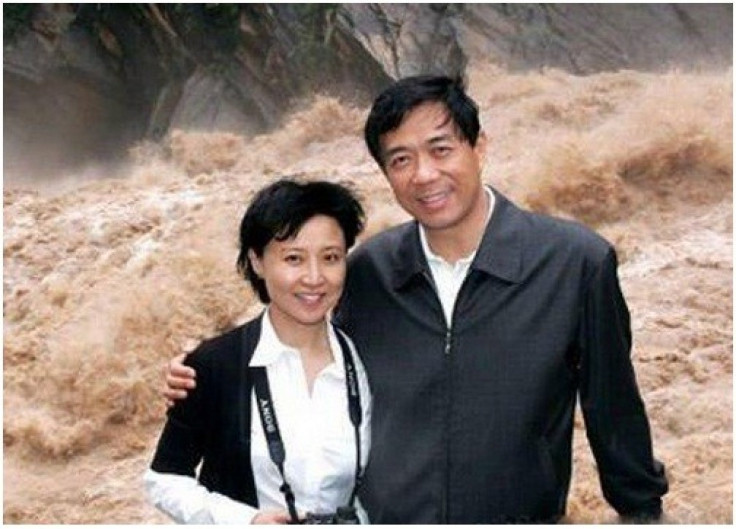 Nearly 10 years ago, a popular television drama in China, Winning a Lawsuit in America, starred a smartly dressed, ambitious female lawyer fighting against the odds in a fictional case brought by a Chinese company against an American business partner. Backing her is a developing love interest, the acting mayor of a large city on the Bohai Gulf in northeastern China, who sports an intense gaze and an impressive combover.
For viewers in China, it's obvious that the characters are remarkably similar to Gu Kailai and Bo Xilai, an elite power couple now finding itself at the center of a troubling political and legal scandal. Bo, a throwback Chinese leader who is partial to Mao-era slogans and Red Guard pomp, was fired Tuesday from his position in the top echelon of the Communist Party, and Gu is embroiled in a murder investigation taking place at the intersection of politics and business.
The show shares its title with a book written by Gu, mostly based on her legal experiences in the United States. The litigation at the center of the drama involved a business dispute between Chinese companies in Dalian, a seaport town, and a bankrupt business in Alabama.
A court-appointed bankruptcy trustee had accused the Chinese companies of attempting to steal trade secrets and of defrauding the Mobile-based firm – and won a judgment of more than $1 million against the Chinese companies. In 1997, Gu led a team of lawyers to persuade the courts to overturn the judgment. In China, that was seen as a huge victory for Gu and for the country's then-budding rivalry with the U.S.
In real life, Gu and Bo met in 1984. Gu was Bo's second wife, and they had a son in 1987. The pair lived in Dalian between the late 1980s and 1990s, and in 1992 Bo was named acting mayor of the city. He was later promoted to party chairman there.
During Bo's stay in Dalian, the city's economy soared and its aggressive development model became an example for the entire country; Bo's and Dalian's stars rose together. Gu, a graduate of prestigious Beijing University, started her law firm, Kailai Law, in Dalian in 1995.
Bo went on to become a provincial governor and national minister of commerce before taking a leadership role in Chongqing, one of China's biggest cities, and being offered a seat on the Communist Party's powerful Politburo and Central Committee. The party has now stripped him of those positions.
Gu's law firm, now known as Beijing Angdao Law, went on to expand in the capital. It has clients all over the world, including in the U.S., Asia and Europe, and specializes in advising on American and British legal issues. Gu resigned as company president when she moved to Chongqing with Bo in 2007.
The couple's time in Dalian, however, remains a critical juncture in their story, because it is there that they met Neil Heywood, a British citizen and consultant to British companies in China, whose mysterious death has now placed Gu in the stunning position of being a murder suspect.
A Mystery Consultant ...
Heywood was found dead in a Chongqing hotel in November 2011.
The Guardian reported that Heywood had befriended Bo and Gu and had helped their son Bo Guagua gain entrance into the prestigious English private school Harrow, his own alma mater.
Western media have linked Heywood's career to an on-again off-again affiliation with British business intelligence firm Hakluyt. But Hakluyt representatives denied that Heywood was an employee of the company, and stated that he was not in Chongqing on its behalf.
Heywood's death was originally described as the result of alcohol poisoning, although his body was cremated without an autopsy. But now, the Chinese government has changed its version. Official media said last week: Through re-examination, current evidence proves that Heywood's death resulted from homicide; Bo-Gu Kailai and Zhang Xiaojun [a household employee of the Bo family] are highly suspected of having committed the crime.
In the same statement Gu and Heywood are described as having had good relations in the past, but due to problems in their economic interests, conflicts increasingly intensified. The statement does not specify what those interests and conflicts might have been.
... and a Possible Defector
The Chinese couple was not linked to the Heywood death until Feb. 6, when Wang Lijun, Chongqing's former police chief and deputy mayor and at one time a Bo confidant, appeared at the American Consulate in the nearby city of Chengdu, where he spent almost 24 hours. Wang had been dismissed as police chief on Feb. 2, but at that time still retained his position at deputy mayor.
Exactly what Wang was doing at the consulate has been the object of speculation, since no details on this have come from either the U.S. or Chinese governments. China claims that Wang later voluntarily left the consulate. Western media reported that he was escorted out by Chinese police and officials -- and then, at least according to Chinese official media, he started talking to Chinese authorities about what he knew of Heywood's death.
Chinese state censors and news reporting have been exceptionally careful in their descriptions of the events surrounding Bo and Gu's downfall, Heywood's death, and Wang's possible attempted defection.
The media have called on citizens to remain loyal and unified, and stand behind decisions made by top leadership on the scandal.
Support the decision of the central party, decreed state media regarding Bo's dismissal. The Wang Lijun incident, Heywood's death, and Bo Xilai's serious infractions served as an alarm bell in a socialist nation with rule of law, where party members must stop evil at its inception and prevent corrosive influences from spreading.
© Copyright IBTimes 2022. All rights reserved.
FOLLOW MORE IBT NEWS ON THE BELOW CHANNELS