Guatemala President Resignation Scandal Sees Thousands Of Protesters Demonstrate Against Corruption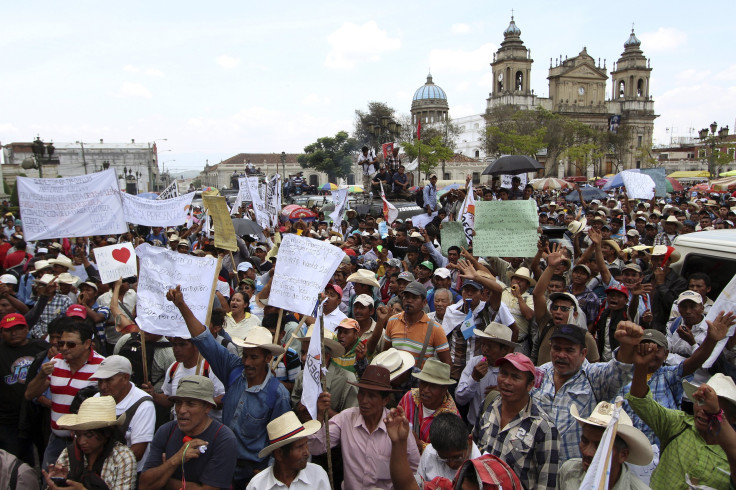 Weeks of protests against Guatemala President Otto Perez Molina culminated Wednesday in the arrest of several state officials tied to a corruption scandal and thousands of protesters marching in Guatemala City to demand new presidential elections. The demonstrators want Molina to resign after Central Bank governor Julio Suarez was detained and former presidential aide Juan de Dios Rodriguez was accused of fraud.
The arrests came after the resignation of Vice President Roxana Baldetti earlier this month in an unrelated corruption case. Perez, however, has said he will not give in to the protesters' demands and resign as head of state.
"Different motives have come together to demand the president's resignation," Guatemalan political analyst Gustavo Illescas told teleSUR, "including dissatisfaction with the corruption within (Perez) Molina's government, the fact that he made money off of medicine and health services meant for the population, or the fact that he carried out repressive actions against the indigenous and campesino movements."
The "Renuncia Ya" movement, or "Resign Now" effort, has demanded an end to government corruption. The protesters yelled out slogans, including: "We're tired of so much robbery, we're the ones from below and we're going for the ones up above," El Universal reported.
"It's time for the people to rise up because we have realized that corruption is at all levels within the agencies of the state," Vicenta Jeronimo, vice president of the Guatemalan rural organization Codeca, told Prensa Latina. "Indigenous people and campesinos unite today in the capital, demanding Otto Perez Molina #ResignNow, freedom for political prisoners, and more."
Demonstrators also have demanded the resignation of the new vice president, Alejandro Maldonado, for overturning the guilty verdict in former Guatemalan dictator Rios Montt's genocide trial. Maldonado was appointed vice president by Congress last week.
"We don't want the thieves to govern anymore," 70-year-old María Letona, who went to the protest with neighbors from an exclusive enclave of Guatemala City, told Tico Times. "They see us as toys. It's shameful what they're doing to the people of Guatemala."
The U.S. government has closely watched the protests. "We support President Otto Perez Molina and his administration's efforts to address charges of official corruption in Guatemala," a State Department spokesperson said earlier this month. "Strengthening transparency and government accountability is a central element of the Alliance for Prosperity and the U.S. Strategy for Engagement in Central America. Guatemala has been and remains a strong partner of the United States and a regional leader. We urge all Guatemalans to support the governmental institutions that investigate and prosecute allegations of corruption, and encourage the Perez Molina administration to work closely with the International Commission against Impunity in Guatemala"
© Copyright IBTimes 2023. All rights reserved.