Guillermo Ochoa: 5 Things To Know About The Mexico Goalkeeper Who Held Brazil To A 0-0 Draw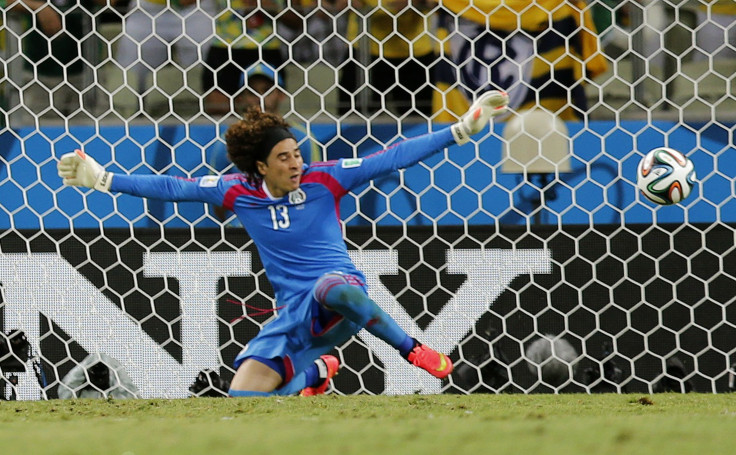 It was an entertaining contest between Brazil and Mexico on Tuesday with remarkable saves and multiple near misses, while spectators were also treated to the heroics of Guillermo Ochoa, the Mexican goalkeeper, who foiled every attempt by Brazilian strikers and held the host country to a goalless draw.
Brazil, following a sensational 3-1 win over Croatia in the opening game of the 2014 soccer World Cup, was the favorite coming in to its second game of the tournament against Mexico. However, the hosts and five-time champions were unable to penetrate the shield, which Ochoa, nicknamed Memo, built up around the goalposts, blocking eight attempts on the net, including those by Paulinho, Neymar and Thiago Silva.
"I don't know whether I can think of another goalkeeper in memory...someone who has done what Memo did today," Reuters quoted Miguel Herrera, the Mexican coach, as saying at a news conference after the game. "Memo today had high-level saves, gave the certainty to the team that we needed and gave confidence that we're well covered."
Here are some interesting facts about Ochoa, who was not among the game's celebrated names, but became an overnight sensation after Tuesday's face-off.
Third World Cup, First Appearance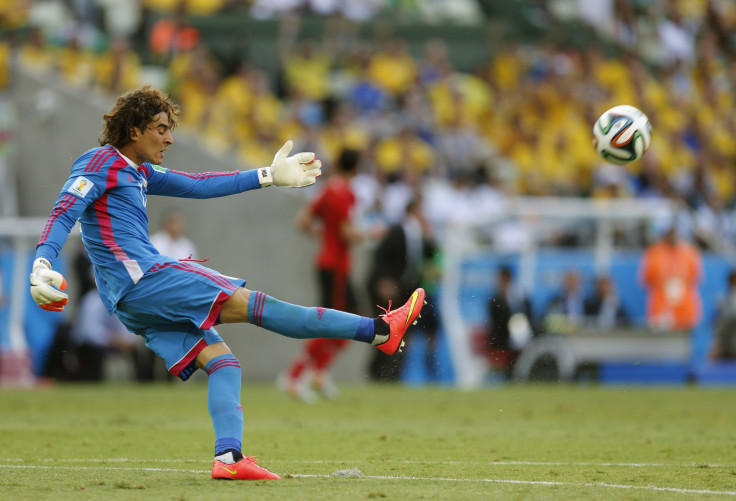 Ochoa, who made his debut at the age of 18 with Club América during the Clausura 2004 tournament against Monterrey, was included in the Mexican national team for the 2006 and 2010 editions of the World Cup. However, he never got a chance to play in either tournament.
On both those occasions, experienced goalkeepers Oscar Perez and Oswaldo Sanchez were preferred to Ochoa, who finally got the No. 1 jersey in Brazil and delivered. Last week's game against Cameroon, which Mexico won 1-0, was the 28-year-old Ochoa's World Cup debut.
A Free Agent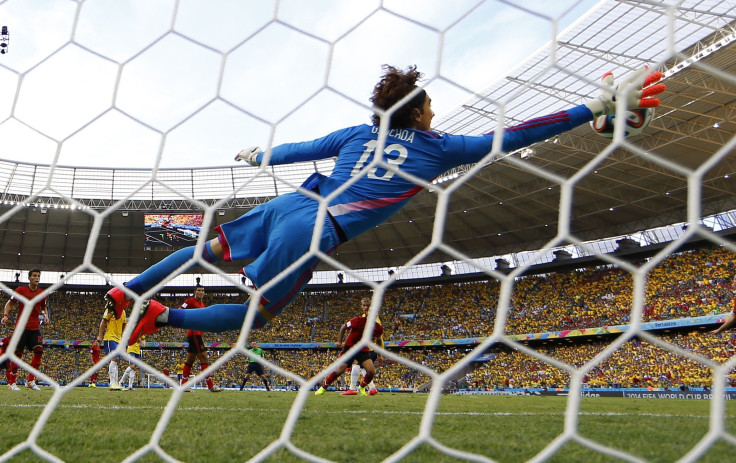 Ochoa signed a three-year contract, with an additional one-year option, with AC Ajaccio, a French club, in July 2011. The contract will expire at the end of this month but Ajaccio has not offered Ochoa a new deal, which will make him a free agent at the end of the contract, to be wooed by teams looking for a really safe pair of hands.
With many clubs currently looking for new goalkeepers, Tuesday's performance by Ochoa most probably means the player won't be starved for offers.
Tested Positive
Ochoa was one of five players on the Mexican national team who tested positive for the banned substance Clenbuterol during the 2011 CONCACAF Gold Cup. Ochoa, along with the four other players, was subsequently banned from the team's tournament squad.
However, the Mexican Football Federation acquitted all players after it was proved they had unintentionally consumed contaminated meat. Although the World Anti-Doping Agency appealed to request a ban, it later withdrew the request.
Six Fingers -- A Hoax
While social media is buzzing with mentions of Ochoa after his incredible performance, a photo of the player with six fingers -- a hoax -- is also doing the rounds.
Life Beyond Soccer
Ochoa dated Dulce Maria, a Mexican actress, singer and songwriter in 2006, but the pair split up after a year. Ochoa now has a daughter, named Lucciana, with Karla Mora, a Mexican model, whom he met in France.
© Copyright IBTimes 2023. All rights reserved.