VIDEO Mexico 0-0 Brazil: Highlights; Brilliant Ochoa Saves Frustrate Seleção In Fortaleza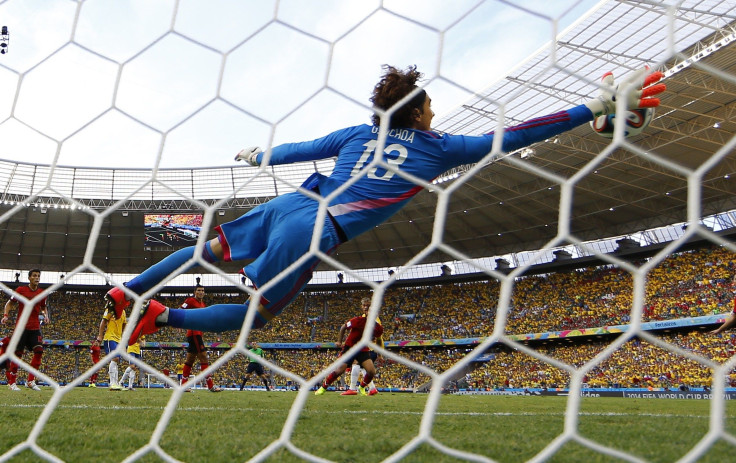 Mexico's Guillermo Ochoa played a starring role in frustrating Brazil, as for the second match running in the World Cup the hosts failed to shine. This time, unlike against Croatia, the score line bore a greater reflection of Brazil's struggling performance as a superb Mexico performance secured a goalless draw in Fortaleza.
There had been a large element of fortune about a 3-1 in over Croatia to kick off the 2014 World Cup, but none was forthcoming here. Mexico gave Brazil all they could handle, threatening going forward and defending stoically throughout. When Brazil did navigate through the Mexican backline they found goalkeeper Ochoa inspired.
Without a club after leaving Ligue 1 side Ajaccio, Mexico's No. 1 will surely not have to look hard for future employment after pulling off a string of outstanding saves to deny Luiz Felipe Scolari's men. Already Ochoa had pulled off two sensational stops from Neymar and another from Paulinho, before, with four minutes remaining, he kept out a fierce header from Thiago Silva from pointblank range as many of those decked out in yellow in the crowd were already celebrating a dramatic late winner.
Instead, after an impressive opening win over Cameroon, Mexico now have four points from two games. And, while a point will likely still be required against Croatia in their final match of the group stage in order to ensure progress, there is huge reason for optimism for Miguel Herrera's side, especially after all the travails in simply reaching Brazil.
Scolari, meanwhile, still has much to ponder. The center of Brazil's midfield was again undermanned and with Paulinho poor once more, their deficiencies in that crucial area were only heightened. Brazil will surely still make it into the last-16, but big improvements will be needed if they are to fulfill massive expectations to lift the trophy on home soil.
After another extended a cappella rendition of the national anthem that left Neymar in tears, it was Brazil who soon established superiority. Again, though, there was not the early blitz that repeatedly followed the pre-match outpouring of emotions in last year's Confederations Cup. The areas for Brazil to exploit in the Mexico system were out wide, and especially down Mexico's right. But, with Hulk out injured, Ramires and Oscar began in the wide positions and offered little attacking width. Meanwhile, up front, Fred was having a day to forget. His failure to contribute anything of note was only compounded by repeatedly being caught out offside to bring promising moves to a premature end.
Brazil's only two chances of the first half came from crosses into the box. The first from Dani Alves saw Neymar rise athletically above Rafa Marquez in the box and head powerfully toward the corner, only to be denied by an astonishing save from Ochoa at full stretch. There was plenty more to come from Mexico's stopper.
Right before half-time, Mexico botched its offside trap for a free-kick, Thiago Silva chested on for Paulinho, but the midfielder was immediately confronted by the out-rushing Ochoa to deny him.
Clearly unhappy with what he had witnessed, Scolari dragged off the limited Ramires at half-time for the much more creative Bernard. The diminutive wide man provided an early threat going forward, but his introduction led to a further weakening of the central midfield. Far from simply hanging on, Mexico had the better of the first 20 minutes of the second half. Able to control the center of the pitch, with Jose Juan Vasquez, Andres Guardado and Hector Herrera all impressing, Mexico had the hosts rattled. The only disappointment will be that their efforts on the Brazilian goal were limited to shots from distance.
Still, the second half was a thrilling spectacle from an entertainment point of view, helped by Brazil's lack of coherent shape and raggedness. With Oscar now moving over to help out in central midfield, and Neymar alongside Fred's replacement Jo up front, there was a massive void on the right. There was a further cavernous gap between Brazil's midfield and defense that Mexico threatened to expose late on.
More through force of will and individual skill than any great plan, Brazil did still create chances in the closing stages as they pushed desperately in search of a winner. Bernard twice exposed the vulnerability on the right side of Mexico's defense, first with a cross that led to Neymar firing a left-footed effort that Ochoa again repelled. Then from a pass slipped down the side of the box, Jo shot well wide of the far post.
Thiago Silva soon had an even better chance. With an inexplicably free header from six yards, Brazil's captain only had to put the ball to either side. Instead, he went down the middle and Ochoa put the exclamation point on his heroic display to bat it away.
Brazil 0 ~ 0 Mexico (Highlights) Group A: 2014...by HumanSlinky
© Copyright IBTimes 2023. All rights reserved.