Guinea-Bissau Military Junta Steps Down, Hands Power To Transitional Government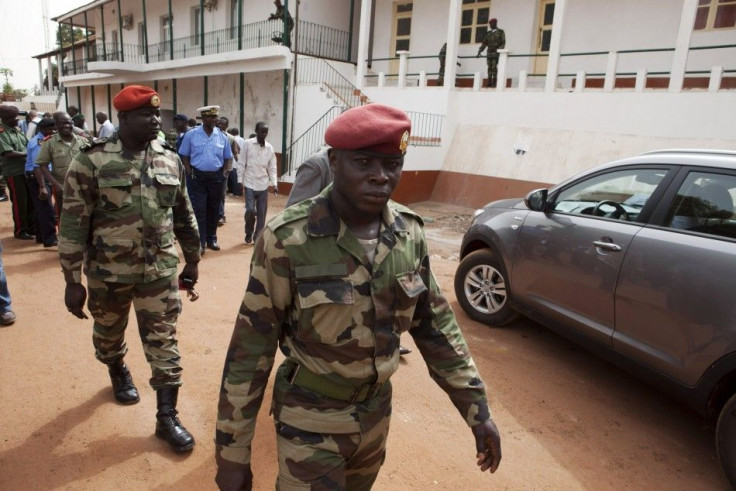 On Wednesday, a military junta that seized power in Guinea-Bissau last month formally agreed to step down. A new transitional government is set to lead the nation for 12 months in the run-up to a new round of national elections in the coastal West African country.
Junta spokesman Lieutenant Colonel Daba Na Walna told Agence France-Presse that the deal had been confirmed.
Now that the transition government has been formed, the military command and the army will return to their barracks, he said.
The step-down follows last week's peace agreement, brokered by the Economic Community of West African States (ECOWAS), which instituted former economist Rui Duarte Barros as the prime minister of a transitional government. Barros took office on May 17.
Now, an administrative cabinet has been established with 14 ministers and 13 junior ministers.
Wednesday's agreement, however, may be fragile, given that members of the junta still wield influence and have given no date for a complete withdrawal. In fact, the new defense minister Colonel Celestino Carvalho was himself a participant in the coup, and Interim President Manuel Serifo Nhamadjo was chosen by junta leaders. No members of the government ousted last month will be part of the new administration.
The transitional government is charged with the reformation of civil service and security forces, reports AFP. In preparation for national elections next year, electoral laws will be revised and an electoral commission will be established.
In a country where no elected leader has served out his full term in almost 40 years, stability is the ultimate goal.
Guinea-Bissau has endured constant political turmoil since winning independence from Portugal in 1974. About two-thirds of the country's 1.5 million people live below the poverty line. In recent years, a drug-trafficking epidemic has exacerbated Guinea-Bissau's economic problems; the country serves as a transit hub for traffickers smuggling cocaine from Latin America into Europe.
High-ranking members of the military have been accused of involvement in the lucrative drug trade, which has complicated national politics and provoked constant power struggles, coups and high-level assassinations.
In last month's coup, the military junta interrupted presidential elections to prevent a likely victory for Carlos Gomes Junior, who had run on a campaign of reforming the military. The coup was widely condemned by the international community, prompting sanctions from ECOWAS.
Now that ECOWAS and the junta have come to an agreement, hundreds of foreign troops will be stationed in Guinea-Bissau to promote stability. So far, 70 troops have arrived from Burkina Faso. A total deployment of about 600 troops is expected to arrive, including soldiers from Nigeria, Senegal and Togo.
© Copyright IBTimes 2023. All rights reserved.
FOLLOW MORE IBT NEWS ON THE BELOW CHANNELS