Obama in Minneapolis: Gun Violence Prevention Will Happen if 'American People Decide It's Important'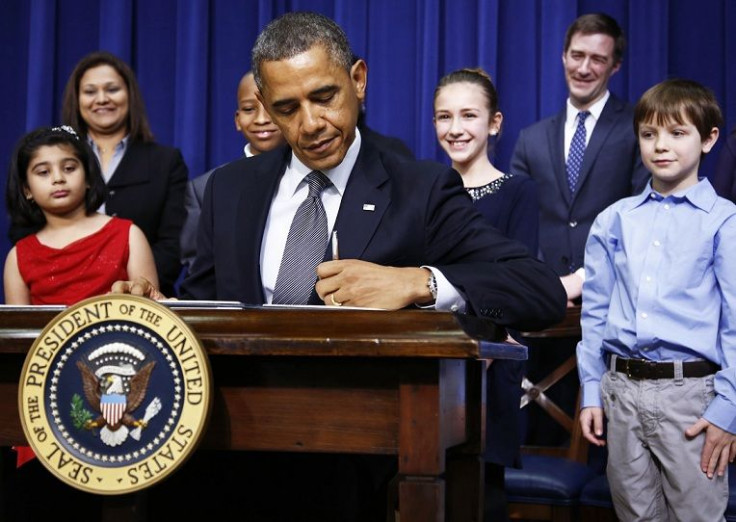 President Barack Obama said Monday a consensus is forming around the kinds of "common-sense" firearm restrictions his administration has proposed in an effort to reduce gun violence, speaking during an event in Minneapolis that marks his first trip outside Washington in 2013.
"We don't have to agree on everything to agree that it's time to do something," Obama said, flanked by dozens of law enforcement officials at the Minneapolis Police Department's Special Operations Center.
The trip marked the first of what could be several campaign-style stops to build support for his administration's anti-gun violence proposals. Obama has called on to Congress to pass legislation that would enforce criminal background checks for all gun buyers, which polling shows is almost universally supported, even by gun owners.
Obama has also proposed instituting stricter laws against illicit gun trafficking and re-establishing a ban on assault weapons, which expired in 2004. However, the assault weapon ban faces enormous opposition in the U.S. House and Senate that makes its passage unlikely.
The president, noting that the only way the nation can combat gun violence is if "the American people decide it's important," encouraged the audience to contact their congressman to encourage them to act.
"Tell them now is the time for action. That we're not going to wait until the next Newtown. The next Aurora," he said.
The White House reportedly chose Minneapolis for the policy speech because the city has, in recent years, made huge strides toward curbing firearm-related violence. After experiencing a spike of youth-related violent crime in the mid-2000s the city – once known as "Murderopolis" – launched a youth violence initiative that led to a 66 percent drop in the number of minors involved in gun-related incidents. As a result, in five years there has been a 41 percent drop in youth injured by guns, USA Today reports.
The Minneapolis plan framed gun violence as a public health issue, suggesting it is primarily influenced by a person's surrounding environment – such as their economic circumstances, family support, incentives to join gangs, etc. A document titled "Blueprint for Action: Preventing Youth Violence in Minneapolis," laid out the four main principles of the plan: 1. Ensure all minors are connected with an adult they can trust, 2. Intervene at the first sign of risk, 3. Help rehabilitate youths who have already committed violence and 4. Discourage the broader culture of violence.
There has also been a bipartisan push by sheriffs across the state to improve the state's background check system for gun buyers, including speeding up the input of felony and drug convictions.
In addition to gun control measures, Obama's anti-violence package includes increasing mental health resources, boosting funding for school security and lifting restrictions that prevent the government from researching the causes of gun violence.
© Copyright IBTimes 2023. All rights reserved.
FOLLOW MORE IBT NEWS ON THE BELOW CHANNELS