H7N9 Bird Flu Passes From Person To Person In China For First Time: Study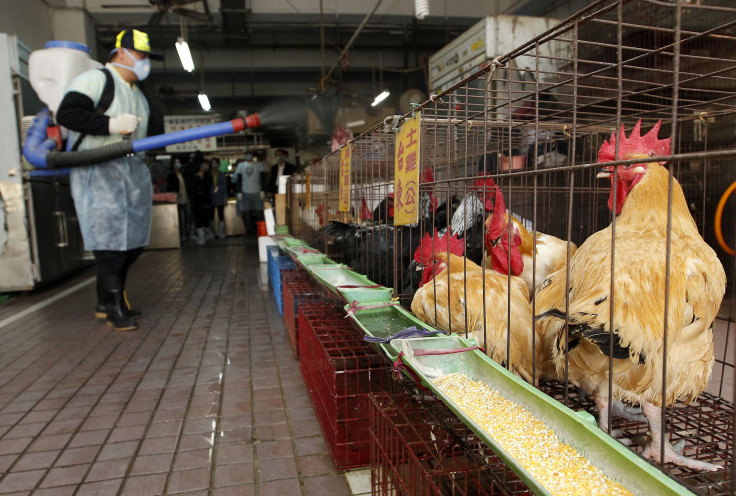 Scientists say they have found the first case of the H7N9 bird flu virus jumping from one person to another in eastern China.
A study published on Tuesday in the British Medical Journal by Chinese scientists outlined the case of a 60-year-old male patient struck by bird flu after visiting a poultry market, and his 32-year-old daughter, who also fell ill. The incidents occurred in the city of Wuxi, which is about 87 miles northwest of Shanghai. The daughter had no known exposure to poultry before falling ill, and started showing symptoms six days after caring for her father in the hospital. When the researchers analyzed viruses isolated from both patients, they found the genetic sequences were nearly identical.
"The infection of the daughter probably resulted from contact with her father … suggesting that in this cluster the virus was able to transmit from person to person," the authors wrote.
In July, Chinese health officials confirmed that 132 people have been infected with H7N9, and 43 people had died from the flu as of June 30. Until now, researchers had only seen the virus jump from birds to humans; if the virus gains the ability jump from person to person, the possibility of an epidemic lurches higher. Scientists have already found that the virus can pass between ferrets.
Fortunately, the transmissibility of the virus seems limited at present. The researchers identified 43 people who regularly came in close contact with both the father and daughter patients, including health care workers and the man's wife, son-in-law and granddaughter. Only one was mildly ill at the time of the scientists' inquiry, but they did not test positive for avian H7N9 flu.
"Our findings … indicated that the virus has not gained the ability for efficient sustained transmission from person to person," the authors wrote.
The fact that the virus passed between father and daughter, and not to the son-in-law who also provided bedside care to the original patient, suggests there may be a genetic susceptibility to the virus. Thus, bird flu may more easily be passed between blood relatives.
The study is a bit limited – since both patients were critically ill, the researchers could not interview the daughter to better ascertain her recent history. It is still possible that she may have picked up bird flu independently from her father, somewhere in the environment. There were two swans residing in the neighborhood where the patients lived, but neither tested positive for bird flu.
SOURCE: Qi et al. "Probable person to person transmission of novel avian influenza A (H7N9) virus in Eastern China, 2013: epidemiological investigation." BMJ 2013: 347, 6 August 2013.
© Copyright IBTimes 2023. All rights reserved.