Hagia Sophia Mosque Conversion Protests: Hundreds Call For Historic Church To Open For Muslim Worship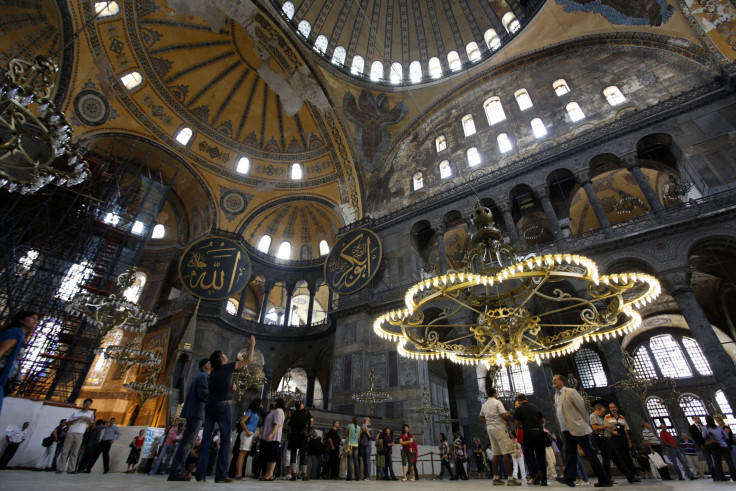 Calls to convert Istanbul's Hagia Sophia into a mosque have been growing in Turkey, with hundreds of people rallying over the weekend to demand that the historic Byzantine cathedral be opened to Muslim worship. The demonstration comes weeks after a leading Muslim figure in the country raised the issue of the landmark's status, prompting questions about whether Turkey's Islamist-led government was planning to repurpose the Unesco World Heritage site.
A number of Turkish nongovernmental organizations organized the rally Sunday in front of the landmark in Istanbul's Sultanahmet district, Turkey's Anadolu news agency reported. Protesters carried signs that read "Hagia Sophia needs to be reopened as mosque" and "Let our lives be sacrificed for Islam."
The Mufti of Ankara had predicted that such calls would gain momentum in the aftermath of Pope Francis' recognition of the Armenian genocide last month. "Frankly, I believe that the pope's remarks will only accelerate the process for Hagia Sophia to be reopened for [Muslim] worship," Mufti Mefail Hızlı said in a written statement reported by the
Turkish news site Hurriyet
in April. The religious leader argued that Francis' remarks about the mass killings, which Turkey does not recognize as a genocide, reflected a "modern color of the crusader wars launched in these lands for centuries," and would manifest itself in an intensified drive to allow Muslim worship in the building.
The sixth-century edifice served as a Greek Orthodox cathedral until 1453, when Ottoman invaders conquered Istanbul and ordered the Hagia Sophia's immediate conversion into a mosque. Islamic-style minarets were added around the iconic Byzantine dome. The building then served as a mosque for 482 years until just after the fall of the Ottoman Empire. The secular founders of the modern Turkish state later reopened the building to the public as a museum in 1935, which is how it is operated today.
Turkish Deputy Prime Minister Bülent Arınç sparked an outcry in November 2013 when he voiced his hope that the "Hagia Sophia Mosque" could soon be used as a mosque by worshippers. The comments were denounced by neighboring Greece, which sees the landmark as a part of its historical and religious heritage. The country's foreign ministry released a statement condemning Arınç's remarks and calling the idea of converting the mosque "an insult to the religious sensibilities of millions of Christians."
The building's status has become an increasingly sensitive subject -- not just between Christians and Muslims in the region but also between secularists and Islamists within Turkey. Recent campaigns to reopen the Hagia Sophia to Muslim prayer have been met with outrage from Turkish secularists, who support keeping it as a museum. Many see the issue as emblematic of their struggles against the Islamist push championed by Turkish President Recep Tayyip Erdoğan and his AKP government.
© Copyright IBTimes 2023. All rights reserved.