Haiti Elections 2015: Former PM Laurent Lamothe Enters Presidential Race Despite Lack Of Parliamentary Approval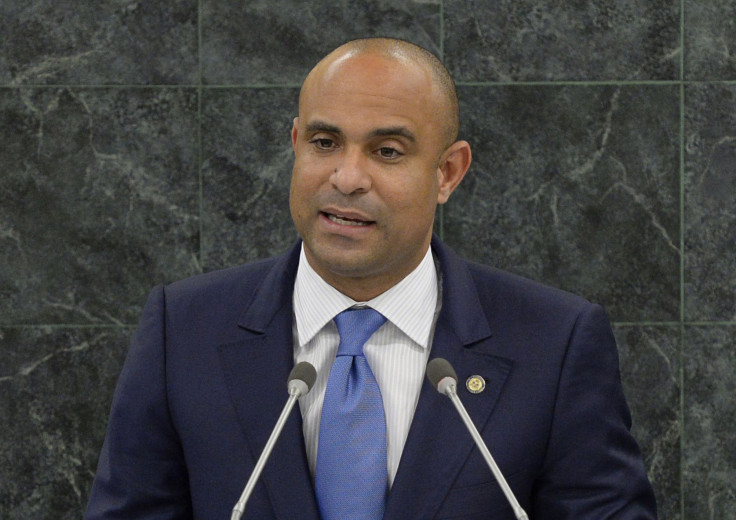 Laurent Lamothe, the former Haiti prime minister who was forced to resign from his post in December 2014 when the country failed to hold scheduled elections, applied Wednesday to run for its presidency, according to a report. Haiti will hold long-delayed parliamentary elections in August and presidential elections in October.
Lamothe applied to join a field that includes at least 35 candidates just three hours before a registration deadline, the Miami Herald reports. Haitian law requires that Lamothe obtain a "décharge," or parliamentary decree that absolves him of corruption during his time in office. But Haiti's parliament dissolved in January after the government failed to hold elections, leaving President Michel Martelly to rule by decree.
"En route," Lamothe tweeted Wednesday, as translated by the Miami Herald. "The work has just begun."
If approved, Lamothe's participation in the presidential race could reportedly cause several opposition politicians to drop out in protest. Critics warn that Haiti's long-awaited elections could face demonstrations and even violence if the Provisional Electoral Council, which oversees the electoral process, allows Lamothe to run without a décharge from parliament. Lamothe has argued that he should be allowed to run without a décharge because independent auditors have cleared him of financial mismanagement.
"If they were to make an exception [for Lamothe] it can create a lot of frustration and eventually violence," Rosny Desroches, director of Haiti's Civil Society Initiative, told the Miami Herald.
Scheduled for Aug. 9, Haiti's senatorial elections will be its first since May 2012, the BBC reported in March. Presidential elections are scheduled to occur on Oct. 25. Constitutional law prevents Martelly from running for another term as president. Thousands of protesters called for Martelly's resignation when Haiti's parliament dissolved last January amid allegations he purposely delayed elections to extend his term in office.
Haitian citizens have held anti-government protests several times this year over its failure to hold elections and to curb high fuel costs. Police arrested 20 protesters in Port-au-Prince in February after demonstrations against fuel costs impeded the flow of traffic in the capital city's streets.
© Copyright IBTimes 2023. All rights reserved.