Haitian Flag Day History 2015: The Real Meaning Behind The Country's Red And Blue Stripes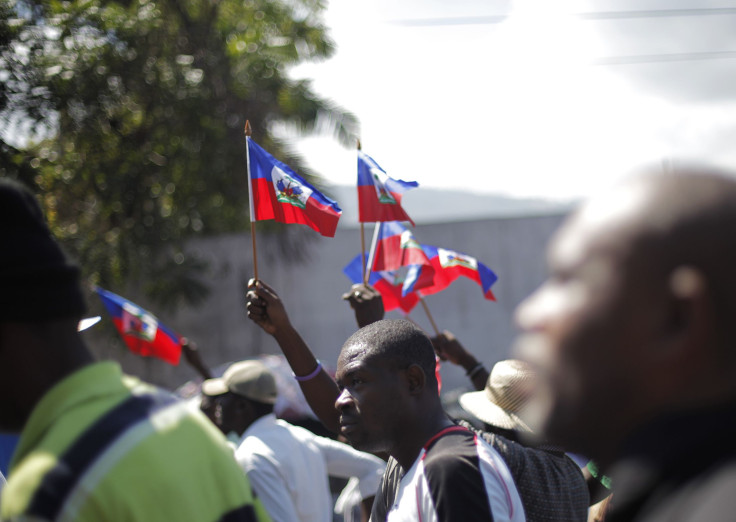 The Haitian flag has long been a symbol of pride for Haiti. Haitian Flag Day on Monday, May 18, is all about celebrating the culture and heritage of the Haitian flag, which is emblazoned with the country's coat of arms and the colors red and blue, adopted from the French flag. Haiti gained its independence from colonial rule in 1804, making it the first country in Latin America and the Caribbean to do so, and the second republic to defeat a European colonial power in the Americas.
Haitian Flag Day events took place not just in Haiti, but in U.S. cities as well. "We just want people to come and enjoy the day, taste the food, listen to the music, and see how joyful this population is," Indira-Charles-Hyppolite told WTOC-TV while attending a weekend Haitian Flag Day celebration in Savannah, Georgia. "We want them to know we will be here until midnight, dancing, singing, and eating."
The Haitian flag as it's known today first came into use in 1806. The story behind the flag's red-and-blue backdrop is that Jean-Jacques Dessalines, a leader in the Haitian Revolution against France, removed the white in the French flag to symbolize an end to white European influence. The blue is said to represent the former African slaves who were brought to Haiti by the country's colonial rulers. The red stands for people of mixed ancestry.
Tragedy has often plagued the small Caribbean country, which has suffered countless natural disasters and struggled with poverty and political instability. Port-au-Prince was the epicenter of a devastating earthquake in 2010 that killed hundreds of thousands of Haitians and left the country's capital in ruins.
Today, the country is among the poorest nations in the Americas. One in nine children die before the age of five, according to Deep Spring International. Eighty-eight percent of the population lives on less than $2.00 USD a day.
Pop artist Beyoncé visited Haiti over the weekend wearing a T-shirt with the name of her charity, Bey Good. A United Nations spokeswoman said the singer was there to meet victims of the 2010 earthquake, according to the Associated Press.
© Copyright IBTimes 2023. All rights reserved.
FOLLOW MORE IBT NEWS ON THE BELOW CHANNELS