Half The Sky Is Falling: Systemic Violence Against Women In Guatemala Ripples From Brutal Civil War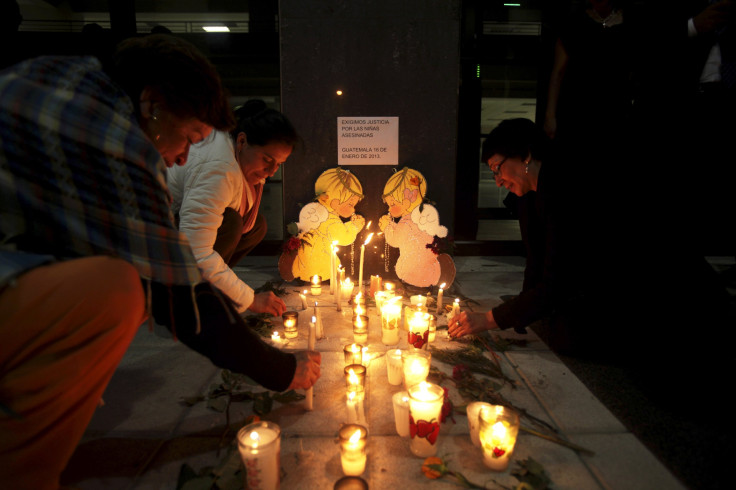 Six dead bodies, three women and three girls, were found Wednesday in two different parts of Guatemala -- all of them believed to be victims of homicide.
Two of the girls, ages six and 12, were found on a residential street in the capital, Guatemala City, apparently strangled and still in their pajamas. Not far away, two women between the ages of 20 and 35 were found on separate blocks, one of them shot through the face.
In the town of La Union, 127 miles east of the capital, a mother and her 16-year-old daughter were shot dead outside of a school.
"It's tragic. And it's incredibly tragic that this is so common," said Kelsey Alford-Jones, director of the Guatemala Human Rights Commission.
While investigators seek to determine motives in these recent cases, it is already clear that they have occurred amid a culture of violence in which women are brutalized -- by the street gangs fighting turf wars to the transnational crime syndicates trafficking in drugs, weapons and people -- and within a system that historically has been dismissive of violence against women.
"There is a long history of violence in Guatemala being accepted," Alford-Jones said.
"Women are one of the most vulnerable and marginalized groups in Guatemala," she added. "The ways in which they are targeted have been much more brutal then with men … and there has been a systemic bias against women within the judicial system when it comes to prosecuting crimes."
In 2011, some 700 women were murdered, many of whom were also sexually assaulted, their bodies then mutilated and left in public view. Many of them are believed to have been targeted as a method of retaliation and intimidation between rival gangs and larger criminal organizations, but a vast majority are victims of domestic violence.
Many more cases of rape and of threats of violence go unreported -- again due to language barriers, but also for fear of retaliation, the socially-imposed acceptance of domestic abuse and the cultural stigma that shames the victims -- and in those cases that are reported, the victims are often blamed for the crimes committed against them.
"Impunity is a major contributor to the violence," said Alford-Jones.
Much of this violence and the institutionalized prejudice against women is rooted in Guatemala's traumatic and drawn-out civil war between the government and various leftist militant groups that lasted from 1960 until 1996, during which more than 200,000 people were killed or forcibly disappeared.
According to data gathered by the Commission for Historical Clarification, or CEH, established in 1994 through the Oslo Accord that finalized the resolution of the conflict in 1996, members of indigenous Maya population accounted for 83 percent of the death toll with women accounting for a quarter of all victims of recorded human rights violations and acts of violence.
"They were killed, tortured and raped, sometimes because of their ideals and political or social participation, sometimes in massacres or other indiscriminate actions," the CEH report reads.
The majority of these acts, some 93 percent, were carried out by state forces, which were trained to use femicide, or the killing of women, and sexualized violence against female civilians as an instrument of warfare, the commission reported.
"A lot of the violence against women that occurred during the armed conflict is being repeated today," said Rachel Schwartz, program associate for Central America at the Inter-American Dialogue, which analyzes social, economic and political issues throughout the Western Hemisphere. "The legacy is still there."
"The government has taken some steps to address this … but obviously the challenges are tremendous," she added.
In particular, Schwartz mentioned a lack of political will, resources and infrastructure to implement measures intended to protect women, as well as widespread political corruption and a deeply entrenched culture of machismo in all levels of society that marginalizes women's rights and issues in Guatemala.
In recent years the Guatemalan government has responded to pressure from local and international human rights groups, as well as from other nations and international bodies, to address the country's systemic violence and prejudice against women.
In 2008, the Guatemalan Congress passed the Law Against Femicide and Other Forms of Violence Against Women, creating a legal framework to prosecute crimes against women, but obstacles remain in the application of the law.
"Unfortunately, it has taken years for the judicial system to apply the law," said Alford-Jones. "The legal institutions are weak."
"Furthermore, it requires greater education of women about their own rights," she added. "In the cases of nonlethal violence, there are many challenges in reporting crimes. For example, many indigenous women speak very little Spanish, and the local police may refuse to take a report, or not understand. The risk of re-victimization for these women is also much greater ... In order for a woman to risk her life (to report a crime against her) it takes a lot of education, aside from a lot of courage."
Alford-Jones also pointed out that a major obstacle in applying the law has been the lack of a national database for criminal offenders who have targeted women, since law enforcement facilities simply lack the resources to create and maintain such a system.
This, again, can be attributed to the political, economic and cultural barriers within Guatemala, where over half of the population lives in rural, impoverished areas, their needs, let alone the needs of poor women, continually unmet by indifferent and corrupt politicians.
A lack of political representation for women is another contributing factor to the culture of violence and impunity. Of the 158 members of Congress, only 21 are women, accounting for 13 percent of the legislature though they account for a little over half the total population.
"You have to have women in office committed to those issues," said Alford-Jones. "But the men in office have to be committed too."
While political representation of women is still lacking in Guatemala, women have risen to positions of influence within the government and begun to address the issues affecting women, indigenous people and the poor that have previously been disregarded.
Guatemala's first female attorney general, Claudia Paz y Paz, appointed in 2010, has been a major force in prosecuting crimes committed during the civil war.
Last year, Paz y Paz's office tried former President Efrain Rios Montt for crimes against humanity committed during his brief 15 months in office. An army general and dictator, Rios Montt came into power through a coup d'etat in 1982, and presided over some of the most brutal acts of state terror, including genocide of the indigenous population and mass rapes, at the height of the war.
Rios Montt was later overthrown in another coup, though he evaded prosecution for over three decades. He is currently under house arrest as his trial continues.
In 2011, Paz y Paz handed down multiple life sentences to four soldiers convicted of killing 201 people in the town of Dos Erros in 1982, representing the first-ever civil war era prosecution.
"It's critically important (to prosecute civil war era crimes)," said Schwartz. "It sets a precedent that no one is above the law. … If only they had done this immediately after the end of the civil war (in 1996) then perhaps Guatemala would not be in the situation it is in today."
© Copyright IBTimes 2023. All rights reserved.