Hamas Vows Retaliation As Israeli Airstrikes Kill 9 Militants In Gaza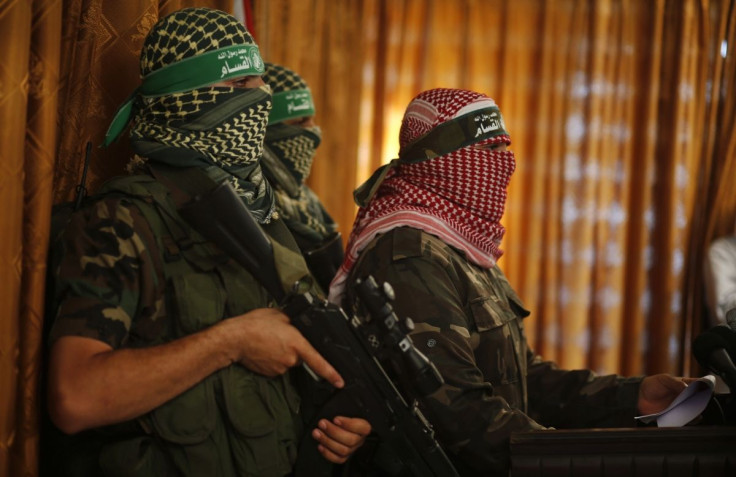 The Islamic militant group Hamas has threatened to retaliate for the Israeli airstrikes which have killed nine insurgents in the Gaza Strip region.
The Palestine-based outfit said Israel will pay the price for the attack: "This is a grave escalation and the enemy will pay the price," Hamas spokesperson Sami Abu Zuhri wrote on Facebook.
Hamas said six of its fighters died in a single strike near Rafah in the south, according to the BBC.
Three others died in separate Israeli air strikes in response to rocket and mortar fire on Israel.
Israel is launching airstrikes on Gaza targets in response to rocket fire from the region. About two dozen rockets were fired into Israel from Hamas-controlled Gaza on Sunday. One soldier was wounded.
Israeli Defence Forces (IDF) spokesperson Lieutenant Colonel Peter Lerner, said: "At least 25 times today Gaza militants put Israeli lives in direct risk from their rocket attacks. This reality is unbearable and unacceptable.
"We will continue to act in order to debilitate and incapacitate the Hamas terror infrastructure striking its warehouses, rocket manufacturing capabilities and those that endanger the wellbeing of the Israelis in the south of the country," he said.
The situation remains volatile in the region following the murder of Palestine teenager Mohammed Abu Khdair in East Jerusalem, an incident which the Arabs say was revenge for the killing of three Israeli teenagers.
Israel has arrested six Jewish suspects in connection with the abduction and the slaying of the Arab teenager.
Earlier, Israeli Prime Minister Benjamin Netanyahu pledged to deal with the situation "calmly and responsibly" but promised to punish the killers of the teenagers.
Despite Netanyahu's attempt to keep a cool head, the right-wing government authorities have been pushing for stronger action against Hamas.
This article is copyrighted by IBTimes.co.uk, the
business news
leader