Hank The Cat: Virginia's Cutest U.S. Senate Candidate Ever [EXCLUSIVE INTERVIEW]
Hank believes he has something more to offer to the folks of Virginia than George Allen (R) and Tim Kaine (D), two former governors running to replace retiring Sen. Jim Webb.
He earned his success after living in the streets. He knows how to bring jobs to Virginia. He can chase the rats out of Washington. He's really fluffy.
Hank is a 9-year-old cat from Springfield running for the U.S. Senate as an independent write-in candidate. If you don't believe it, he's got a web site, a Facebook page, a Twitter handle and a campaign ad (video below).
Hank is a refreshing candidate--energetic, inspiring, and real, reads the Maine coon's bio. Unlike so many others, he wasn't born with a 'silver spoon'--but rather earned his success and his name through hard work.
A phone call to the number on Hank's Facebook page leads to Matthew O'Leary, Hank's campaign manager and owner. He and his partner of 12 years, Anthony Roberts, said they launched the election effort on October 7, 2011 originally as a joke to kind of let off some steam.
Both photographers, they dressed up the cat in a tie and made politically-themed portraits for fun. After creating a website and a mock campaign ad, O'Leary said he and Roberts realized that people were really starting connect with Hank and what he stood for.
Everyone seems to really agree with us that even a cat can do better than what we currently have, O'Leary said.
Since the furry senate hopeful launched his campaign, Hank's been covered by The Washington Post, NBC Washington, and Fox 5 News. As of Monday night, his page had 406 likes and only 115 followers on Twitter, but that's likely to increase if his popularity continues to snowball.
It's a small operation. O'Leary and Roberts do most of the work out of Springfield while Roberts' cousin Fran Tiburzio, a PR professional from Columbus, Ohio, helps out.
Hank's message is relatively simple, too. The campaign touts a platform on job creation, citing his pulled-himself-by-his-pawstraps life from the streets to a loving Springfield home as experience. O'Leary, however, said he has two major goals: bringing attention to the negative and vitriolic nature of politics as well as raise awareness of animal adoption. On his Facebook page, Hank promises to donate $1 for every Like to the Fairfax Humane Society.
Although he is running as an independent, O'Leary said their cat is a Republican at heart. This realization came when he and Roberts would take Hank to bed every night and the cat would rip up his liberal books--and only his liberal books--to wake him up.
We're both liberal, but you know, you can't choose what your kids become, the kitten's campaign manager said.
Although he's happy to share his cat with the world, O'Leary said he hopes to hear from George Allen and Tim Kaine. The two are competing in what is shaping up to be one of the most closely-watched Senate races in the country, as it is in a swing state critical to President Barack Obama's re-election hopes, The Washington Post writes.
The two candidates have yet to comment on their third-party rival.
RELATED: Hank for Senate: Canine Super PAC Unleashes Hilarious Attack Ad [VIDEO]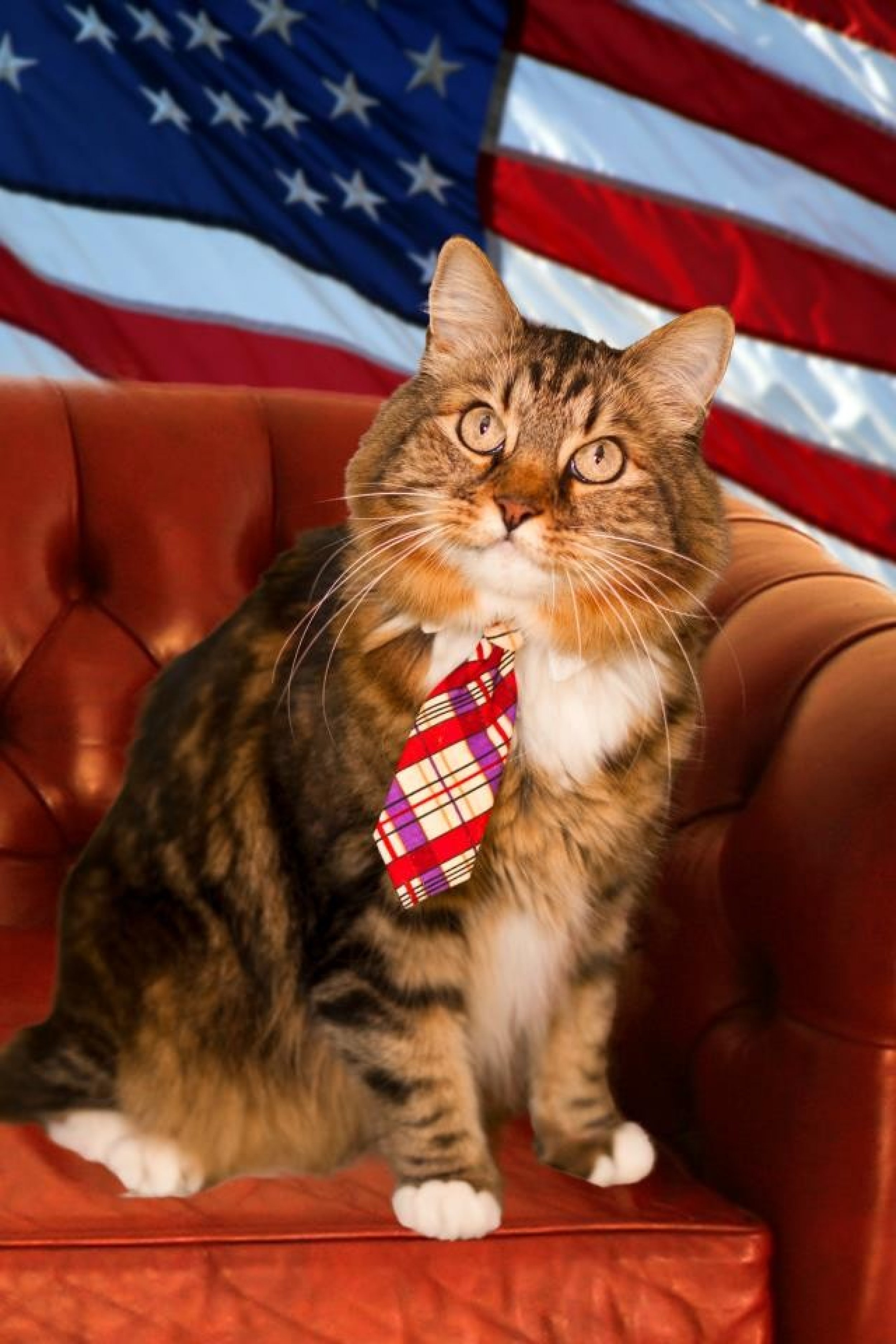 © Copyright IBTimes 2023. All rights reserved.
FOLLOW MORE IBT NEWS ON THE BELOW CHANNELS