'Happy' Paul George Explains Decision To Snub Lakers For Oklahoma City Thunder
Paul George believes he did the right thing when he chose to return to the Oklahoma City Thunder instead of joining the Los Angeles Lakers last week.
George became an unrestricted free agent and in the weeks leading up to last Friday's deadline for him to opt out of his OKC contract, it was heavily expected that he would move to the Lakers, based just over 60 miles south of his native Palmdale, California.
In doing so, he would also potentially be part of a new super team, with LeBron James being confirmed a Laker on Sunday while Kawhi Leonard could still join the 16-time champions as well.
However, it was also reported that the 28-year-old was strongly considering a stay in Oklahoma with a potential one-plus-one deal as a three-part mini-series documenting his offseason and free agency started airing last week in anticipation of his final decision.
In the first part, George hinted he may have unfinished business with OKC after a disappointing first season with them, while in the second part, he spoke of his desire to help a team win a championship, albeit in a mainly Lakers-focused segment.
In the end, he shocked the world when he decided to return to the Thunder. Not only was it not under a one-plus-one deal, but was a four-year, $137 million contract as well, as per ESPN's Adrian Wojnarowski.
In the third segment of his mini-series which recapped his final decision, George spoke of his desire in creating something special with a team that had never won a championship before as he also went on to heap glowing praise on teammate Russell Westbrook.
"It's more than just loyalty, it's about doing what I think is right. I feel this is the best and perfect opportunity to cement myself and bring a championship where it hasn't been brought," George reflected. "They've welcomed me with open arms, and I want them to feel that hype that I have toward what I think we can accomplish there. I want to be part of something that's special and something that I've created. In Oklahoma, I think there is something I can create there."
"Aside from being one of the best human beings I've been around, (Russell Westbrook's) approach to the game is what guys who want to be a part of and build something with. Russ is somebody I can win with and vice versa. So I think with this decision, that makes me much more comfortable knowing I got a shot and a real chance to win with one of the best players in the league. I'm happy. I'm more than happy. This is the city and community I chose, and the place I decided to play. And I'm excited. I'm excited to go along this journey and really go all in on this experience."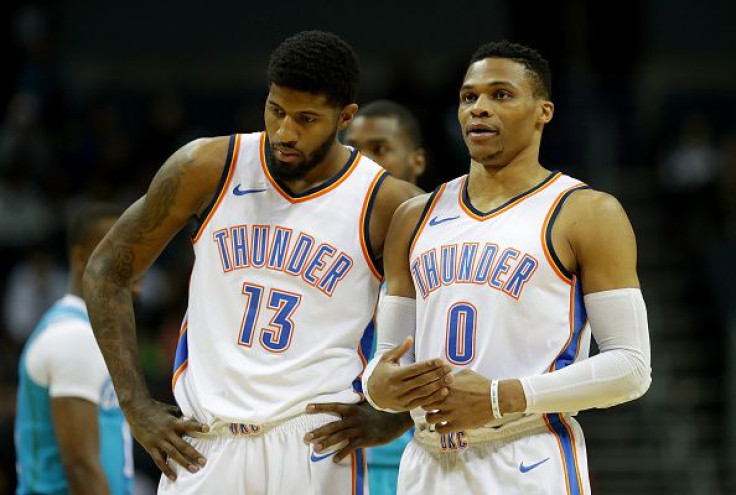 George does mention the Lakers as well as he thanked their fans for showing their support in wanting him to play at the Staples Center. However, he wanted to join them a year ago and believes things worked out for the best.
"This is not an easy decision. I 100 percent appreciate Laker nation for wanting me to come back home, wanting me to play in front of them," he said. "I wanted to come here a year ago prior to going to OKC. Unfortunately, I wasn't traded to the Lakers, the Lakers didn't grab me. I was traded to Oklahoma and that has been a beautiful thing for me."
© Copyright IBTimes 2023. All rights reserved.