Harpooned: Iceland Resumes Hunting Fin Whales, Triggering Outrage From Environmentalists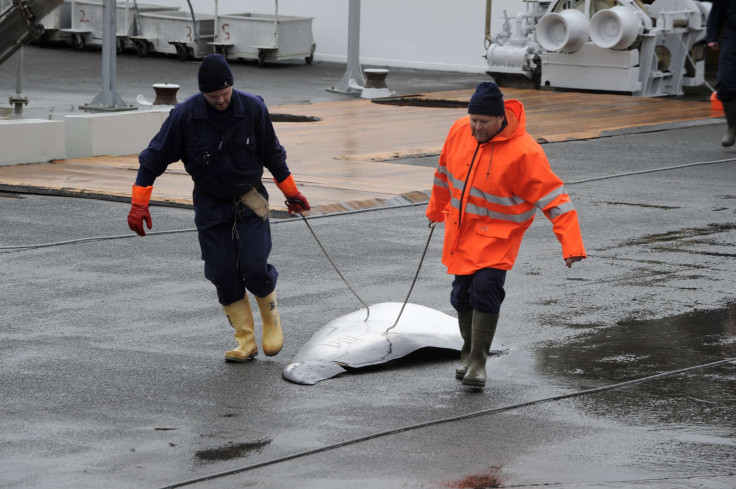 There are fewer than 1000,000 fin whales, the second-largest mammal after the majestic blue whale, left in the world, according to the World Wildlife Fund. However, the number of fin whales may continue to decline after Icelandic commercial fishermen have resumed hunting the marine creatures following a self-imposed two-year moratorium.
Environmentalists and animal welfare groups were outraged by photos of a dead whale being slaughtered for its meat in Iceland that were published earlier this week by Greenpeace, the nongovernmental environmental organization. Such groups, citing that whaling is a "cruel and unnecessary" activity, are demanding that Icelandic fishing firms, principally Hvalur H/F, cease such activities of this endangered species.
"Today's killing of an endangered fin whale makes it absolutely clear that years of international diplomatic efforts have failed," Susan Millward, the executive director of the Animal Welfare Institute, said in a statement. "Iceland is determined to act as a rogue whaling nation, no matter the cost to this species and to the country's own tourism and seafood industries."
The fin whale is on the "red list" of threatened species issued by the International Union for Conservation of Nature.
"It is a very sad day seeing these images and knowing that this endangered animal has suffered a cruel death, only to be cut up for meat that nobody needs," Robbie Marsland, UK director of the International Fund for Animal Welfare, said. "It is time that this dying industry was ended. We urge the Icelandic government to listen to its whale watching and tourism operators and many members of the public both within and outside Iceland and recognize that slaughtering whales is uneconomic as well as inhumane."
Two years ago, Iceland agreed to temporarily stop hunting fin whales after Japan, its largest market for whale meat, suffered a devastating earthquake and tsunami, which compounded its already fragile economy. Now, it appears that Iceland wants to resume exporting fin whale meat -- prized by Japanese consumers for its exquisiteness. (It was recently revealed that fin whale meat was also being used as a luxury dog food product in Japan.)
Prior to the March 2011 catastrophe in Japan, Icelandic fishermen had killed 148 fin whales in 2010 and 125 in 2009.
Now, Kristján Loftsson, the executive director of Hvalur H/F, said his company plans to kill 180 fin whales this year, with the possibility of adding 20 percent to this quota, to compensate for the fact that no whales were hunted last year.
Commercial whaling was banned in 1986 by the International Whaling Commission. Iceland was a member of this group until 1991, before rejoining again in 2001 under some special conditions -- that is, a controversial "reservation" that exempted it from the whaling ban. In 2006, after three years of hunting fin whales for scientific research, Iceland resumed commercial whaling and killed seven fin whales that year.
Now, Iceland, Norway and Japan are the only nations on Earth that kill fin whales. Japan maintains that it does so purely for "research" purposes, while the two European states admit it is a commercial enterprise.
In 2011, U.S. President Barack Obama threatened Iceland with economic sanctions if the country did not stop whaling activities; later, he toned down his rhetoric to simple urge Reykjavik to cease the practice.
"Whaling is brutal and belongs to a bygone era not the 21st century," John Sauven, director of Greenpeace UK, said. "It is deeply regrettable that a single Icelandic whaler [Hvalur] backed by the government is undermining the global ban on commercial whaling, which is there to secure the future of the world's whales."
© Copyright IBTimes 2023. All rights reserved.
FOLLOW MORE IBT NEWS ON THE BELOW CHANNELS