Hawaii Making Aggressive Move To Alternative Energy As It Looks To Cut Sky High Cost Of Importing Conventional Fuels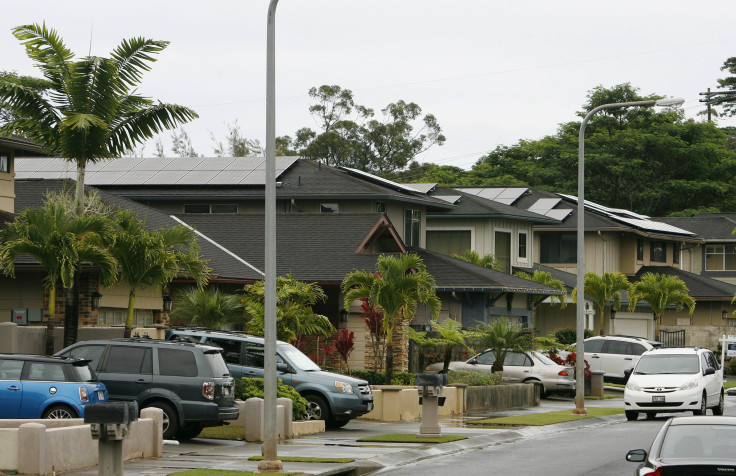 Hawaiians pay three times the national average to power their homes, as their island chain imports nearly all of its energy and relies on oil to generate electricity much more than the rest of the U.S. That's why the state launched an aggressive plan in 2008 to produce 70 percent of its electricity from clean sources by 2030, and power grid operators are encouraging efficiency programs to lower demand.
So how are those efforts coming along? The Energy Information Administration (EIA) reported Friday that Hawaii has so far replaced about 8 percent of its reliance on oil with renewable sources.
In 2008, coal and oil accounted for more than 90 percent of Hawaii's annual electricity generation, according to the EIA. Generation from coal, which comes from one facility on Oahu, has remained at 13 to 15 percent each year in the past decade, while generation from petroleum has declined. Petroleum accounted for 81 percent of electricity generation in 2002 and declined to 72 percent last year. Comparatively, the U.S. overall uses oil to power less than 1 percent of its electricity.
At the same time, Hawaii has increased its generation from renewable energy sources from 4 percent of overall electricity generation in 2002 to more than 12 percent in 2013, the EIA said. And utility-scale electric generation has declined six years in a row from 2007 to 2012, mainly from policies that have increased efficiency and encouraged homes and businesses to generate electricity on-site by solar and other means like biomass, geothermal and hydroelectric.
The largest increases in renewable energy have come from solar and wind electricity production. EIA data shows wind accounted for 36 percent of utility-scale renewable generation in 2012, and rose to 42 percent in 2013 through November. Utility-scale solar generation increased more than fivefold from 2012 to 2013 but remains only 2 percent of utility-scale renewable generation. Small-scale solar power installations on homes and businesses have also grown as power grid operators seek partnerships to minimize consumption. For example, on Thursday, the state announced a $100 million outdoor site for companies to test pre-commercial solar, ocean and algae biofuels energy technologies.
Hawaii still lags far behind other states in terms of how much electricity generation it produces from renewable sources, ranking 48th according to the U.S. Department of Energy. But to be fair, Hawaiians also consume far less electricity than the national average, no doubt in part because their utility bills are higher.
© Copyright IBTimes 2023. All rights reserved.