Here's All You Need To Know About Chrysler CEO Plans For U.S. Listing By October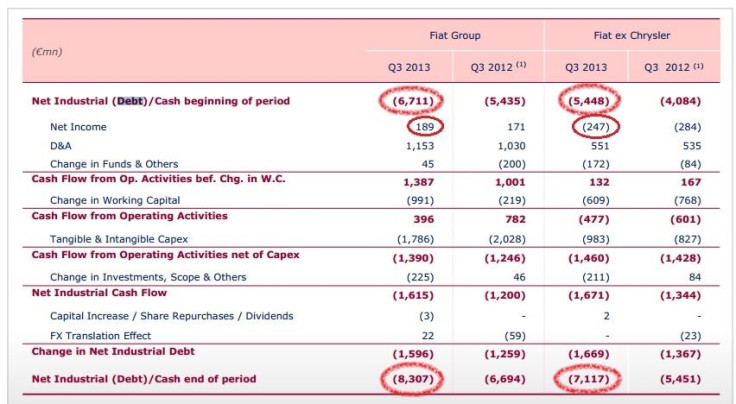 MILAN (Reuters) - The CEO of Fiat Chrysler said on Wednesday he would like to complete the listing of the newly merged Fiat Chrysler Automobiles in the United States as of Oct. 1 but acknowledged it might be tough to do so.
"It's a relatively large undertaking," Sergio Marchionne said in a conference call with analysts.
(Reporting by Agnieszka Flak, writing by Stephen Jewkes)
FACTBOX
MILAN (Reuters) - Italian car maker Fiat on Wednesday detailed plans to merge with its U.S. unit Chrysler to create the world's seventh-largest automaker after securing full control of the Detroit-based group earlier this year.
Fiat struck a $4.35 billion deal, announced on Jan. 1, to gain full control of Chrysler after more than a year of talks.
- Fiat Chrysler Automobiles N.V. (FCA) will be the parent company of the new group and will be registered in the Netherlands.
- FCA will list its shares in New York first and later in Milan.
- FCA is expected to establish its tax domicile in Britain.
- Shareholders will be offered one new FCA share for each Fiat share they own.
- Fiat shareholders who vote in person or by proxy on the merger proposal will also be offered special voting shares as part of a loyalty voting scheme that seeks to encourage long-term share ownerships.
Under the scheme, shareholders who hold their FCA shares for at least three years will also be eligible to receive the special shares and keep them for as long as they hold the ordinary shares.
- The group's new business plan will be presented at the beginning of May.
(Editing by Jane Merriman)
© Copyright IBTimes 2023. All rights reserved.