Here's Why Five Countries Saw Double-Digit Growth In 2013 Sales Of New Cars And Light Trucks
The world's top auto markets have been releasing their 2013 total annual sales figures this month, and the numbers show record-breaking results in the following countries: Argentina at 955,023 units, up 14 percent from 2012; Australia at about 1.1 million units, up 3 percent from the previous year; China at nearly 22 million vehicles, up 14 percent year-over-year; and Indonesia, with over 1.2 million autos, a 10 percent increase.
Eleven of the top 20 auto markets by sales volume saw growth from last year, including Canada (up 4 percent to 1.7 million), Mexico (up 8 percent to just over a million units) and even economically slumping Spain (up 3 percent to nearly 724,000). Five of them saw double-digit growth. Here's a rundown of them and what happened to make their numbers jump from 2012: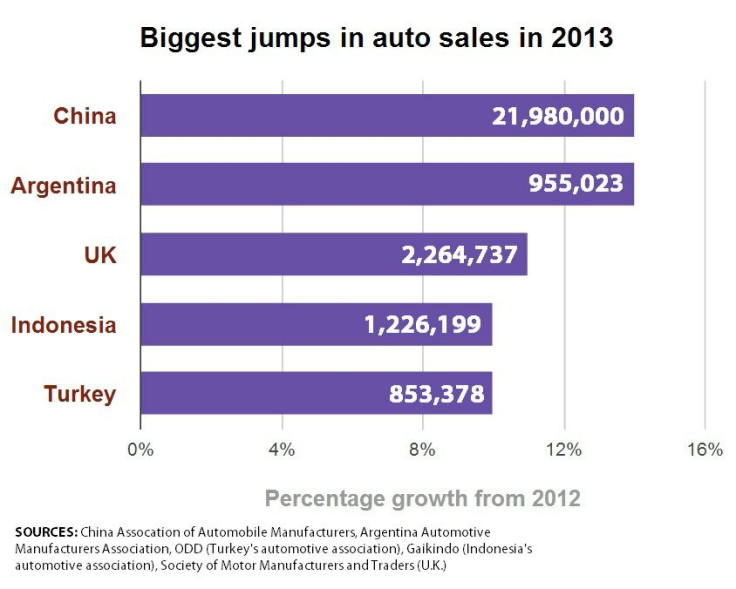 China – China's 14 percent rise in new-auto sales last year is part of the Middle Kingdom's rise to become the world's largest auto market. It surpassed the United States in 2009 when year-over-year sales leaped 46 percent, to 13.6 million while in that same year the U.S. sold 10.4 million units amid the peak of the automotive industry crisis.
Chinese consumers bought nearly 22 million passenger cars, SUVs and light-duty trucks in 2013 while U.S. car buyers bought 15.6 million units, an 8 percent increase. Japan ranked third in sales volume, with 5.4 million units, showing just how far ahead the U.S. and China are relative to the rest of the world.
Argentina – Despite economic trouble in Argentina, new-auto sales jumped 14 percent there, matching China's rate of growth on much smaller volume. Consumers bought 955,023 vehicles in 2013, according to the country's Automobile Manufacturers Association. How can sales of pricey durables like automobiles go up in a country facing skyrocketing consumer prices and weakening currencies?
For one thing, says Guido Vildozo, IHS automotive analyst who specializes in Latin America, Argentine consumers have been converting dollars into pesos on the black market and then quickly buying durable goods that are retaining a resale value greater than the currency used to buy them.
This was due to restrictions the government imposed last year that limited the amount of foreign currencies its nationals could purchase. This drove the black market value up to about twice the official rate.
"People have been rushing out to easy targets, like car purchases," he said. But "there are only so many dollars they have saved that they can convert."
Also, the government lifted the foreign currency restrictions on Monday, which could bring down the black market currency leveraging.
IHS forecasts a 13 percent drop in sales in Argentina this year, to 780,000 units.
United Kingdom – The U.K. has been Europe's strongest auto market in a region mired in an economic slump, and sales rebounded there to levels unseen since before the 2008 global financial crisis. British consumers bought nearly 2.3 million new automobiles last year, an 11 percent jump, according to the country's Society of Motor Manufacturers and Traders (SMMT). Auto manufacturers have sweetened their incentives in the U.K. market. The U.K. is Europe's second-largest auto market after Germany, where new-car registrations declined 4.3 percent last year to nearly 3 million units. The SMMT expects new-car sales to remain on track in the U.K. this year. The Western European market may also have bottomed out and may therefore return to slight growth this year, analysts have said.
Indonesia – Southeast Asia's largest economy, like other emerging markets, has benefitted from the influx of hot money – short-term investments by investors flocking to the higher bond yields in these economies amid rock-bottom rates in traditional safe-haven markets. This effect will diminish as rates begin to rise again in the U.S. and Europe's economy begins to rebound, but countries like Indonesia and the Philippines have benefitted from central bank policies in the West. That is part of the reason why 2013 new-auto sales topped a million units for the first time. However, auto and gas price increases due to the weakening rupiah will be a headwind in 2014.
Turkey – Sales rebounded by 10 percent in 2013 after falling 10 percent a year earlier, according to the ODD, the country's automotive association. There was a 12 percent hike in the first half and an 8 percent rise in the last six month as the government began raising interest rates to fight a weakening lira. This made financing vehicle purchases less enticing in the latter half of the year. The rebound seen last year isn't likely to continue as an increase in the passenger-car consumption tax of between 5 percent and 15 percent as of Jan. 1 will push sales down this year.
© Copyright IBTimes 2023. All rights reserved.