Detroit Auto Show 2014: The World's First Full-Size Truck Powered By Solar Panels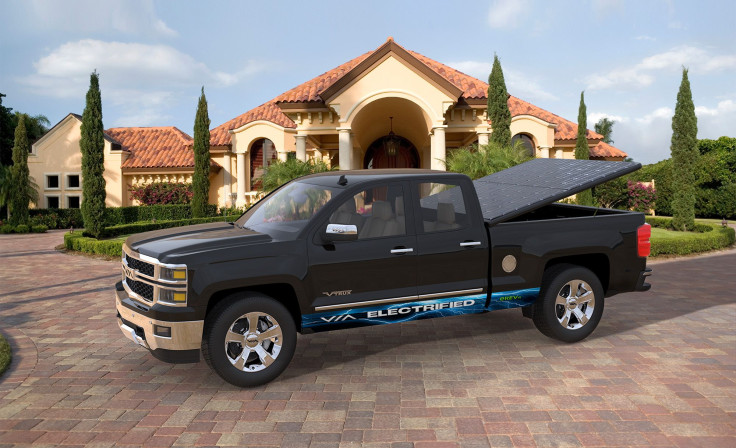 The world's first full-size pickup truck powered by solar panels is here. At least, that's what its manufacturer says.
It's called the "XTRUX," or X-Truck extended-range electric pickup, built by VIA Motors and displayed at the North American International Auto Show taking place this week in Detroit. The truck is essentially an electric Escalade Class-S SUV that comes in two models, averages about 100 miles per gallon, has four-wheel drive and can drive approximately the first 40 miles in all-electric mode. The XTRUX has 800 horsepower, in two 402-horsepower electric motors, and a 5.3-liter Chevrolet V-8 engine.
"And yet, it has the fuel economy that makes a Prius look like a gas guzzler," Bob Lutz, former General Motors vice chairman and VIA Motors board member, said last week in an announcement at the Tuesday premiere of the truck at the auto show.
VIA Motors' business plan is to take big General Motors vehicles like the Chevy Silverado and "electrify" them by turning them into plug-in hybrid utility vehicles.
VIA's solar covers give its line of trucks extended mileage with "plug-free" charging. The truck uses industrial-grade solar panels that can take some abuse and cover the entire truck bed to increase the vehicle's efficiency. The panels have the same type of photovoltaic cells as solar panels on buildings.
The new solar covers will be available in two versions: 800- and 400-watts. The panels will help power the car's battery and even power tools hooked up to the truck's outboard power outlet. Parking the truck in the sun all day can add up to six (with the 400-watt model) and 10 (800-watt) miles of range to the battery pack. The 800-watt solar panel will be priced around $3,000 and the 400-watt version around $2,000.
VIA's current line of vehicles includes trucks, vans and SUVs. Production for the XTRUX hasn't been confirmed.
In October, VIA Motors launched a high-volume production facility in San Luis Potosi, Mexico, near several major automakers and suppliers, including General Motors. New vehicles are transported from the General Motors production facility to VIA's facility, and beginning this year, they will be shipped by highway or rail to the U.S. and Canada.
© Copyright IBTimes 2023. All rights reserved.