Here's Why Ryan Garcia vs. Manny Pacquiao Is All About Revenge
KEY POINTS
A potential Manny Pacquiao vs. Ryan Garcia bout has gain traction in recent days
Garcia posted a photo of himself and Pacquiao, teasing a possible matchup
Pacquiao has a history with Garcia's promoter Oscar De La Hoya
The rumours of a Ryan Garcia vs. Manny Pacquiao fight have exploded, thanks in large part to a recent social media post from the undefeated lightweight star.
Fresh off his interim WBC lightweight championship win over Luke Campbell, the 22-year old Garcia took to Instagram to share a poster of himself and Pacquiao, teasing a potential matchup.
Since then, a possible bout between the two pugilists has been widely discussed. Believe it or not, the Garcia-Pacquiao matchup could very well be rooted in revenge.
No, it isn't anything between Pacquiao and Garcia himself, but rather the Filipino boxing icon and the youngster's promoter Oscar De La Hoya.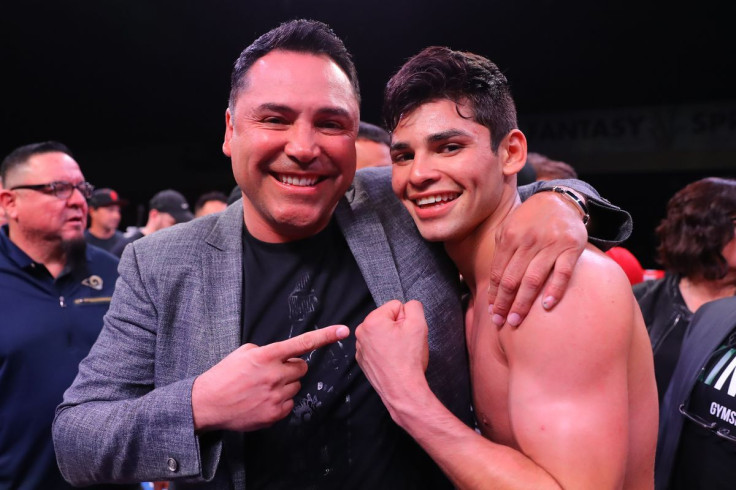 Pacquiao and De La Hoya, of course, have a bit of history between them.
In 2008, an aging De La Hoya competed in the final fight of his boxing career against a young Pacquiao, who was at that point a fast-rising star, much like Garcia is now.
De La Hoya was already a legend, while Pacquiao--albeit already being a five-division titleholder and widely viewed as the No. 1 pound-for-pound fighter at the time--was at his peak yet in terms of stardom and success.
Pacquiao battered De La Hoya into retirement following an eighth-round stoppage. The Pinoy fistic sensation would go on to become the sport's only eight-division titleholder, and De La Hoya would transition into one of the sport's top promoters.
13 years removed from that fateful night in Las Vegas, Pacquiao and De La Hoya could find themselves in a similar situation once again, but with the roles slightly different.
This time around, Pacquiao is the aging legend in the twilight of his career, while De La Hoya's prized star Garcia is the rising star looking to take the leap into the next level.
Interestingly enough, there are even more parallels to the Pacquiao-De La Hoya and the proposed Pacquiao-Garcia fight.
Pacquiao and De La Hoya met in a non-title bout at the 147-pound welterweight limit. If Pacquiao and Garcia do agree to fight, it's likely that they also meet at 147, with "Pac-Man" unlikely to drop down to meet "King Ry" at lightweight.
Heading into the De La Hoya bout, Pacquiao was a lightweight, while De La Hoya was competing mainly at light middleweight. Pacquiao was also coming off a WBC lightweight championship win over David Diaz.
Now, Pacquiao is a welterweight, while Garcia is a lightweight, who's also coming off an interim WBC lightweight championship win.
Earlier this month, Pacquiao announced that he was returning to training camp with a "big announcement" looming, leading many to believe that a fight with Garcia had already been negotiated.
De La Hoya has said otherwise, saying that they haven't gotten in touch with Pacquiao's camp yet.
Time will tell if this fight actually does take place. It also remains to be seen if the parallels between Garcia and Pacquiao's careers go beyond what is present in his potential matchup.
© Copyright IBTimes 2023. All rights reserved.