Herman Cain's Favorability Drops After Sex Accusations: Poll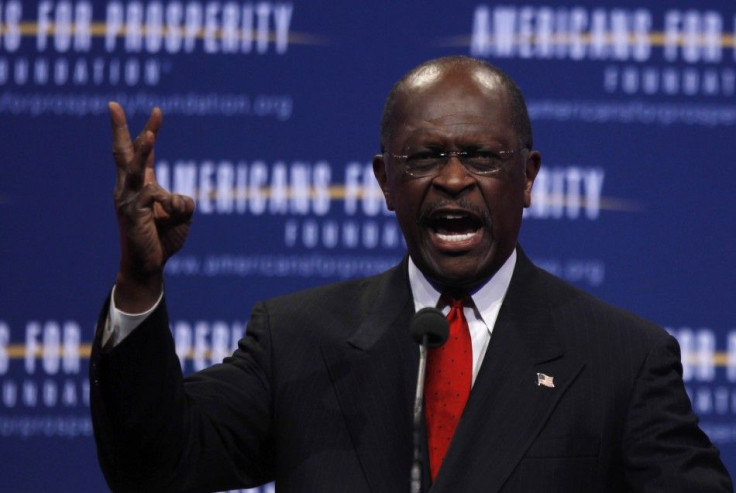 Allegations that Republican presidential candidate Herman Cain sexually harassed women in the 1990s have begun to damage his bid for the White House, a Reuters/Ipsos poll found.
The poll showed the percentage of Republicans who view Cain favorably dropped 9 percentage points, to 57 percent from 66 percent a week ago.
Among all registered voters, Cain's favorability declined 5 percentage points, to 32 percent from 37 percent.
The survey represents the first evidence that sexual-harassment claims dating from Cain's time as head of the National Restaurant Association have taken a toll on his presidential campaign.
A majority of respondents, 53 percent, believe sexual-harassment allegations against Cain are true despite his denials. Republicans were less likely to believe they are true, with 39 percent thinking they are accurate.
The most striking thing is that Herman Cain is actually seeing a fairly substantial decline in favorability ratings toward him, particularly among Republicans, said Ipsos pollster Chris Jackson.
The 65-year-old Cain, a former pizza-company executive with no experience in political office, has been running neck and neck with former Massachusetts Gov. Mitt Romney for the lead in polls of Republicans considering who will be the nominee to face Democratic President Barack Obama next year.
At least three women have accused Cain of sexual harassment from his time as the restaurant industry's top lobbyist. Cain has given conflicting accounts of the cases since the news was broke a week ago by news Web site Politico. He insists the claims were baseless and that he was wrongfully accused.
But a woman who received a cash settlement from the restaurant association in response to her harassment claim rejected Cain's denials on Friday. She said through her lawyer that she was the victim of a series of inappropriate behaviors and unwanted advances by Cain in 1999.
The allegations have received wide attention. The Reuters/Ipsos poll found more than 80 percent of respondents have heard of them. Republicans are the most aware, at 88 percent, while independents the least aware, at 64 percent.
Four in 10 respondents said this issue had made them less favorable toward Cain. About one in three Republicans, or 35 percent, said the controversy had made them less favorable toward Cain.
Jackson said it may well be that the wave of support that carried the conservative Cain to the top of the Republican field was now cresting.
I think he is probably cresting now. I think this week, last week, were sort of the high-water mark, he said.
The poll found that Romney, who is more a candidate of the Republican establishment, has a favorability among Republican voters of 63 percent, while rival Rick Perry, the Texas governor, is viewed favorably by 47 percent.
Ipsos conducted the poll of 1,007 adults on Friday and Saturday by interviewing individuals via a U.S. online household panel.
Since it was an online poll, typical margins of error do not apply. Despite that, various recognized methods were used to select as representative a sample as possible and weigh the results.
If it were a traditional random survey, it would have a margin of error of between plus 4.4 percent and plus 5.1 percentage points. That figure varies because some participants dropped out of the video portion of the survey.
(Editing by Alistair Bell, Philip Barbara and Greg McCune)
© Copyright Thomson Reuters 2023. All rights reserved.