High-Tech Vs. Low-Tech: As India Launches Rocket To Mars, Gandhi's Spinning Wheel Goes To Auction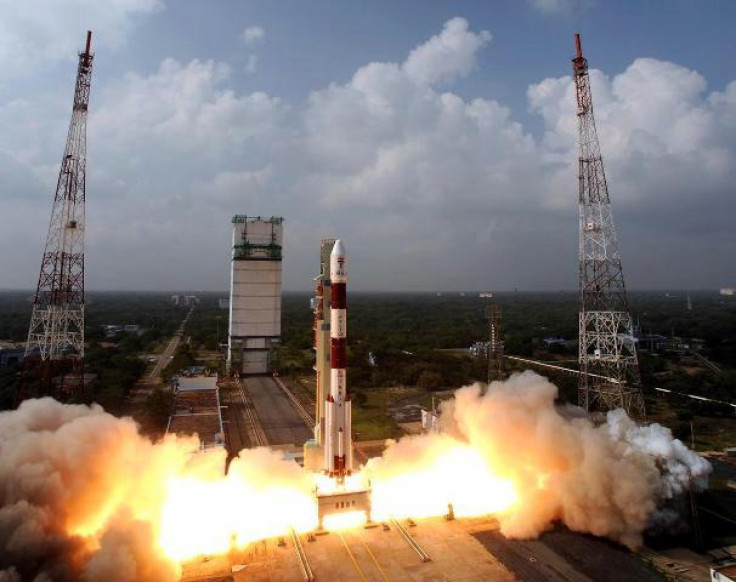 As India launches a rocket to fly to Mars, back on Earth an auction house in the United Kingdom highlights an iconic (and very low-tech) piece of machinery symbolic of the sub-continent's most celebrated figure.
Mahatma Gandhi's famous spinning wheel (or 'charkha' in Hindi), which he used to make his own clothes while in prison as a form of relaxation and meditation, will be among the items belonging to the Indian independence hero to be auctioned off at Ludlow Racecourse in Shropshire, UK. BBC reported that the spinning wheel -- which was a gift to Gandhi in 1935 from the American Free Methodist missionary Reverend Dr. Floyd A Puffer -- may fetch a price of between £60,000 ($96,260) and £80,000 ($128,350).
The spinning wheel became an iconic symbol itself as it exemplified Gandhi's exhortations to his fellow Indians to be more independent and self-reliant. It also emphasized Gandhi's embrace of ancient, rural-based economic activities in place of industrial cotton producers, which he abhorred. Other artifacts belonging to Gandhi -- including letters, articles of clothing, including his shawls, eyeglasses and sandals – are very popular with collectors and have generated even higher prices at auctions.
But the money that Gandhi aficionados are shelling out pale in comparison to the $73 million that the Indian government has spent to send a space vehicle 140 million miles to Mars. India's Mars Orbiter Mission will travel for 300 days, reaching the red planet sometime in 2014.
"Why India has to be in the space program is a question that has been asked over the last 50 years,' K. Radhakrishnan, chair of the Indian Space Research Organisation (ISRO), the government's space agency, told BBC-India. "The answer then, now and in the future will be: 'It is for finding solutions to the problems of man and society.' "A great revolution has taken place over these last 50 years in the country by a meagre expenditure that has been put into the space programme."
But some question the priorities of a nation sending a toy into outer space when some 400 million people in the country live in poverty, while other point out that India sending rockets into the heavens reflects what an economically divided society it has become. "India is home to poor people but it's also an emerging economy, it's a middle-income country, it's a member of the G20," Nisha Agrawal, chief executive of Oxfam-India, told the BBC. "What is hard for people to get their head around is that we are home to poverty but also a global power. We are not really one country but two in one. And we need to do both things: contribute to global knowledge as well as take care of poor people at home."
Indeed, hundreds of millions of Indians lack toilet facilities, pointed out Indian civil groups. "I think it's so strongly symbolic of an extremely unequal society," said Harsh Mander, director of New Delhi's Center for Equity Studies, a think tank, reported the Los Angeles Times. "We continue to have something like 230 million people who sleep hungry every night, and millions die because they can't afford healthcare. Yet these are not issues that cause outrage."
However, the $73 million price tag is relatively modest, scientists point out, noting that other space programs in foreign countries have cost billions. "There are social benefits [including weather satellites that save lives]", said Ajey Lele, a research fellow with the Institute for Defense Studies and Analyses, another think tank. "I think all these arguments are mere rhetoric." In fact, the former head of ISRO, U.R.Rao, quipped to Indian media that people in the country spent more on gifts for the recent Diwali holiday than the government spent on the mars probe.
FOR FREE to continue reading
✔️ Unlock the full content of International Business Times UK for free
offer available for a limited time only
✔️ Easily manage your Newsletters subscriptions and save your favourite articles
✔️ No payment method required
Already have an account?
Log in
© Copyright IBTimes 2023. All rights reserved.