Hillary Clinton Email Scandal Update: State Department Didn't See Issue With Private Email, Ex-Official Says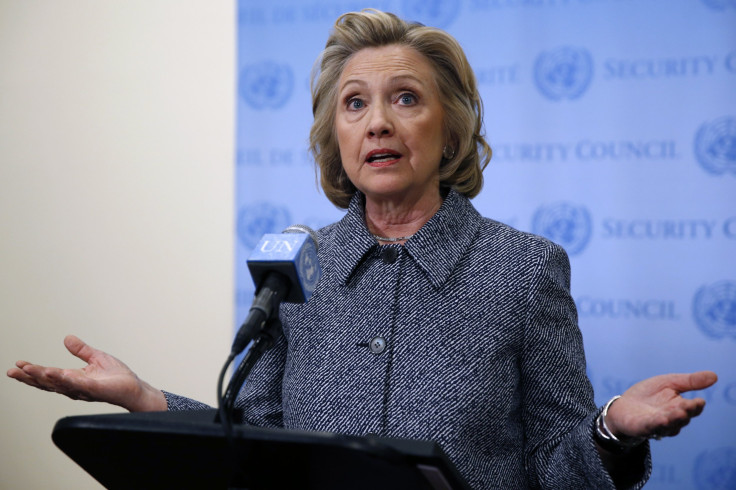 Former Secretary of State Hillary Clinton's use of private email to conduct State Department business during her tenure wasn't flagged as problematic by the agency, according to a former high-level department official. The practice stirred controversy after it was revealed earlier this month, leading Clinton to hold a press conference last week to explain why she used private email hosted by a server she and her husband own. Clinton's email habits raised questions about transparency and whether the messages were properly archived for government records.
P.J. Crowley, who served as assistant secretary of state for public affairs from 2009 to 2011, said most of his dealings with Clinton were face-to-face, although he also exchanged emails with her. "I saw her multiple times each day and we did most of our work together in person and via paper. No one who I interacted with at State during my tenure viewed this as an issue," he said in an email. Crowley, now a professor at the Institute for Public Diplomacy and Global Communication at George Washington University in Washington, D.C., stepped down from his State Department post after he called the pre-trial treatment of Pvt. Bradley (now Chelsea) Manning "ridiculous and counterproductive and stupid." Manning was sentenced to 35 years in prison after being found guilty of providing classified documents to WikiLeaks.
The State Department, which is reviewing Clinton's government-related emails and plans to publicly release them after a vetting process that is expected to take months, could not be reached for comment. Clinton said last week she turned over about half of the 55,000 messages that she said were relevant to the public interest, but also said she would not allow a third party to inspect the server since it also holds private emails that had nothing to do with her official duties.
Following a nearly silent week, aside from a short statement on Twitter and another through her spokesman, Clinton first addressed the controversy before reporters last week. She argued that she used one device for both private and public email communications out of "convenience." Clinton said looking back, it would have been more prudent to use separate devices, but she didn't explain why she couldn't use two email accounts on one phone.
Clinton's email practices have come under scrutiny with her likely presidential campaign expected to be rolled out as early as next month. No serious opposition against Clinton is forming for the Democratic nomination despite the controversy.
© Copyright IBTimes 2023. All rights reserved.
FOLLOW MORE IBT NEWS ON THE BELOW CHANNELS