HIV In Indiana: Governor Considers Needle-Exchange Program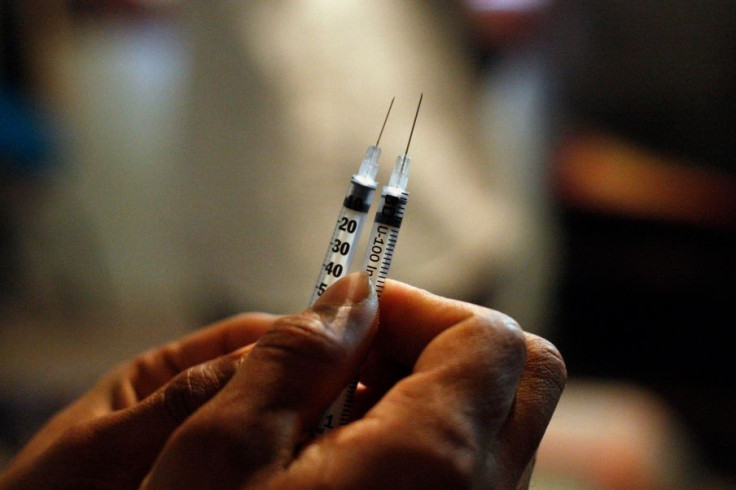 The number of human immunodeficiency virus (HIV) cases has reached "epidemic proportions" in Indiana, The Indianapolis Star reported Wednesday. In an effort to curb the number of rising infections, Indiana Gov. Mike Pence is considering legalizing a needle-exchange program.
Such a program would help increase the availability of sterile syringes so IV drug users would not have to use dirty needles, and have the ability to exchange their used needles for clean ones.
But opponents feel such a program would encourage drug use. "No, this is not the reason," Dr. Deepak Azad, an internist in Scottsburg, told The Indianapolis Star about possibly promoting IV drug use. "It's to contain the spread of disease like when we wash our hands when someone is sick with a cold and cough."
Pence is normally opposed to needle-exchange programs, but he is giving it a second thought since the number of HIV cases in Indiana has drastically increased. "What I'm thinking about carefully and thoughtfully is what's needed in a public health emergency, what's necessary to really get control of this in the immediate future," Pence said, according to the Associated Press. An executive order will be issued Thursday.
IV drug use is to blame for the majority of HIV cases, state epidemiologist Pam Pontones told the AP. "With the amount of drug use that's happening and the intravenous needle-sharing that's going on, if someone who's highly infectious becomes part of that sharing network, that infection can transmit very rapidly," Pontones said.
If Indiana approve the measure, they would join Kentucky, after its governor, Steve Beshear, passed an anti-heroin bill on Wednesday. One of the provisions in the bill allowed for Kentucky to have a needle-exchange program, Kentucky.com wrote. Nearly 200 local health departments in Kentucky are allowed to hand out clean syringes to IV drug users.
Follow me on Twitter @mariamzzarella
© Copyright IBTimes 2023. All rights reserved.