Holland 'In Crisis' After Government Loses Debt Deal Partner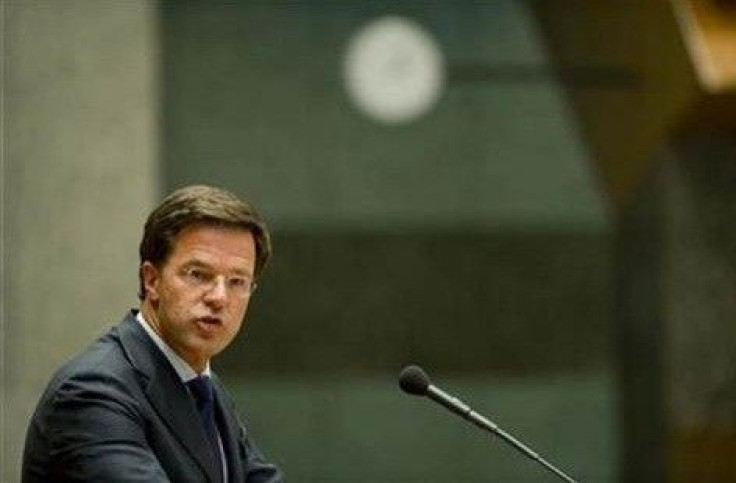 Holland has been thrown into a political crisis after the government lost the support of its coalition partner, casting doubt upon the government's ability to pass tough budget cuts demanded by the European Union.
Outgoing Dutch Prime Minister Mark Rutte said Holland faced a crisis, and asked opposition parties to support the €16 billion to €18 billion ($21 billion to $23 billion) in cuts needed to satisfy the EU, and financial markets, next week.
But the main opposition parties have signaled they would not support the cuts, which are needed to bring the Netherlands' debt down to the EU limit of 3 percent of GDP by next year.
Standing still is not good for the Netherlands. The problems are serious, the economy is stalling, employment is under pressure and government debt is growing faster than the Netherlands can afford, Rutte told Parliament on Tuesday, according to Agence France-Presse.
Those are the facts and nobody can run away from them. I'm standing here without pretenses. It is up to Parliament and the voters.
Rutte's own government collapsed on Monday after Geert Wilders, whose Freedom Party had supported the government for the past 18 months, pulled out of the coalition, saying he was no longer willing to be dictated to by Europe.
It is the government, not the citizen... who spent too much. Either we choose to act in the interests of Henk and Ingrid [the average Dutch couple] or we act in the interests of Brussels, Wilders said.
Despite the turmoil, a Dutch government bond auction went smoothly on Tuesday, with investors waiting to see if the proposed cuts will pass and if the parties can agree on a date for fresh elections.
© Copyright IBTimes 2023. All rights reserved.
FOLLOW MORE IBT NEWS ON THE BELOW CHANNELS