Honduras One The World's Deadliest Places For Journalists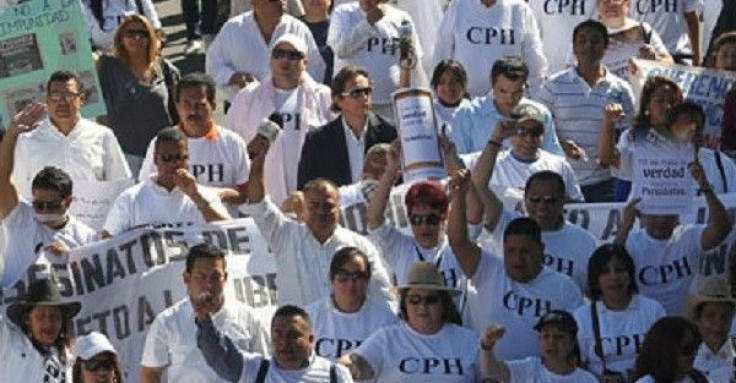 A Honduran journalist has sought asylum at the U.S. embassy in Tegucigalpa, following an attack on his home by two gunmen last Friday.
Jose Encarnacion Chinchilla Lopez, a reporter for Radio Cadena Voces in El Progreso, Yoro state, believes he was the target of the attack that injured his 24-year-old son, who was shot while standing outside Chinchilla's home as gunmen pulled up on a motorcycle and began firing.
Chinchilla was inside and was not injured, while his son was hospitalized and remains in stable condition, according to local news reports.
Another journalist working at Radio Cadena, speaking with the New York City-based Committee to Protect Journalists, or CPJ, said that Chinchilla covered local issues in Yoro, including crime, and that "might be in reprisal for a recent report he had broadcast about local gang activity." Chinchilla had also covered a local land dispute, after which he had received anonymous threats.
"Honduran authorities must fully investigate this crime, determine the motive and bring the perpetrators to justice," CPJ Deputy Director Robert Mahoney said in a statement.
"Honduras has a terrible reputation as one of the deadliest places for journalists in the world. Officials must send a message that they will no longer tolerate attacks on the press. Journalists in Honduras must be able to report freely without fearing for their lives."
In the three years since a military coup ousted democratically elected President Manuel Zelaya in June 2009, more than 20 journalists have been murdered in Honduras.
Most of the cases remain unsolved, for which the Honduran government has drawn criticism over its failure to protect journalists.
"A climate of unrelenting hostility toward Honduran journalists is restricting the flow of news and eroding citizens' right to information," said Carlos Lauría, CPJ's senior program coordinator for the Americas, in a statement. "This situation endures because Honduran authorities have yet to take decisive action to enforce the law and guarantee the safety of journalists."
Honduras is one of the world's most violent countries with the highest per capita homicide rate compared to any other country -- 82.1 murders per every 100,000 inhabitants -- according to a 2011 U.N. report.
Local gangs are said to operate with impunity, while violent crime is downplayed by law enforcement and government officials. Attacks on journalists and other social critics are commonly dismissed as routine street crimes.
"As a result, many journalists fear the murders have been conducted with the tacit approval, or even outright complicity, of police, armed forces or other authorities," wrote CPJ consultant Mike O'Connor in a July 2010 report.
Many of these same journalists are critical of the government and law enforcement, though O'Connor stops short of labeling the killing of journalists as "a political conspiracy" but only for lack of evidence rather than the improbability of such a scenario.
Nevertheless, O'Connor goes on to detail how the Honduran government has failed to address corruption and ineptitude in law enforcement, which has resulted in unchecked violence against the press.
"The Honduran government has failed to exert necessary oversight over the national police, who are responsible for investigating these crimes," he wrote.
"Over the long term, the legislature and executive branch have chosen not to allocate necessary resources and training to police -- choices that have had entirely predictable results. Diplomats and journalists say police have also been infiltrated by criminal gangs."
Since the report was published, CPJ maintains that Honduras' "climate of violence and widespread impunity" remains unchanged, evidenced by the ongoing attacks on journalists, most recently illustrated by Chinchilla's case.
© Copyright IBTimes 2023. All rights reserved.
FOLLOW MORE IBT NEWS ON THE BELOW CHANNELS