Hong Kong Bookseller Defies Chinese Government To Reveal Details Of Disappearances Of Publishers In China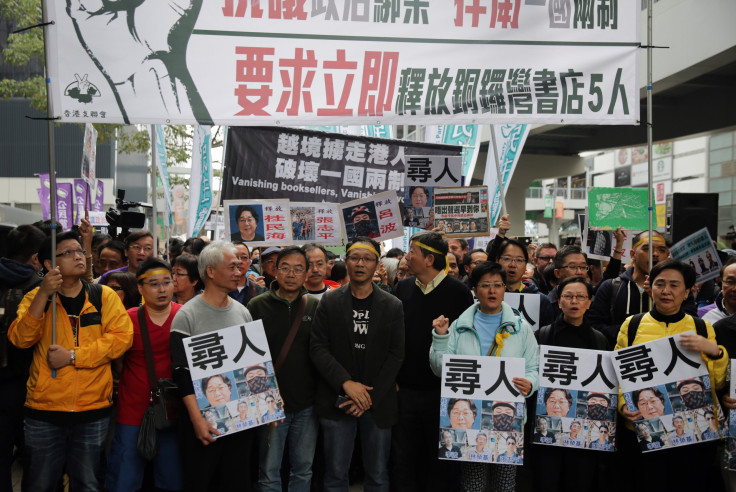 SHANGHAI — The bizarre saga of five Hong Kong booksellers who were initially believed abducted by China, but later insisted they were voluntarily assisting the Chinese authorities with an investigation, took another twist Thursday when one of them reappeared in Hong Kong and accused the Chinese authorities of trampling on the rights of the city's people. Lam Wing-kee said he was defying warnings from China not to speak out — adding that he was doing so to protect Hong Kong's freedoms.
In a case that sent alarm bells ringing through Hong Kong, the former British colony, which is now part of China but is supposed to retain a separate legal and political system until 2047, the five booksellers disappeared late last year and early this year, before reappearing in mainland China. One was a British citizen, and another a Swedish citizen. All were involved with a Hong Kong company called Causeway Bay Books, which published books critical of the Chinese government, some of which claimed to reveal intimate secrets of China's top leaders.
Causeway Bay Books's original owner Lee Po, who disappeared for more than two months in January, later reappeared in Hong Kong and played down the controversy — saying he had gone voluntarily to China to help the authorities with an enquiry. But he could not explain how he had left Hong Kong without clearing immigration checks — leading to continuing suspicions that he had been abducted by Chinese agents, and pressurized to keep quiet about it.
Now Lam Wing-kee, the company's 61-year-old store manager, has returned to Hong Kong after eight months in mainland China and broken the silence surrounding what happened to the men. In a news conference at Hong Kong's Legislative Council building, Lam told reporters he was detained at Chinese immigration when crossing the border to visit his girlfriend in the neighboring city of Shenzhen last October, Hong Kong's South China Morning Post reported.
He said he was held in a police station, then blindfolded and put on a train to central China, where he was accused of breaking Chinese law by sending banned books into the country and was interrogated about the identities of the company's customers in China.
Lam said he was held in a small room, under constant guard, for five months, before being sent back to southern China. He added that an appearance he had made on a mainland-connected Hong Kong television station in February, during which he gave information about how the bookshop had sent "banned" books to China, had been staged, with a script that he had to memorize and recite.
Lee Po and another of their associates, Swedish citizen Gui Minhai, have also appeared on television in China apparently confessing to committing crimes under Chinese law.
Lam also said that Lee Po had told him he had been abducted from Hong Kong.
He said he had only been allowed to come back to Hong Kong to visit his family on condition he brought back documents from the bookstore's computer. And he said his former colleague Lee Po had previously provided the Chinese authorities with documents relating to the company's list of customers, but not the original computer drive.
However, Lam said he had resolved not to help the Chinese authorities, and decided to go public with his experiences because he felt the case "implicates the whole of Hong Kong society." He suggested that the Chinese authorities were "carrying out law enforcement duties across the border," a violation of the "one country, two systems" policy China promised Hong Kong after it returned to its sovereignty.
Lam said he felt sorry for his Chinese girlfriend, who he said was on bail and awaiting trial because she had helped him mail some books to Chinese readers. And he said he hoped the Chinese government would not "mistreat my friends because of what I've done."
But he said: "This is not just about me. This is about the freedom of Hong Kong people. The Chinese government has forced Hong Kong people into a dead end. [The disappearances] can happen to you too for sure. If we don't speak up, if I don't speak up being the least of the five, then there is no hope for Hong Kong."
The case comes amid a crackdown on dissent in mainland China — and at a time when Chinese authorities remain suspicious of Hong Kong, after citizens led by young student activists angered the Chinese government by staging more than two months of pro-democracy protests, known as the Occupy Central or Umbrella movement, in late 2014.
The disappearance of the booksellers drew international attention, with the British government saying it believed that Lee Po had been taken to China under duress. The Chinese government responded by telling the British government not to interfere in China's internal affairs. But the case has added to worries in Hong Kong about Chinese interference in issues ranging from legal affairs to press freedom.
© Copyright IBTimes 2023. All rights reserved.