Hong Kong Police Attack Pro-Democracy Activists With Pepper Spray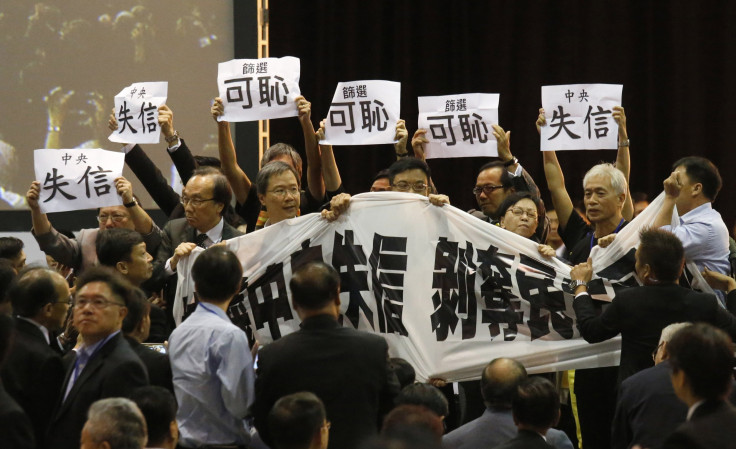 Hong Kong police used pepper spray to disperse pro-democracy activists who stormed past a security check-point at a venue where a senior official from China's National People's Congress, or NPC, Standing Committee was addressing a gathering, Reuters reported Monday.
As Fi Fei, the deputy secretary general of the NPC Standing Committee, explained the Chinese government's decision to not grant all-out democracy to the former British colony, scuffles reportedly broke out at the entrance of the venue. Activists of Occupy Central, a pro-democracy movement, shouted slogans and interrupted Fi's speech as he explained Beijing's decision, which was announced Sunday, to rule out the possibility of a completely democratic 2017 election to decide Hong Kong's next leader.
The former British colony was handed back to China in 1997 and has enjoyed wide-ranging autonomy and freedoms not seen on the mainland -- a policy the Chinese government calls "one country, two systems." The Communist Party, which rules the country, says that it will approve any candidate running for the position of Hong Kong's chief executive. This stance, the activists say, is not a complete democracy. And, Occupy Central has threatened to blockade Hong Kong's financial district until the Chinese government decides to grant full democracy to Hong Kong.
"Occupy Central is an illegal activity. If we give in, it will trigger more illegal activities," Li said according to a Reuters report.
Pro-Communist government people in the crowd cheered as members of the democratic camp, dressed in black with yellow ribbon, were escorted out of the auditorium after they reportedly interrupted Li's speech by shouting slogans and holding up signs that read "shameful" and accused Beijing of losing credibility. Alex Chow, head of the Hong Kong Federation of Students, was escorted out for jeering and heckling, while student activists said that they would begin boycotting classes in September, Reuters reported.
Amid heavy police presence, British colonial flags and banners with an "X" over the Chinese characters for communism were reportedly waved by some of the 100-odd pro-democracy activists who had gathered for Li's speech while a group of Beijing loyalists waved the Chinese flag nearby.
On Sunday, the NPC Standing Committee endorsed a framework to let only two or three candidates to stand for Hong Kong's 2017 leadership elections, and required all candidates to first obtain the approval from the nominating committee before they could stand for elections. In his speech, Li said that if Hong Kong failed to approve Beijing's decision then the city's next leader would be chosen by the small election committee itself.
The Communist Party's rule has made it almost impossible for opposition leaders to stand for election and has prompted the Occupy Central movement to renew its efforts to bring the financial powerhouse to a halt. China's leaders have long been fearful of Hong Kong's demand for political reform and calls for democracy spreading to other Chinese cities.
The Mainland Affairs Council in Taiwan, which China regards as a breakaway province, expressed "regret" at Beijing's decision.
"This decision by the NPC to limit the type and number of candidates for Hong Kong's election is a major setback for the progress of Hong Kong's democracy, and we express regret at this decision," the Democratic Progressive Party in Taiwan said in a statement, according to Reuters. "This decision represents a smothering of the Hong Kong people's demand for truly representative government and casts a shadow over the progress of Hong Kong's democratization."
In Singapore, Charles Rivkin, U.S. Assistant Secretary of State for Economic and Business Affairs, the United States backed "free and fair elections and transparency" and added:
"We believe, in the case of Hong Kong, in one country and two systems," he said, Reuters reported.
© Copyright IBTimes 2023. All rights reserved.
FOLLOW MORE IBT NEWS ON THE BELOW CHANNELS