Hong Kong Protesters Detail Allegations Of Physical Abuse At Hands Of Police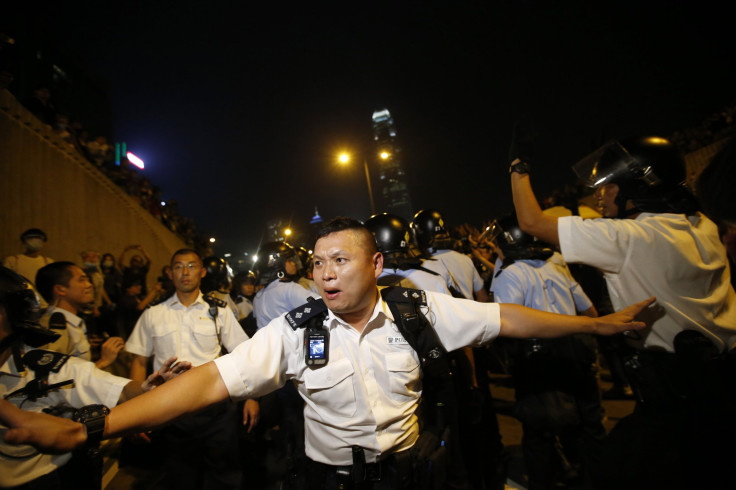 HONG KONG – Protesters have detailed allegations of abuse at the hands of police officers during a crackdown on pro-democracy protests early Wednesday.
Ken Tsang, a member of Hong Kong's Civic Party who was pictured in a widely circulated video being assaulted by plainclothes police officers, told reporters that in addition to the assault shown in the video, he was also subjected to physical violence at officers' hands while in custody at a local police station.
"You should've seen the footage of police officers brutally assaulting me while I was detained and defenseless. Prior to that I was assaulted and later I was assaulted yet again in the police station," Tsang told reporters, speaking outside the city's North Point police station. "I have sought legal advice to take legal action at the police concerned," he added.
Tsang said he would not answer questions from reporters for legal reasons but lifted his shirt to allow photographers to photograph his injuries.
Occupy Central had earlier released photographs showing Tsang's injuries. A video of the first incident shows officers leading Tsang, who appears to have his hands cuffed behind his back, to a secluded area, knocking him to the ground and then raining blows down on him.
Another protester, Julie Lee, 50, who was released from police custody late Wednesday, told reporters that a group of 20 police officers advanced on her "like they were out of control." Lee told reporters that she had been charged with obstructing police "even though I had my hands up and my eyes closed."
Police made 45 arrests in the early hours of Wednesday, while trying to clear protesters away from Lung Wo Road, adjacent to the office of Chief Executive Leung Chun-Ying. Officers were pictured using batons and pepper spray against activists.
Crowds at the main protest site, known as Admiralty, have swelled in response to the footage and, according to local TV reports, hundreds of protesters have gathered outside the city's police headquarters, in a bid to file complaints for mistreatment by the authorities,
Activist leaders made speeches Wednesday at the main protest camp outside government headquarters. Hong Kong Federation of Students' Lester Shum said that officers who were unduly violent with people could be charged with torture and could face life in jail as a result, according to a report from the South China Morning Post.
The paper also quoted Joshua Wong, the 18-year-old student activist leader, who told the crowd that he would no longer encourage the public to have sympathy for frontline police officers. "If it's just a job [to make a] living, why are you beating us up?" Wong said.
Leung briefly addressed the issue of police brutality during a question-and-answer session Wednesday. Asked by a reporter how authorities could "excuse police beating an innocent protester," Leung replied: "There is a set of effective mechanisms and procedures ... [that] have been effective in the past to deal with complaints against police. We'll use the same mechanisms and procedures to deal with the complaint against the policemen in the incident last night."
© Copyright IBTimes 2023. All rights reserved.