Hong Kong Protests: Anger Over Police Beating Of Detained Protesters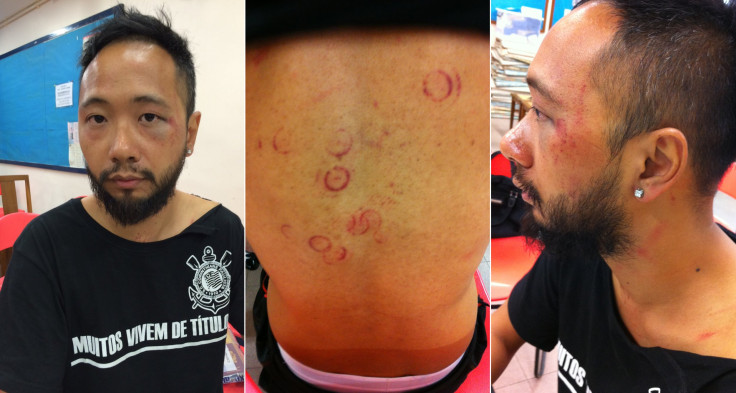 HONG KONG -- Authorities in Hong Kong have pledged to carry out an impartial investigation after police officers were filmed assaulting a handcuffed pro-democracy protester.
The incident occurred in the early hours of Wednesday, as police attempted to disperse a crowd gathered outside Hong Kong Chief Executive Leung Chin-ying's office. Local television showed images of officers striking protesters with batons, and protesters have reported that officers used pepper spray during the operation.
A widely circulated video shows officers leading a man, later identified as Ken Tsang -- a member of Hong Kong's Civic Party -- into a secluded area, and knocking him to the ground before punching and kicking him. The video appears to show that Tsang's hands were cuffed behind his back at the time of the attack.
Hong Kong's Secretary for Security, Lai Tung-kwok, later announced the officers involved in the incident had been "temporarily removed from their current duties." Police announced that seven officers -- two inspectors and five constables -- had been identified in relation to the alleged attack on Tsang, and that a team of "experienced and professional people" have been tasked to look into the case, according to a report from the South China Morning Post.
Tanya Chan, one of Tsang's lawyers and a member of the Civic Party, said that it appeared that police had hit him with "a hard object," and that his injuries were "too many to count."
Hong Kong Federation of Students spokesperson Yvonne Yeung, said that police tactics may backfire, according to the BBC.
"I don't think their tactics are going to be successful because Lung Woo Road was only stormed last night because of the anger over the [police action to] evict protesters from Queensway... It will only prolong the movement if the police try and evict [protesters] so violently," Yeung told BBC.
In a statement, Occupy Central with Love and Peace, one of the main protest factions, said: "[The group] strongly condemns such behavior, which smacks of extrajudicial punishment and demands authorities investigate it. The public must not be left with the impression that selective law enforcement and collusion among public officers is condoned."
The group also released photographs, which purportedly show Tsang's injuries. The images show welts and scratches on Tsang's back and face.
In recent days, police have begun to dismantle barricades erected by protest groups that had closed traffic in the city's Central, Mong Kok, and Causeway Bay districts. This amounts to the largest police intervention in the protests since the early days of the movement. Before the operation to clear barricades began in the early hours of Monday, police had a noticeably softer approach than they did when protests first began, leaving protesters and their barricades almost entirely unmolested for several days.
The number of protesters has dwindled in recent days, and many in the city speculated that authorities were hoping they could wait out the protesters. However, after police used tear gas against protesters on Sept. 28, protest organizers claimed that 200,000 people took to the streets.
Protesters are seeking to elect the city's chief executive, the top government post in the semi-autonomous Chinese region, by fully democratic means. A ruling from the Standing Committee of China's National People's Congress in August had declared that the Beijing government would politically vet all candidates for the post.
© Copyright IBTimes 2023. All rights reserved.