Hong Kong Protests 2014: Anti-Occupy Protesters Clash With Local Journalists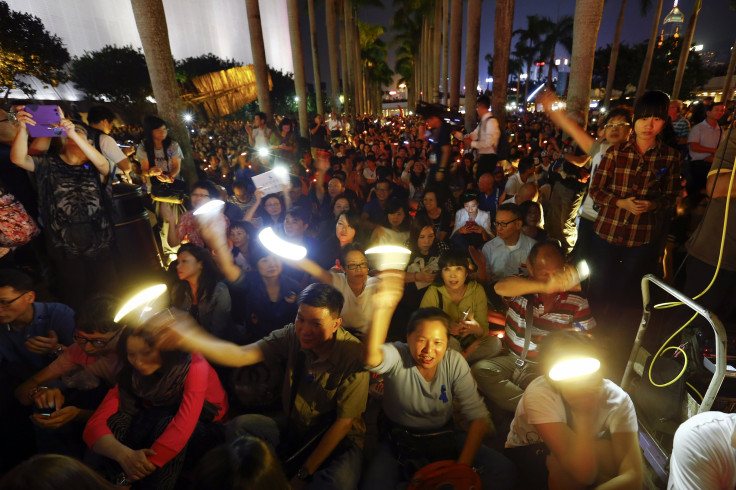 Hong Kong counterprotesters turned their antagonism toward local journalists at the Mong Kok protest site early Sunday, local time. More than 1,000 so-called "anti-Occupy" protesters appeared at the protest camp Saturday evening, a place that has been the flashpoint of tensions between Occupy Central supporters and counterprotest groups.
Small groups of protesters donning blue ribbons, symbolic of their opposition to the yellow ribbons representing the student-led occupation movement that has overtaken Hong Kong's major roads for the past four weeks, surrounded a cameraman and reporter at the site. Some members of the crowd pushed the journalists, ripped off the reporter's tie and took the cameraman's glasses as crowd tensions grew, Reuters reported.
Another reporter working at Hong Kong radio station RTHK was also attacked by counterprotesters, who pushed her to the ground and kicked her. She was later taken to a hospital for treatment.
The Mong Kok protest camp has been marked by tense standoffs between protest supporters, and police and counter protesters. Anti-Occupy demonstrators have frequently shown up, launching tirades against the movement and prompting shouting and cursing from the protesters in response. In many instances, the encounters turned to violence, with blue ribbon supporters attacking protesters in the camp. Police said some of the previous attacks involved members of Chinese organized crime groups.
Hong Kong's High Court issued an injunction to clear protest zones at Mong Kok and the main camp at Admiralty, but protesters have refused to comply. The court is currently deciding whether to extend the injunctions next week although the Hong Kong Federation of Students, one of the major groups participating in the protests, said protesters would not adhere to the orders.
Members of Hong Kong's ongoing protest movement have been demanding direct nominations of candidates for the executive office in elections scheduled for 2017, but China has maintained candidates must be approved by Beijing. Student protest leaders held a first round of talks with Hong Kong government officials earlier this week. Chief Secretary Carrie Lam offered to submit a report to the Chinese government detailing the students' grievances, but maintained the Chinese government's decision on the 2017 election would remain in place. Protesters are currently organizing a poll, scheduled for Sunday, to gauge whether they should accept the government's offer.
© Copyright IBTimes 2023. All rights reserved.
FOLLOW MORE IBT NEWS ON THE BELOW CHANNELS