Hong Kong Stocks Recover Amid Dwindling Protests; World Bank Sees Growth Slowing Further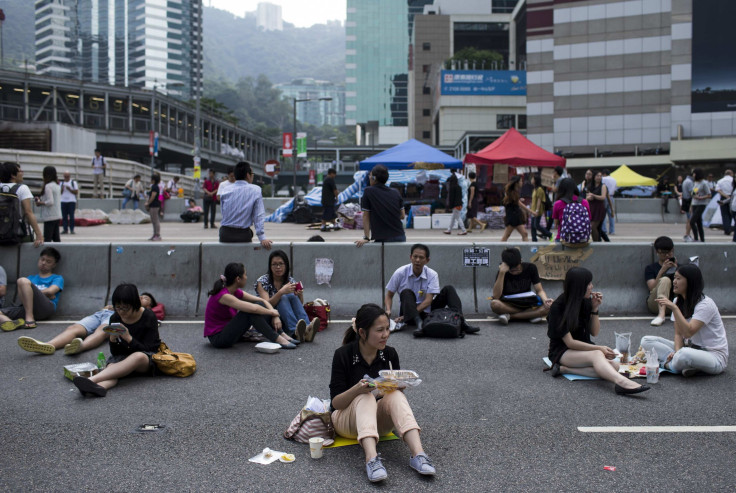 A day after representatives from two student groups leading the pro-democracy movement in Hong Kong agreed to engage in formal talks with the government, crowds thinned drastically on the streets of Hong Kong on Tuesday, according to media reports.
As protests eased, shares of Hong Kong-based companies finished higher for a third day in a row, riding on recovering investor confidence. The Hang Seng Index rose 0.46 percent to close at 23,422 points on Tuesday, up from a two-month low of 22,596 points last week.
K C Chan, the acting financial secretary of Hong Kong, said, in a statement, that Hong Kong's stock market, foreign exchange market and financial system were "operating smoothly" on Tuesday.
The World Bank also said on Monday that it was closely monitoring the events in Hong Kong and "looking at its (the protests) impact" on the region's economy, according to China Daily.
"The impacts will be both on the Hong Kong Special Administrative Region itself -- their economy -- but also in terms of the broader impact on the Chinese economy," Sudhir Shetty, the World Bank's chief economist for Asia, reportedly said. "As of now, what we anticipate is obviously a greater impact on Hong Kong -- so slower growth in 2014 than was being anticipated earlier."
In the quarter ended June 30, Hong Kong's GDP contracted 0.1 percent from the previous three months, prompting its government to cut its growth forecast for the year by a full percentage point -- to a range of 2 percent to 3 percent, from an earlier 3 percent to 4 percent, according to media reports.
Meanwhile, Hui Chun-tak, the chief superintendent of Hong Kong police's public relations branch said, in a press conference held Tuesday evening, that police "will take actions at the appropriate time" to disperse protesters remaining on the streets.
"Protestors now assembling unlawfully and blocking the roads illegally are seriously affecting the public's normal life and causing grievances to other people…all protestors should remove obstacles on the roads and leave at once, so that the traffic flow and the daily life of everyone can resume normally."
Despite the dwindling numbers of activists on the streets, a few student leaders reportedly insisted the movement was far from over. They vowed to call off planned negotiations if the police tried to use force to disperse the remaining demonstrators.
"It's up to the government now. This is the first step, but the pressure has to continue," Alex Chow, a student leader, told Associated Press, or AP.
© Copyright IBTimes 2023. All rights reserved.