Hopkins Cries Foul after Chaotic Dawson TKO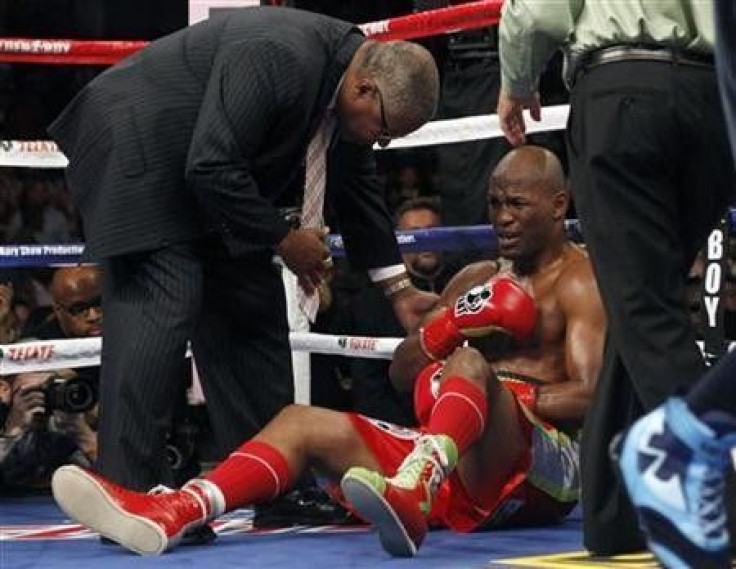 Bernard Hopkins cried foul after losing his WBC light heavyweight title to Chad Dawson on a controversial technical knockout on Saturday, while his opponent accused him of being soft in a swift and chaotic end to the fight.
Dawson lifted Hopkins off his feet and slammed him to the canvas, hurting the veteran boxer's left shoulder near the end of the second round at the Staples Center in Los Angeles.
With Hopkins in obvious pain, referee Pat Russell to signaled the end of the bout with 12 seconds left of the second, infuriating both fighters.
He picked me up, both my feet off the ground, and threw me down on my shoulder, the 46-year old Hopkins told reporters.
I told the referee I would continue with one arm, but he stopped the fight. He never told me that if I stopped fighting I'd be disqualified.
They set me up. Dawson was just in there to rough me up, added Hopkins, who is 52-6-2 in 60 career bouts. That was a blatant foul. It should be no contest, not a disqualification.
The referee defended his decision.
It was not a foul. It was a TKO, said Russell. He could not continue because of injury.
However, George Dodd, executive officer of the California athletic commission, was less forthright, stating that the win will stand -- for now.
Dawson, who improved to 31-1 with 18 knockouts, claimed to be equally upset by Russell's decision to end the fight and accused Hopkins of play-acting.
He was faking, Dawson said. I'm sorry for the disappointment for the fans. He ran from me for three years. I know he didn't want this fight.
He kept talking about Philadelphia and being a gangster. He's no gangster. He's soft, he's weak.
© Copyright Thomson Reuters 2023. All rights reserved.