Hostage Situation In Afghanistan Live Updates: Karte Sakhi Mosque Under Siege By Suicide Bombers, US Embassy Says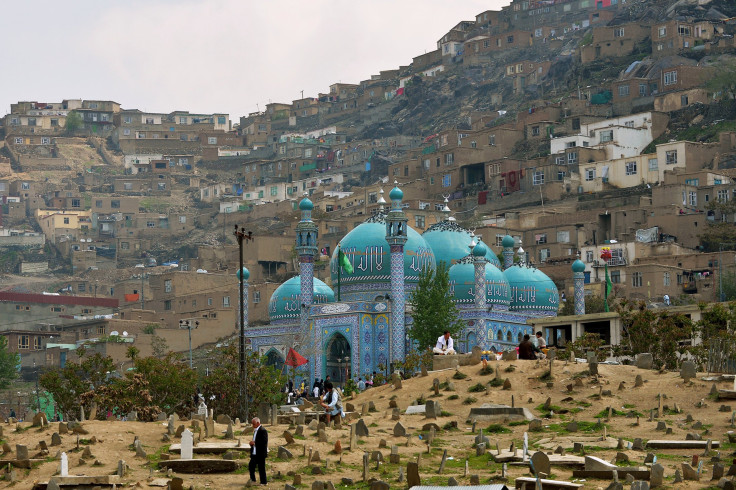 Update: 2:27 p.m. EDT — On one of the most holy days of the Shia-Muslim calendar, Shia pilgrims were reportedly the target of three gunmen who entered the Karte Sakhi Mosque in Kabul, Afghanistan Tuesday and killed at least 14 people and wounded 26 others.
Police were already on high alert during the Muslim holiday Ashoura, which commemorates the death of one of the Prophet Muhammad's grandsons, according to Al-Jazzera.
"Security forces in the area were already on high alert. They had warned the Shia community earlier to avoid gathering in public places because they apparently had intelligence that an attack might happen," Al-Jazzera reporter Qais Azimy said.
No group has yet to take responsibility for the attack, the latest in a string of bombings in Kabul.
Update: 1:52 p.m. EDT — Afghanistan's Interior Ministry said Tuesday 14 people were killed in a militant attack on a Shiite shrine in Kabul. At least 26 were wounded.
At least three gunmen in Afghan security forces uniforms entered the Karte Sakhi Mosque and opened fire during a religious ceremony attended by hundreds. It's unclear if there was an explosion. The attackers were killed by security forces.
Update: 1:37 p.m. EDT — A third gunman in an attack on the Karte Sakhi Mosque in Kabul Tuesday was killed by police. The death toll climbed to 14 victims. Police also killed the two other attackers associated with the hostage crisis.
"A number of attackers have targeted people in Karte Sakhi shrine," said Kabul Police chief Abdul Rahman Rahimi. "Police have evacuated dozens of people from the shrine. A number of civilians and police have been injured."
Update: 1:29 p.m. EDT — One person claiming to be an eyewitness says a believed-to-be loose third assailant was in the Sangi mosque, located near Kabul University, which is just west of the Karte Sakhi Mosque. Three attackers attacked Tuesday the Shiite shrine in Kabul.
In August, Kabul University, backed by the U.S., was subject to a shooting attack that killed 16 people and injured 36 students and faculty members.
Update: 1:25 p.m. EDT — An attack on the Kabul Shia Shrine Tuesday in Kabul killed five people. At least 36 people were wounded and brought to local hospitals.
Update: 1:20 p.m. EDT —The Ministry of Internal Affairs said two of three attackers who took hostages in a Kabul mosque in Afghanistan Tuesday were killed while one escaped, according to Al-Jazzera. A police official, speaking under the condition of anonymity, told Reuters that seven people were killed and 22 injured and that they expected the death toll to rise.
Update: 1:13 p.m. EDT — A spokesman for Afghanistan's Ministry of Internal Affairs said security forces killed several attackers who entered Kabul's largest mosque Tuesday and took hostages.
Update: 1:10 p.m. EDT — Gunmen wearing military uniforms attacked a mosque in Afghanistan Tuesday, the Associated Press reported. They entered the Shitte shrine and took a number of hostages.
Original Story:
The United States Embassy in Kabul, Afghanistan, issued a warning Tuesday about a potential hostage situation taking place in the country's largest mosque, according to a statement. The warning, seen below via ABC News, states that several "heavily armed suicide bombers" entered the Karte Sakhi Mosque and could have fired on worshipers. The alleged bombers may have taken hostages and Afghan security forces were investigating the situation.
Afghanistan's health ministry told Sputnik News that at least 18 people were hurt after gunmen opened fire in the Shiite temple, which was celebrating the holy day of Ashura. Three gunmen entered the mosque and took an unknown number of hostages, the Associated Press reported that. Other reports said at least eight people were killed in the attack. The injured were reportedly moved from the mosque and attack site to separate hospitals.
The motivation for the attack or who was responsible was currently unknown, but Afghanistan, with help from U.S. troops on the ground, has been dealing a recent wave of bombings. Early last month, three different bombings occurred in Kabul killing dozens and wounding almost 100 more, CNN reported. Other first reports said at least 24 were killed and 91 injured. The Taliban, which is still fighting for control of the country after ruling for decades before the U.S's war began in 2001, took responsiblity for the attacks in September.
Ashura is a holiday commemorating the death of the Prophet Muhammad's grandson, Husayn ibn Ali, at the Battle of Karbala in 680 BCE.
© Copyright IBTimes 2023. All rights reserved.