'Hot Conflict Unlikely': PLA Not Powerful Enough To Invade Taiwan Yet, Say Experts
KEY POINTS
China may use various non-full-scale military operations to bring Taiwan to the table
The experts believe China will also be deterred by the Aukus security pact
However, it may resort to cognitive warfare to spread disinformation
China may have been ramping up military power across the Taiwan Strait, but the People's Liberation Army (PLA) is still not powerful enough to launch an "all-out attack" against Taiwan, say analysts.
According to the self-ruled island's military experts, China may instead try to bring Taiwan to the table using "unconventional means" over the next decade, reported South China Morning Post, quoting Taiwanese military experts.
China will also be deterred by the U.S.-led Aukus security alliance, the Taiwanese believe. The Aukus is a historic partnership between the U.S., Britain and Australia to strengthen military capabilities in the Pacific, mainly to counter China and its control over the South China Sea.
This observation by the island's military expert comes as Taiwan faces increasing intimidation tactics from China, in the form of frequent incursions. Besides sending a record number of warplanes into Taiwan's Air Defense Identification Zone (ADIZ) over the last year, Beijing also recently sent a civilian plane to a remote island near Taiwan, which many believe was to "test its defenses."
According to Lin Yu-fang, a security expert at the National Policy Foundation, a think tank affiliated with Taiwan's main opposition Kuomintang party, escalating cross-strait tensions had made the island an international focal point in recent years.
Lin, while speaking at a seminar held by the Foundation, said though it was tough to predict a cross-strait war, a "hot conflict was unlikely in the near term as Beijing's forces are not powerful enough to take over Taiwan at this stage."
Another senior Taiwanese military commentator Arthur Chi too believes the same. Chi believes PLA needed time to fully reform its armed forces, and it would be 10 to 15 years before it was ready to launch a full-scale attack.
"But it is likely to use various kinds of non-full-scale military operations to force Taiwan to talk in order to attain its [cross-strait reunification] goal," Chi was quoted by the news outlet.
He added that China could use large-scale military intimidation also called "acupuncture warfare" to electronically paralyze Taiwan. It could also resort to cognitive warfare to spread disinformation or establish a false perception among locals so as to change their mindsets in favor of China, Chi said.
"The Chinese communists have found it more urgent to counter the containment brought by the US-led maritime alliance than forcing reunification with Taiwan," Chi said.
On whether the U.S. would come to the aid of Taiwan, Chi feels the U.S. has means other than military support to help defend Taiwan, including trade sanctions or setting the stage for another potential conflict in the South China Sea.
Retired rear admiral Lawrence Tan Chih-lung, who attended the seminar, too thinks the U.S. support would depend on its "national and political interests at that time."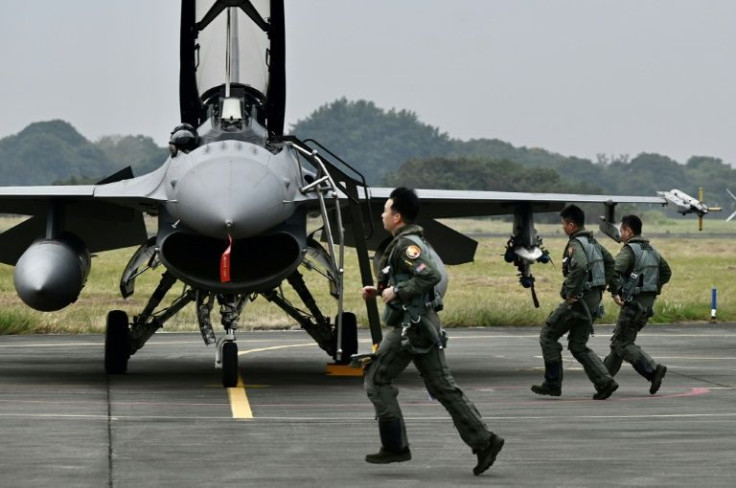 © Copyright IBTimes 2023. All rights reserved.
FOLLOW MORE IBT NEWS ON THE BELOW CHANNELS