Houston Astros Schedule 2020: Dodgers, Giants, Angels Among 9 Opponents After Cheating Scandal
Following the cheating scandal that rocked professional baseball, the Houston Astros were expected to endure a 162-game season filled with angry fans and opponents out for revenge. The coronavirus pandemic interrupted those plans, and the 2020 MLB season won't be nearly as arduous for the American League champs as was once expected.
Instead of being shamed for half a year, Houston will only have to deal with the wrath of the league for a couple of months. Less than a third of the league will get the chance to take out their frustrations on the Astros during the regular season.
The owners and players have agreed upon a plan for a 60-game season, starting on July 23 or July 24 and concluding on Sept. 27. Every MLB team will play nine different opponents, coming from their own division and the other division in their region.
For Houston, that means facing the AL West and the NL West. The Astros are scheduled to play the Oakland Athletics, Los Angeles Angels, Texas Rangers and Seattle Mariners 10 times each. Houston's 20 remaining games will come against the Los Angeles Dodgers, San Francisco Giants, Arizona Diamondbacks, San Diego Padres and Colorado Rockies.
The Dodgers are the most difficult opponent on the Astros' schedule. Los Angeles won a franchise-record 106 games in the 2019 season before losing to the eventual champion Washington Nationals in the NLDS. The Dodgers lost to the Astros in the 2017 World Series before coming up short against the Boston Red Sox in the 2018 Fall Classic.
After trading for Mookie Betts and David Price, Los Angeles is the overwhelming favorite in the National League.
Oakland had identical 2018 and 2019 campaigns, winning 97 games each year before a loss in the AL Wild-Card Game. The Astros went 10-8 against the A's last year.
Of Houston's 60 games, 46 contests are expected to be against teams that missed the 2019 playoffs and won fewer than 86 games. The Astros will have 42 matchups with opponents that finished last season below .500.
Arizona is coming off an 85-77 campaign. The Rangers, Angels, Giants, Rockies and Padres all won between 70 and 78 games. None of those teams are considered to be top contenders, though the Angels did add a marquee free agent in Anthony Rendon.
Seattle is expected to be one of the worst teams in MLB after going 68-94.
Houston was defeated by Washington in Game 7 of the 2019 World Series. The Astros' 2017 championship has been marred by the sign-stealing scandal. Houston won 103 games in 2018 and lost in the ALCS.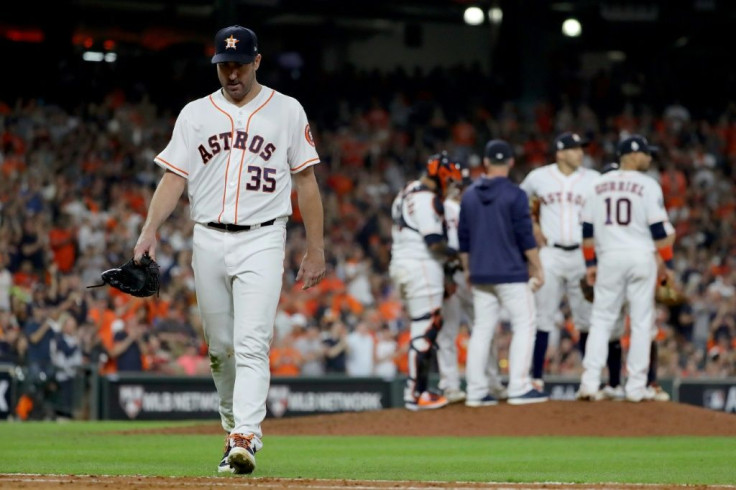 © Copyright IBTimes 2023. All rights reserved.